So, your best friend, cousin or member of your inner circle just moved into a new place, and you've received that coveted housewarming invitation. The excitement is real, right? There's nothing quite like the thrill of a fresh start in a new home, and you want to share that joy by bringing the perfect housewarming gift.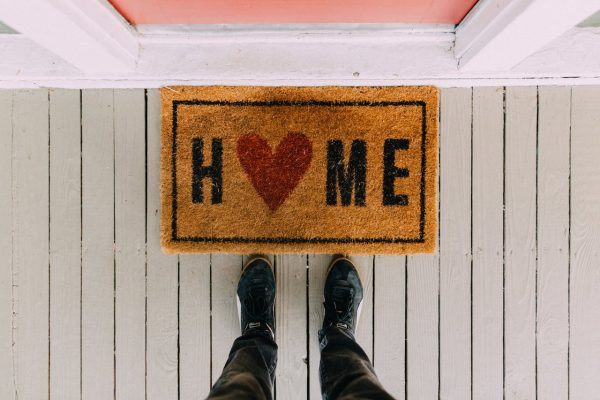 But here's the catch: you want your gift to be more than just another item cluttering up their new space. You want it to make them smile, feel welcomed, and remind them of your friendship every time they see it. That's where I come in! In this blog post, I'm going to explore the art of housewarming gifts, guiding you through the process of selecting the ideal present to warm their hearts and their home.
Whether you're a seasoned housewarming gift-giver or a first-timer in need of inspiration, I've totally got you covered. I'll be helping you consider the new homeowners' tastes, the vibe of their homes, and how to give a gift that's both practical and personal. No more generic gift cards or uninspired kitchen gadgets here; we're diving into unique, thoughtful, and creative ideas that will make your present truly stand out.
So, let's embark on this journey of finding the perfect housewarming gift that will make your loved ones feel like they're truly home, sweet home. Let's make your thoughtful gesture an unforgettable one! For more creative and fashionable housewarming gift ideas, check out bonnieslist.
Culinary Delights: Kitchen + Dining Essentials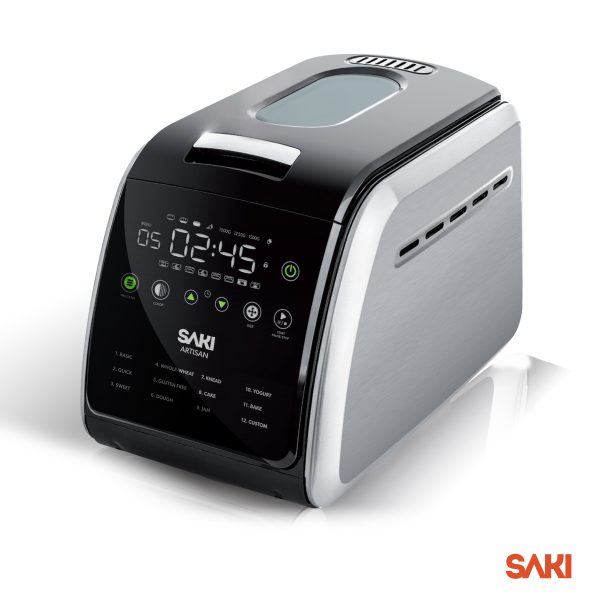 For families, we love the idea of giving something that will make a HUGE difference in their new home. The Artisan Bread Maker, a game-changing addition to the home bakery experience does JUST THAT. This innovative machine revolutionizes at-home bread-making, making it easier than ever. You can effortlessly create three different loaf sizes (2lb., 2.5lb., 3lb.) to suit their needs.
With a ceramic non-stick pan and dual kneading blades, the Artisan Bread Maker ensures a consistently mixed dough and a perfect crust on every batch. It boasts an impressive array of features, including 12 pre-programmed settings for various bread types and customizable options, from classic white to wholesome whole wheat and even specialty gluten-free varieties. Additionally, the device offers a convenient keep-warm function that preserves your bread's freshness and warmth for up to an hour. With user-friendly controls and a sleek design, it's not only practical but also a stylish addition to your kitchen.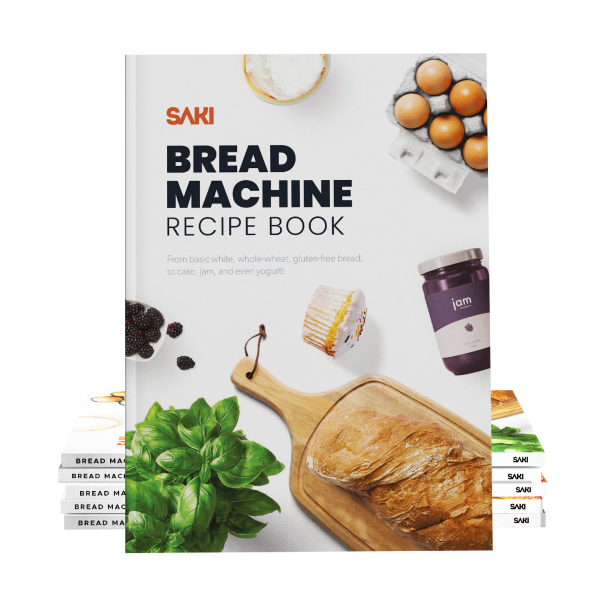 Rest easy knowing it's backed by a 1-year warranty, making the Artisan Bread Machine your ideal partner for crafting homemade, fresh, and delicious bread.
They may not have their boxes unpacked yet, but they NEED their coffee…the first day in their new home and EVERY day. Made Simpli is on a mission to infuse more ease and beauty into your daily routines. They believe in the power of rituals and the strength of communities to make every day your best day. We fell in love with their flagship product – The Simpli Press. This beautifully designed way to start the day reimagines the classic French press, eliminating the mess and hassle while enhancing your coffee experience. Crafted with modern-day innovation, the Simpli Press brews the smoothest, most complex coffee in just three minutes, and it's designed for easy cleanup, leaving you with a rich, grit-free cup of coffee that's fully customizable.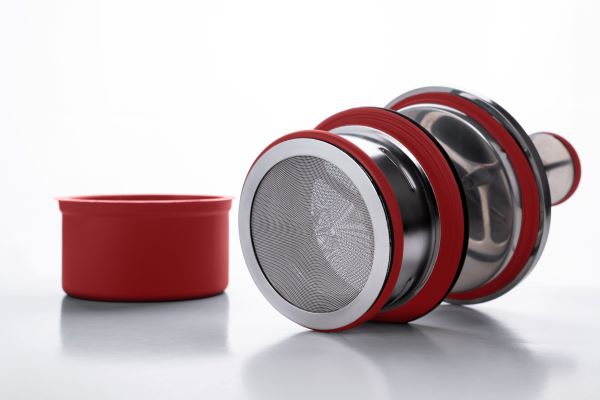 They believe that elevating rituals and elevating their communities go hand in hand and they show that by donating 10% of their annual net profits to support women and girls who innovate in entrepreneurship, coffee, and STEM fields. Simpli Press has truly reinvented the French press, combining stainless steel ultrafine double filters with pre-measured brewing guidelines for that perfect cup every time. Using high-quality materials like borosilicate glass, stainless steel, and silicone, ensures that the press is both functional and beautifully designed.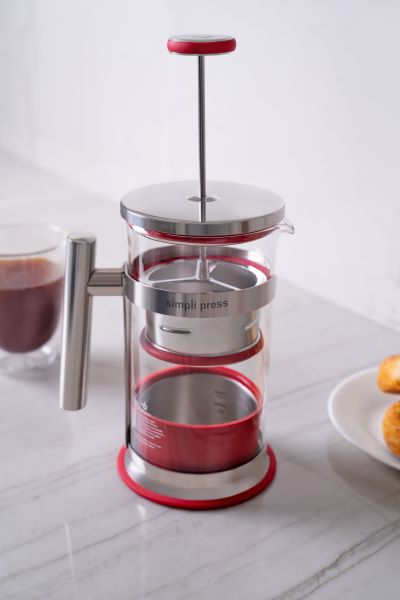 Discover the joy of making good coffee and being a good human, all at once. Embrace the artful reinvention of the French press with Made Simpli's Simpli Press.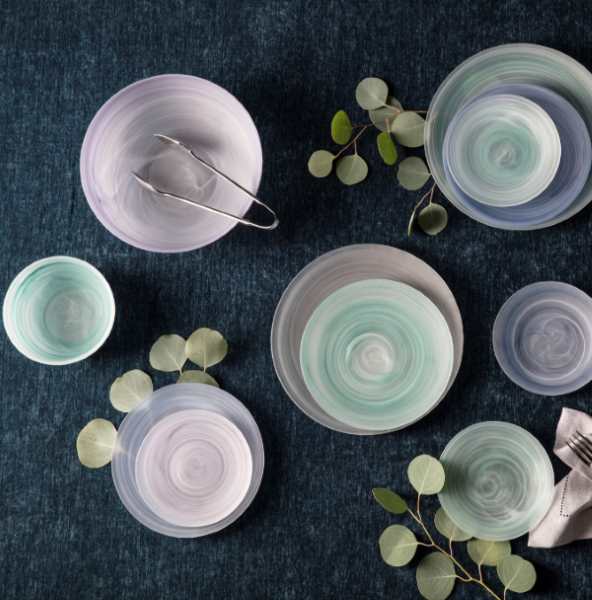 Whether a beautiful breakfast on the balcony overlooking the river or gathering friends and family together for a hearty home-cooked meal, LaJolla plates, and bowls by Fortessa will make every meal feel elegant. These beautiful dishes are inspired by the natural beauty of sea glass, each piece of La Jolla is uniquely different. With swirls of waves through a frosted form, leaving each stroke with a fluid, nuanced shape they feel like original art at your place setting.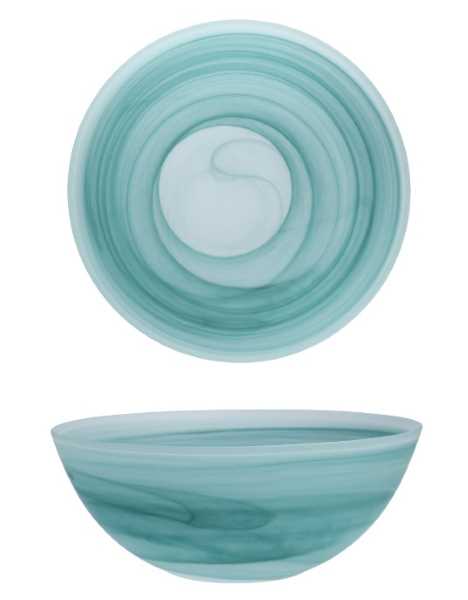 The plates and bowls are sized to suit any meal and are available in a myriad of colors.
Available on Fortessa.com as well as retail stores nationwide.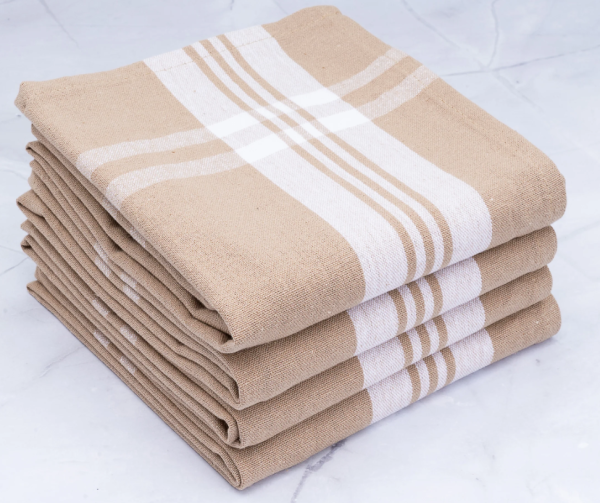 You can NEVER have enough Kitchen Hand Towels. From hanging on the oven door to brighten the room, grabbing a hot pot, to YES even drying dishes, great cotton kitchen towels are a versatile and essential addition to anyone's home. That's why we LOVE giving and getting these beautiful Farmhouse Kitchen Towels from All Cotton and Linen.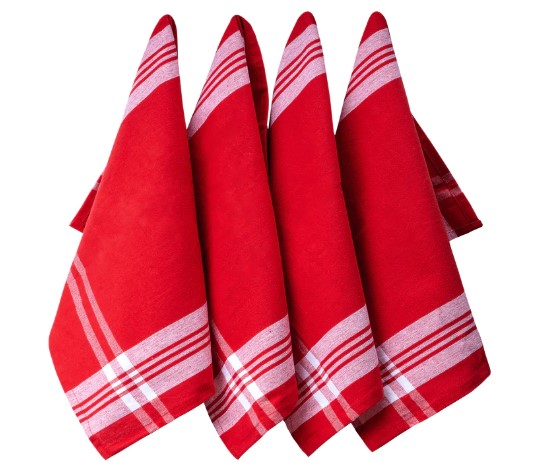 As the name says these towels are crafted from 100% cotton and are available in two convenient sizes, 18 x 28 inches or 16 x 27 inches, and come in a set of six. Whether you need kitchen hand towels for daily use or special occasions, these kitchen towels are designed to deliver.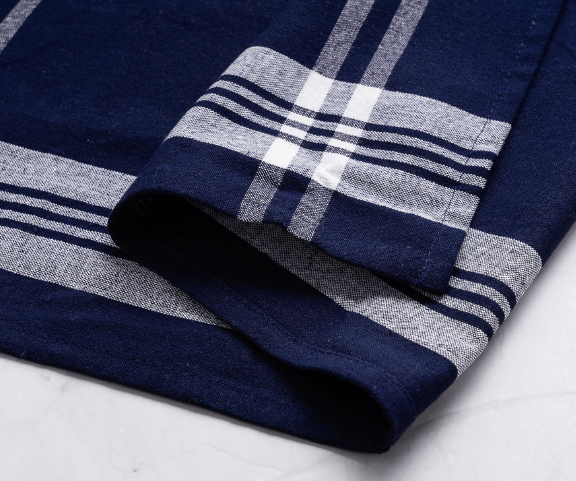 They're absorbent, lightweight, and exceptionally soft, making them perfect for a wide range of tasks in your kitchen. These multipurpose kitchen dish towels can also double as cotton dish towels, making them suitable for various occasions such as Christmas, Halloween, Thanksgiving, parties, dinners, get-togethers, birthdays, BBQs, and anniversaries. To enhance your kitchen decor, explore their range of coordinating items, including cotton tea towels, buffalo check dish towels, kitchen placemats, and kitchen table runners, and elevate their kitchen with the practicality and style of these Kitchen Hand Towels.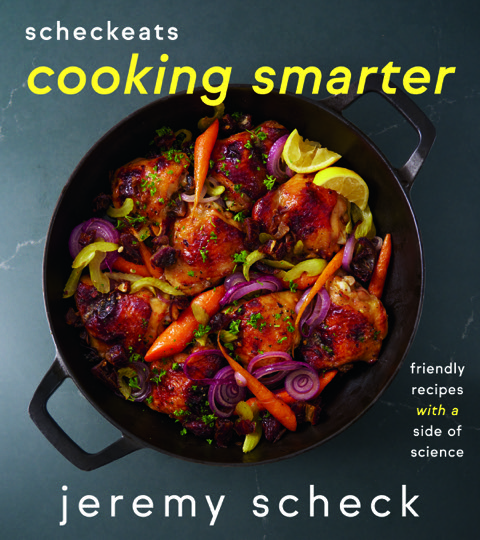 From next-gen culinary phenom and TikTok superstar Jeremy Scheck, easy and delicious recipes for every day and beyond—plus expert tips to make you a better, happier cook.
Jeremy Scheck has charmed a new generation of home cooks with his simple yet remarkably tasty recipes and his reliable culinary know-how. Now, in this stunning and personal book brimming with approachable recipes and step-by-step guidance, Jeremy shares the building blocks of what he calls culinary literacy: understanding why a recipe works and empowering readers to cook with confidence every day. Recipes are designed to minimize single-use ingredients and equipment (for example, all baking recipes are no-mixer-required), encouraging versatility with easily available essentials and Jeremy's favorite kitchen staples.
Invaluable primers throughout offer simple explanations of age-old techniques and food science facts, such as how to get the perfect creamy pasta sauce, how to make leftover veggie soup without a recipe, why you need brown butter in your life (and in your cookies!), and why a little sweetness is the secret to the best roast chicken. With this must-have kitchen companion, everyone can learn the basics of cooking simple but delicious food, whether it's your first cookbook or it's joining a full shelf of dog-eared and sauce-stained classics.
Sweet Dreams: Bedding and Linens

They will love your gift day in and day out…or make that night in and night out with this premium organic bedding from Sijo. It is truly a luxurious essential for any bedroom.
Crafted from 100% organic French linen, this duvet cover is designed to provide the utmost comfort and sophistication for a restful night's sleep. Its stone-washed finish ensures immediate softness and coziness, making it an inviting addition to your bed. Available in an array of colors and sizes, you can easily find the perfect fit for any bed and style. Sourced in small batches, this duvet cover not only maintains high quality but also prioritizes sustainability. Ideal for those who appreciate the natural and simple elegance of linen over cotton, this duvet cover features a button closure and 8 snaps inside to keep your duvet securely in place.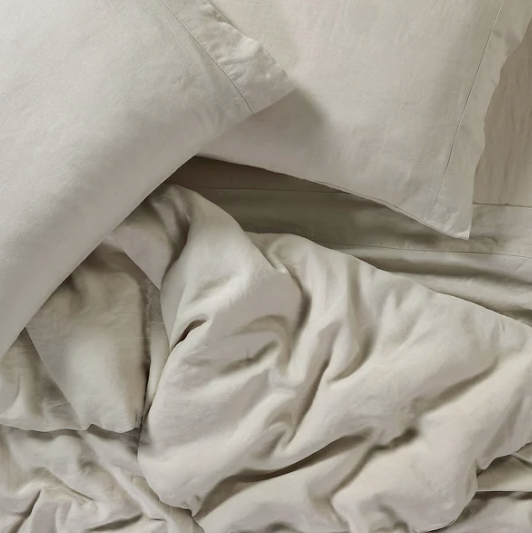 Embrace the classic and timeless appeal of linen bedding and upgrade your bedroom with this exquisite duvet cover that combines quality, comfort, and eco-conscious living.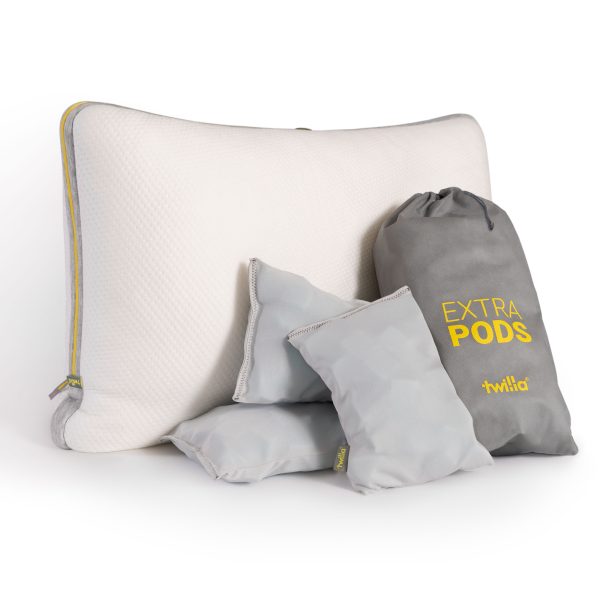 Elevate your housewarming gift game with the ultimate sleep solution. Introducing the fully customizable pillow designed for the BEST sleep of your life.
Crafted with superior comfort and premium hybrid materials, this pillow is the ticket to personalized relaxation. The patented Pod-System empowers you to take control of your sleep experience. Add, remove, and position Pods to achieve a pillow that perfectly fits you, providing the ideal support and comfort you crave.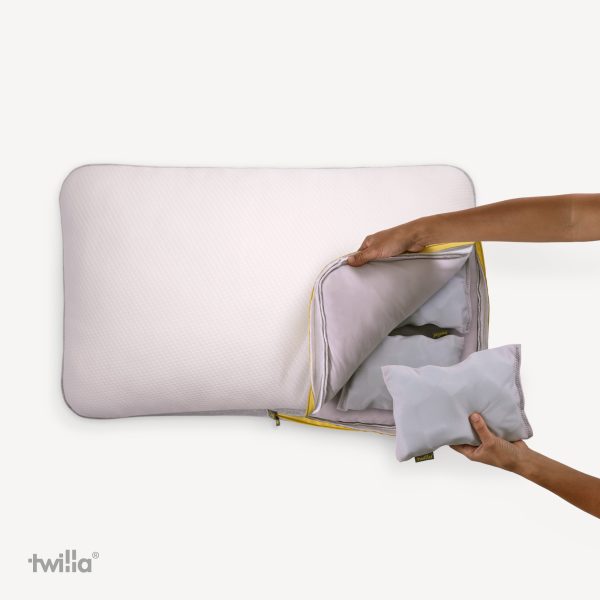 Say goodbye to neck pain as you strategically place Pods to relieve discomfort and align your spine, ensuring deep, restorative sleep that leaves you feeling revitalized. This pillow accommodates any sleeping position, offering a cradle for your head and the flexibility to support multiple positions by adding extra Pods for dual-level comfort. The Tencel™ fabric exterior is not only eco-friendly but also antibacterial, keeping you cool and dry by wicking away moisture. With Light-Loft™ filling, a premium hypoallergenic down-alternative, and Cooling Gel Foam™, which draws away heat, you'll experience an incredibly soft lay-down feel and cushioned support.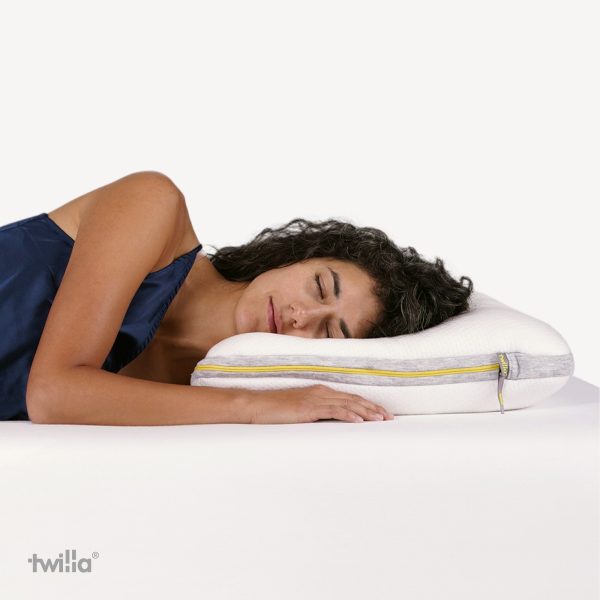 Give the gift of unparalleled comfort and restful nights with this customizable, eco-conscious pillow, a perfect addition to any new home.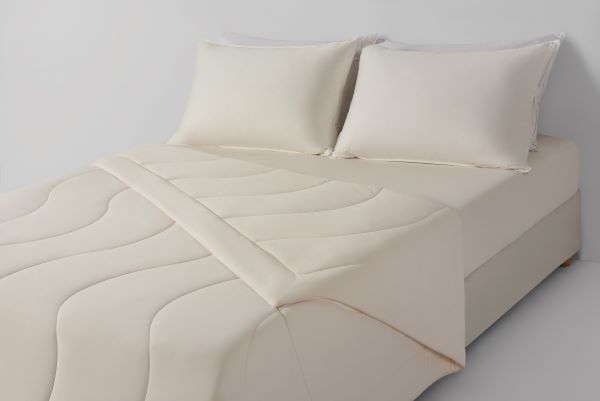 Most of my friends are moving from New England to Florida (it's that time of year), so getting them housewarming gifts that are appropriate for their new climate can be a game changer. They'll be saying farewell to those uncomfortable night sweats and embracing the cool, restful sleep they deserve with this oh-so-cool cooling comforter from Rest.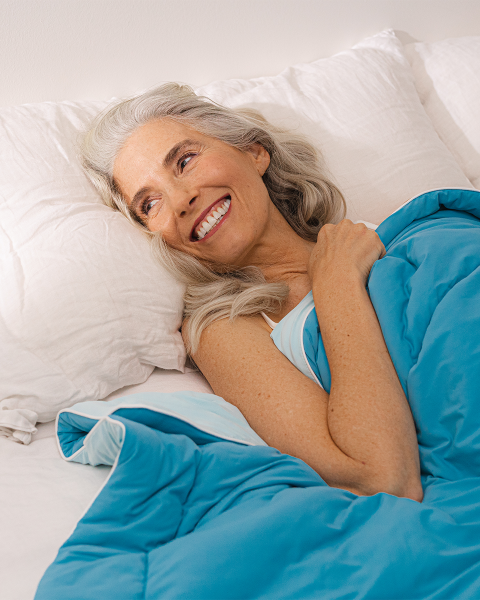 Engineered with innovative Evercool™ technology, this comforter sets a new standard for cool and luxurious sleep. It's not just another "performance" comforter; it's cooler than you could imagine and softer than the finest silk. Rest Duvet, a pioneer in sleep innovation, proudly presents its Evercool™ Cooling Comforter, a standout in the realm of bedding. Acknowledged by leading authorities like Good Housekeeping, Better Homes and Gardens, and Healthline as one of the Best Comforters of 2022, this comforter guarantees optimal sleeping conditions year-round, ensuring you wake up refreshed and energized. Evercool™ fabric boasts an extraordinary ability to absorb and transfer heat 10 times faster than cotton, resulting in one of the most effective cooling fabrics available. Its ultra-thin fibers rapidly soak up and expel moisture, maintaining a dry and temperature-regulated sleeping environment.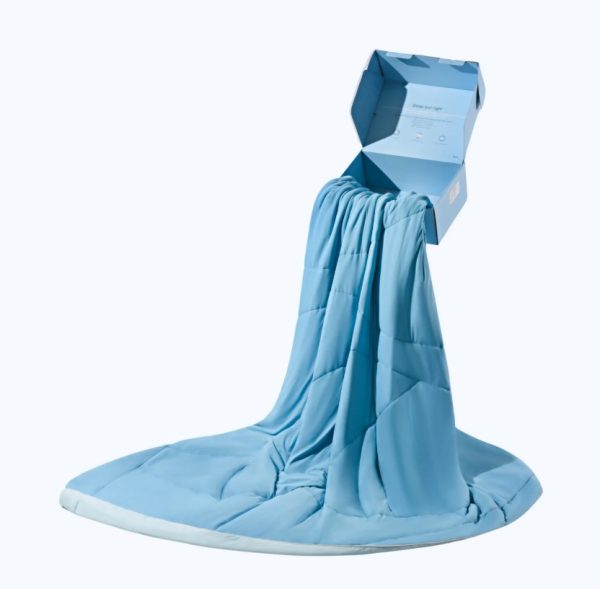 Experience the immediate cooling effects and embrace a perfect night's rest with the Rest Cooling Comforter, a game-changer in sleep comfort and innovation.
Cozy Corner: Throws and More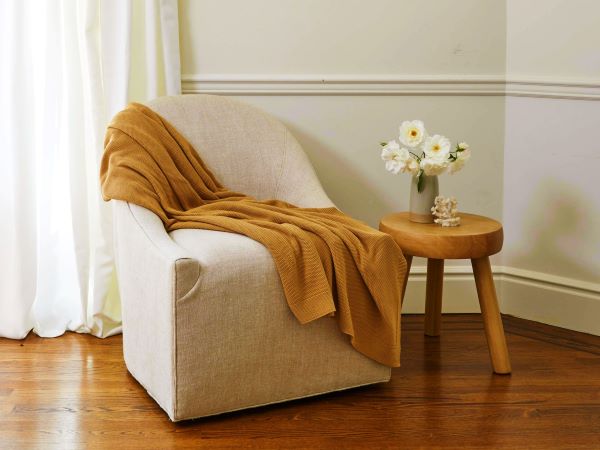 Wrap up in indulgent comfort with your bundle of joy in Saatva's sweater knit blanket's weighty yet breathable softness. This naturally hypoallergenic and moisture-wicking blanket is made of 100% long-staple cotton, woven into a chunky moss-knit pattern that offers warmth and breathability.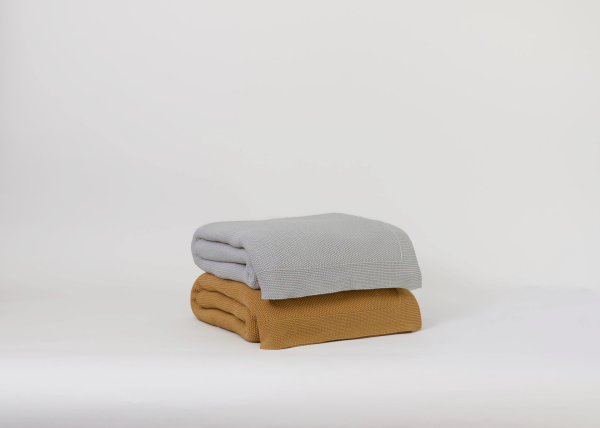 Every time they cuddle on the sofa in this blanket they'll think of you. It's a great summer blanket on the bed, or for layering in winter.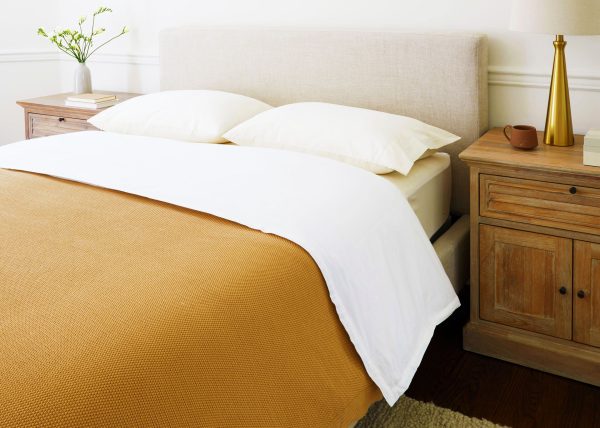 The sweater knit blanket is designed with OEKO-TEX® Standard 100 cotton, certified free of harmful chemicals. It comes in two stunning Halloween-themed colors: Ash and Terra.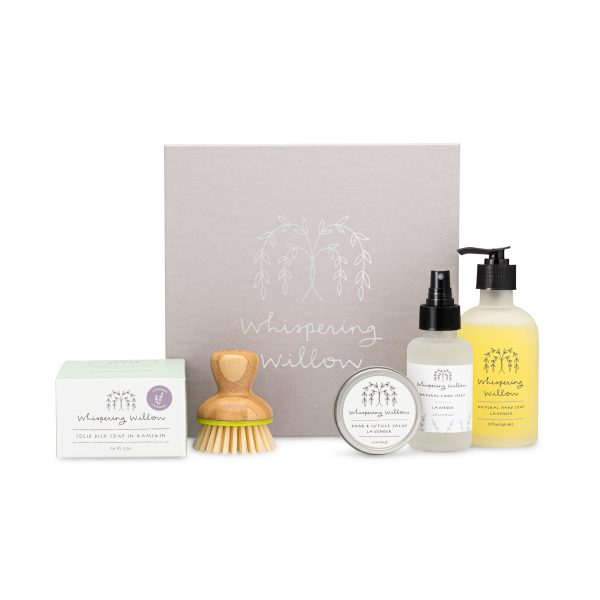 Moving into a new home is a thrilling step for anyone.  Whispering Willow's Home Sweet Home Gift Box is intended to celebrate that exciting change. This beautiful gift box includes a Solid Dish Soap in a Ramekin and a dish brush that makes quick work of dirty dishes.
The liquid hand soap in a frosted glass bottle makes a perfect accompaniment beside the kitchen sink.  The Hand & Cuticle Salve is soft and soothing for dry hands.  Finally, you can choose either the linen spray to freshen towels or a tea towel for the kitchen.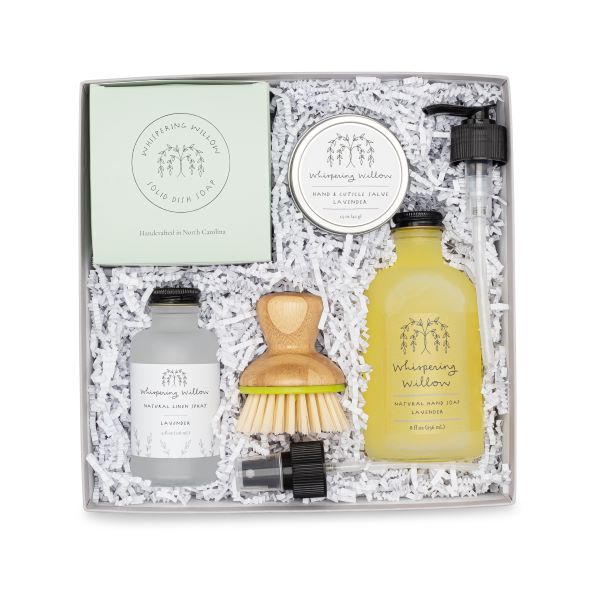 Plus, it comes in a linen-wrapped, embossed box ready for giving and is available in two scents: Lavender or Lemon.
Thoughtful Touches: Guest Room Essentials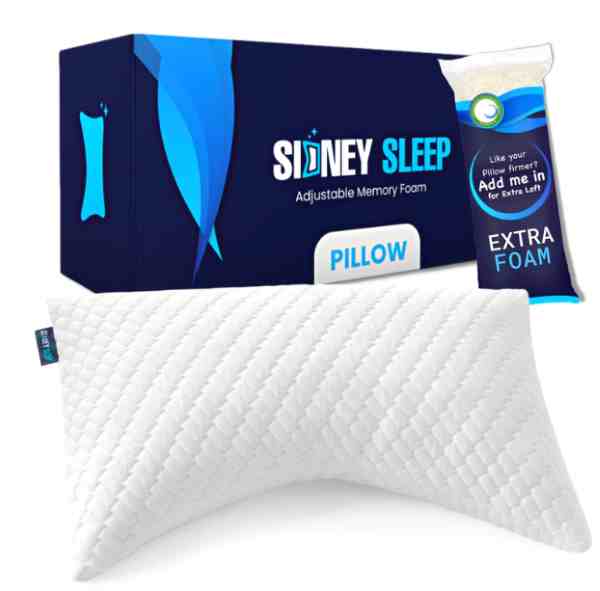 Discover the ultimate solution to those sleepless nights this fall and holiday season with Sidney Sleep pillows. Say goodbye to the woes of bad sleep and embrace the comfort and adaptability of Sidney Sleep's innovative pillow designs. With an estimated 50 to 70 million Americans suffering from sleep disorders, ensuring a good night's rest is more crucial than ever.
Sidney Sleep introduces a game-changing adjustable curve design that caters to individual needs, making it perfect for back and side sleepers, those who prefer high-loft pillows, or even those who sleep with a pillow between their knees. The brand's CertiPUR-US and Oeko-Tex certifications guarantee that the pillows are free from harmful chemicals and toxins commonly found in synthetic products. Sidney Sleep's versatility allows you to personalize your pillow's firmness by adding or removing their proprietary blend of shredded memory foam fill, all while ensuring your skin stays healthy with a washer-friendly outer cover.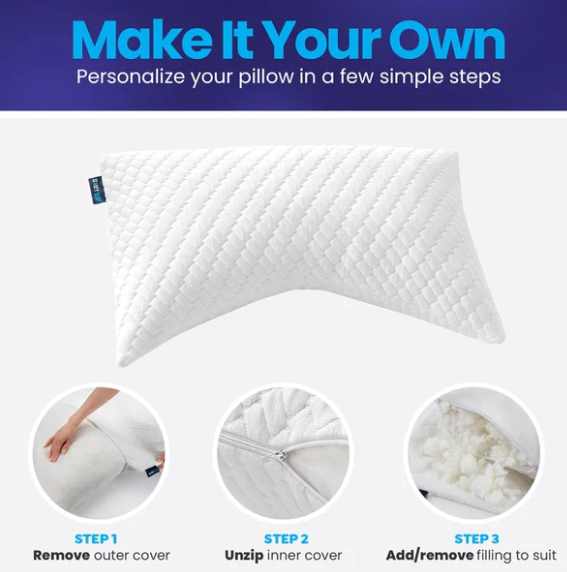 Don't miss out on the chance to experience the joy of a better night's sleep; consider gifting Sidney Sleep pillows, pillowcases, and sleep accessories to your loved ones this holiday season and enjoy the gift of restful sleep.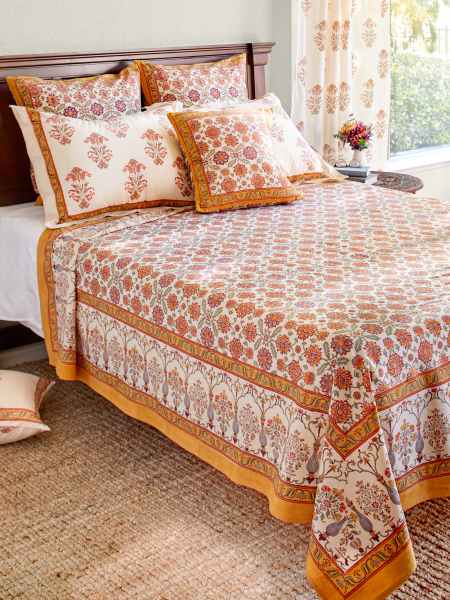 Introduce a touch of vibrant elegance to their new home with this Orange Blossom Persian Mediterranean Bedspread. This exquisite piece features a vintage floral print that draws inspiration from Persian, Mediterranean, and tropical influences. Stylized orange and yellow blossoms, complemented by deep purple accents and intricately framed by soft sage green foliage, create a lush and captivating pattern against a creamy background.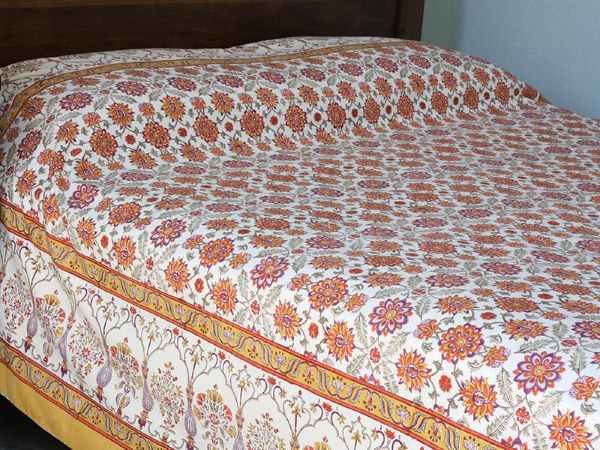 Crafted with care, the bedspread is printed on preshrunk, superior grade, soft cotton, ensuring a comfortable and gentle touch. The neat double-stitched hems add a polished finish to this single-sheet, lightweight design. Each piece is hand-printed using intricately carved wooden blocks, lending it an authentic and artistic feel.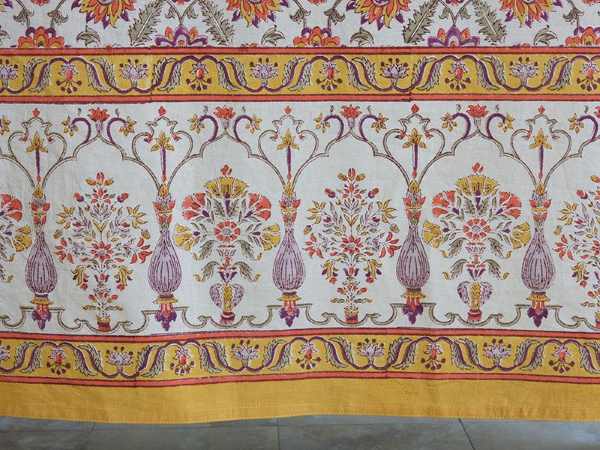 The Orange Blossom bedspread is a burst of brightness and warmth, infusing your space with bohemian charm. Its Mediterranean-inspired palette will transport you to sun-kissed orange groves and leave you waking up with a secret smile on your lips. To complete the look, consider accenting it with colorful lanterns, ottomans, cushions, and potted succulents, creating a cozy and inviting atmosphere that truly feels like home.
Party Perfection: Barware and Drinks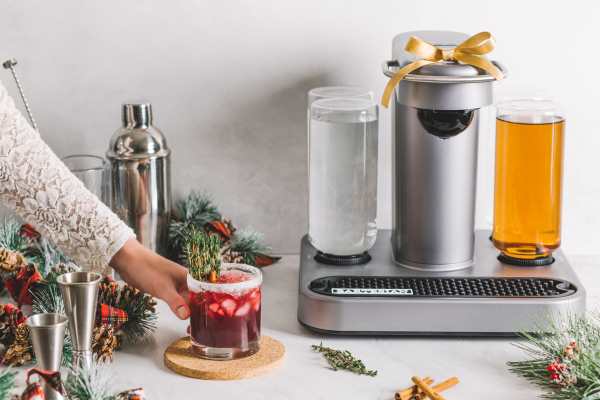 Prepare to be invited back for cocktails again and again when you gift Bartesian, a highly acclaimed cocktail maker boasting a stellar 4.6-star rating on Amazon (both in 4-bottle and 2-bottle versions). This innovative device simplifies mixology, letting you effortlessly create expertly crafted cocktails in seconds. Just insert one of Bartesian's mixologist-crafted cocktail capsules, featuring real juice concentrates, bitters, and extracts, select your preferred cocktail strength, and watch as the machine effortlessly blends the perfect drink.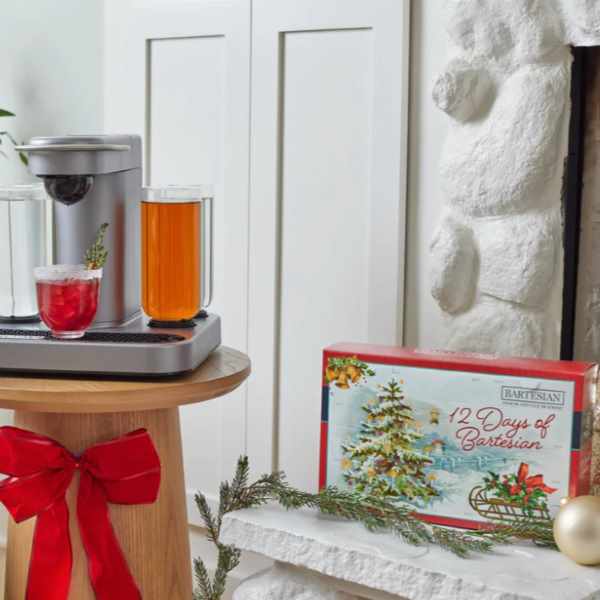 For those who really want to impress, you'll want to include a 2023 Bartesian Advent Calendar. Unwrap the holiday spirit with this Advent Calendar, featuring 6 brand-new holiday cocktails and 6 returning festive favorites. Enjoy a delightful cocktail surprise for 12 nights during the most magical time of the year.
Also, be on the lookout for their seasonal collections including the: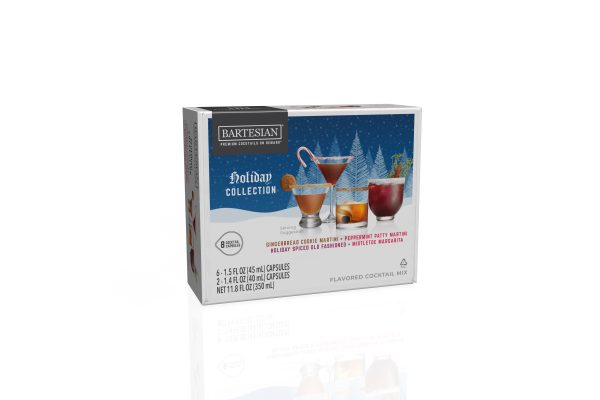 Holiday Collection:
Peppermint Patty Martini (vodka)
Gingerbread Cookie Martini (rum)
Holiday Spiced Old Fashioned (whiskey)
Mistletoe Margarita (tequila)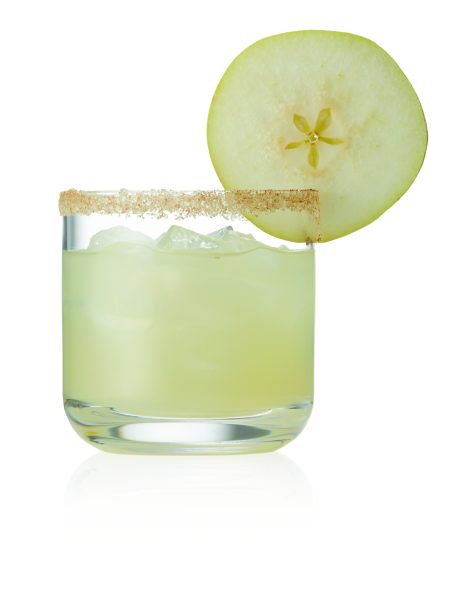 Festive Collection:
Peary Christmas (tequila)
Mistletoe Margarita (tequila)
Clausmopolitan (vodka)
S'more Snow (vodka)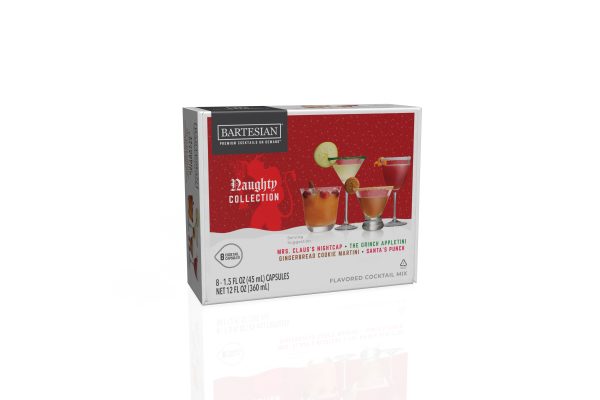 Naughty Collection:
Mrs. Claus's Nightcap (tequila)
Grinch Appletini (vodka)
Santa's Punch (whiskey)
Gingerbread Cookie Martini (rum)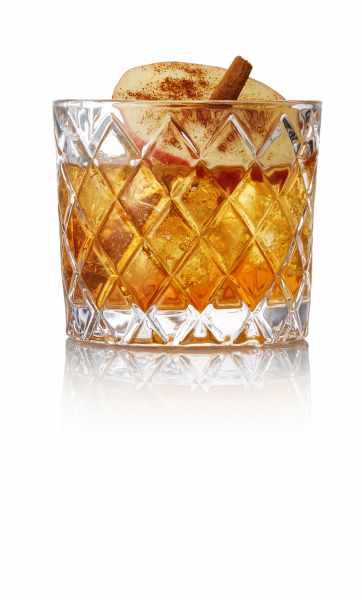 Nice Collection:
Peary Christmas (tequila)
Peppermint Patty Martini (vodka)
Sweater Weather (whiskey)
Sugar Plum Fairy (gin)
We'll be bringing back more of Bartesian for the holiday soon.
Currently available for pre-order on

Bartesian.com

while supplies last.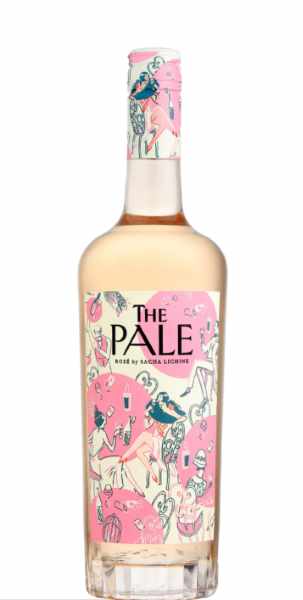 Elevate your gifting game with The Pale Rose wine from Château d'Esclans. This exquisite rosé is a true embodiment of elegance and sophistication. Crafted in the heart of Provence, France, The Pale Rose is a delight for the senses, boasting a pale pink hue and a delicate bouquet of red berries and floral notes.
With a crisp, refreshing taste, it's the perfect companion for any occasion, whether it's a cozy evening at home or a chic soirée. Share the gift of refined taste and a touch of French luxury with The Pale Rose, a wine that's sure to be appreciated and savored by any wine enthusiast.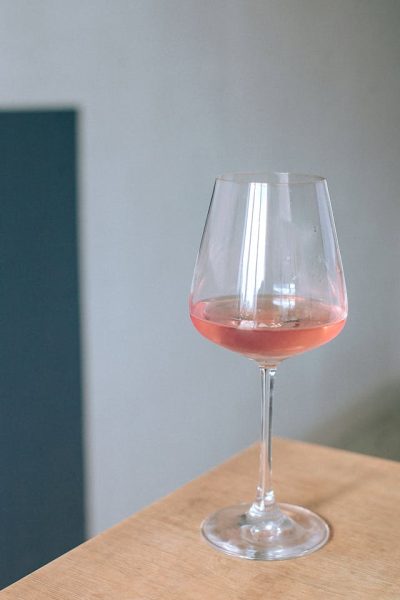 Notes
Aroma: Fresh and aromatic
Palate: Fruity notes with hints of peach and pink grapefruit
Finish: Bone dry with a soft, creamy, and elegant finish
Available at wine and liquor stores nationwide and at

Esclans.com

You love your favorite libations, but sometimes you want something new that you know you'll like. This user-friendly collection provides all the tools you need to create delicious new concoctions. It reconfigures 25 timeless tipples, from Bloody Marys, Daiquirís, and Manhattans to Margaritas, Negronis, and Old-Fashioneds. A few simple riffs will elevate your mainstays to a truly spirited experience.
Want a Bloody Mary that tastes smoky and spicy? Make a Mezcal Maria, with tomatillo mix. Love the taste of horseradish? Try the Hail Mary, with horseradish-infused vodka. For a Negroni with rich flavor and a hit of caffeine, try the Night Watch, made with cold brew. To go lighter and skip the gin, stir up a Daytime Negroni with vodka, Cappelletti, and Lillet. Featuring handy diagrams, numerous variations for different palates, and surprising flavor combinations, remixing the classics has never been easier.
Now you can booze your own adventure with confidence.
Welcome to your New Home

Welcome HOME to the world of heartfelt gestures for your new abode! This "Home is Where the Heart Is" keychain from Dani White Design is the ultimate housewarming gift that they will use every time they come home. Crafted in the shape of a vintage motel key, this enamel keyring is a unique and charming addition to any keychain collection. It's not just a keychain; it's a symbol of warmth and hospitality.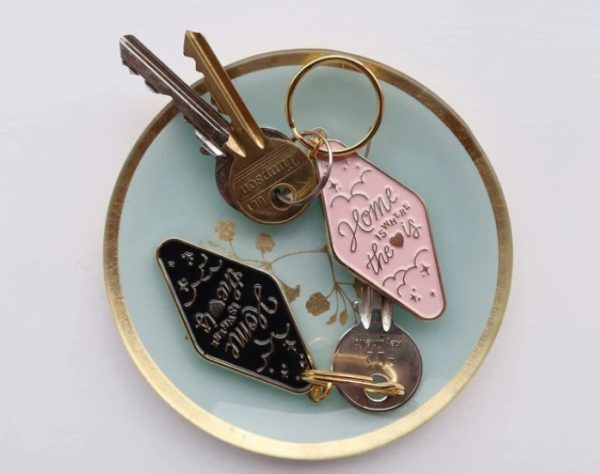 Available in striking black, pretty pink, or lovely lilac enamel finishes, this soft enamel key ring is gold-plated for a touch of elegance. With a sturdy build and hard gold enamel, it's built to withstand the test of time. This thoughtful gift comes beautifully presented on a card backing, making it an ideal choice for gifting to a friend or proudly displaying in your new home.
A little reminder that home is where the heart is, and this keychain adds a touch of joy and celebration to every occasion.
A housewarming gift is more than just a thoughtful gesture; it's a symbol of well-wishes and celebration as someone embarks on a new chapter in their life. It's a special way to commemorate the start of a journey in a new home, making the space uniquely theirs. Whether it's a personal touch, a functional item, or a token of warmth and hospitality, a housewarming gift carries the sentiment of joy, love, and new beginnings, making it a cherished memento of this exciting milestone.