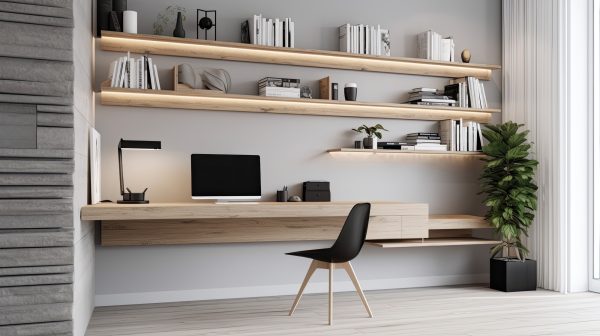 A well-organized home is not only aesthetically pleasing but also essential for a stress-free and comfortable living environment. The key to achieving this organization lies in maximizing home storage effectively. Whether you reside in a cozy apartment or a spacious house, every room presents its own storage challenges and opportunities.
If you're tired of stumbling over misplaced items or overstuffing your closets, this article presents ingenious and practical solutions. Unlock the storage potential of your living spaces, from the living room to the kitchen, and even the often-overlooked bathroom area. 
1. Bathroom organization ideas
The bathroom is a small space that can be easily filled up with toiletries, towels, and grooming products. Here are some small bathroom renovations to keep this room tidy and functional:
Utilize the often-underused space above your toilet with over-the-toilet shelving units. These are perfect for storing extra toilet paper, towels, and decorative items.
Install a medicine cabinet with mirrored doors to keep medications, toiletries, and grooming supplies organized and hidden from view.
Maximize the space under your bathroom sink with organizers, like pull-out trays or baskets. These are great for storing cleaning supplies, spare towels, and cosmetics.
 2.

Living room storage solutions
The living room is the heart of your home, where relaxation and entertainment come together. However, it's also a space that can quickly become cluttered. Here are some smart storage solutions to keep this area organized and stylish:
Installing these shelves or bookcases provides ample space for your book collection. It also allows you to display decorative items, like photo frames, art pieces, and vases. 
Invest in storage ottomans that double as seating and hidden storage. These are perfect for stowing away blankets, remote controls, board games, and other items that tend to clutter your living room.
Free up valuable floor space by mounting your TV on the wall. Pair it with a wall unit that incorporates shelves or cabinets for storing media equipment, DVDs, and gaming consoles. This sleek setup not only saves space but also creates a modern and uncluttered look.
 3. Kitchen storage hacks
The kitchen is another hotspot for clutter if you don't keep it organized. Consider the following clever storage ideas to make this room efficient and pleasant:
If you have a narrow space beside your refrigerator or cabinets, install pull-out pantry shelves or racks. It's an excellent way to maximize storage for canned goods, spices, and other pantry staples while making everything easily accessible.
Keep your utensils, cutlery, and kitchen tools neatly organized by using drawer dividers. They prevent cluttered drawers and make it easier to find what you need while cooking.
Utilize the space under your cabinets by adding hooks or racks. This area is ideal for hanging pots, pans, and cooking utensils, freeing up valuable cabinet space for other items.
4. Bedroom storage tips
Your bedroom should be a tranquil retreat, but it can quickly become cluttered with clothes, accessories, and personal items. Consider these smart storage solutions in your next bedroom makeover project:
Make the most of the space under your bed with storage containers or drawers. You can store extra linens, seasonal clothing, or even shoes out of sight and free up closet space.
Invest in closet organizers, including shelves, hanging organizers, and shoe racks. This will help you maximize the use of your closet space and keep your clothing and accessories well-arranged.
Consider installing wall-mounted shelves to display decorative items, books, or personal mementos while freeing up floor space. Floating shelves are a sleek and modern choice.
5. Home Office and Study Room Storage
Home offices and study rooms are spaces where productivity and organization are paramount. Here are some storage solutions to help you maintain an efficient workspace.
Invest in filing cabinets to keep important documents organized and easily accessible. Label folders and use a color-coded system for efficient filing.
If you have limited space, consider wall-mounted desks that fold down when not in use. Pair them with wall-mounted shelves to store books and office supplies.
Install floating shelves above your desk to display inspirational decor and keep frequently used items within arm's reach.
These storage solutions make your study room more functional. Enhance your efficiency and productivity by keeping your office items where you can easily find them.  
Conclusion
With a little creativity, you can organize all your rooms and create a visually appealing space. Imagine a living room where every item has its place, a kitchen where you effortlessly locate ingredients and utensils, and a bedroom that feels like a serene escape. 
With these ideas in mind, you're well on your way to achieving that dream. Remember that organization is an ongoing process. Regularly assess your storage needs, declutter, and adjust your solutions as your lifestyle evolves.