The items in this post were sent to us by the brand. We do not charge them for consideration or placement as we prefer to retain the right to not place an item that we don't truly love. We may however include affiliate links so that we get credit when you shop.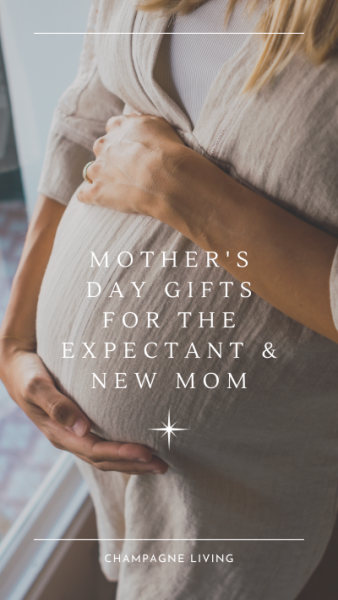 Mother's Day is a special day to celebrate all the mothers in our lives. It's a time to show our appreciation for all they do for us and to let them know how much we love and care about them. But what about pregnant moms? They're also mothers-to-be, and they deserve to be celebrated on Mother's Day too. Pregnant and new mom's are celebrating their day, possibly for the VERY FIRST TIME.
Pregnancy can be a challenging time for moms. They're going through a lot of physical and emotional changes, and they're often tired and uncomfortable. A new mom might be overwhelmed with all that she has to do now (and with lack of sleep, when the baby gets up during the night), it's not easy. A special Mother's Day gift is a great way to show your pregnant or new mom that you're thinking of her and that you appreciate all she's doing for your family.
A gift certificate for a massage or spa treatment
A little help relaxing
Something special for the baby
A book about pregnancy or parenting
A piece of jewelry with a little reminder engraved
A book that puts a smile on her face
Creams, lotions and serums
No matter what you choose, make sure it's something that the new mom will appreciate and enjoy. A thoughtful gift is a great way to show her how much you care. Here are a few gifts that I found that any pregnant or new mom would love to have.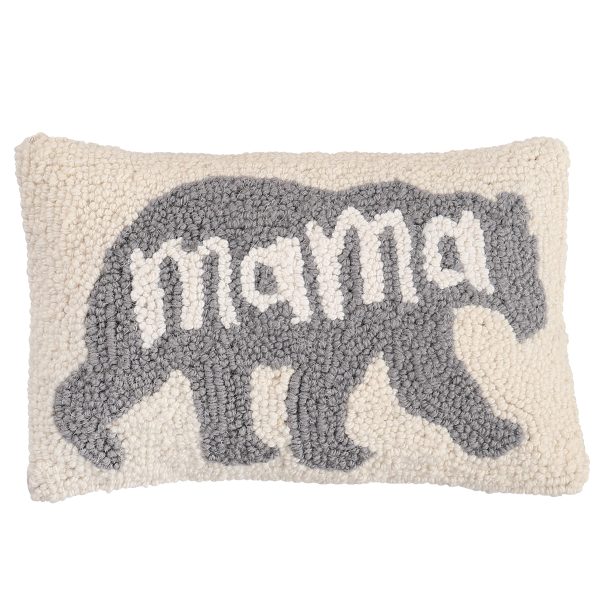 Whether she's rocking the baby back to sleep or she's setting up the nursery for the first time, she will love this classic throw pillow with the word "MAMA" which appears strong and bold within a gray bear on this cream-colored latch hook accent pillow. Handcrafted from wool yarn and backed in soft cotton velveteen for added comfort, this is one of those treasured items that can be passed down from generation to generation.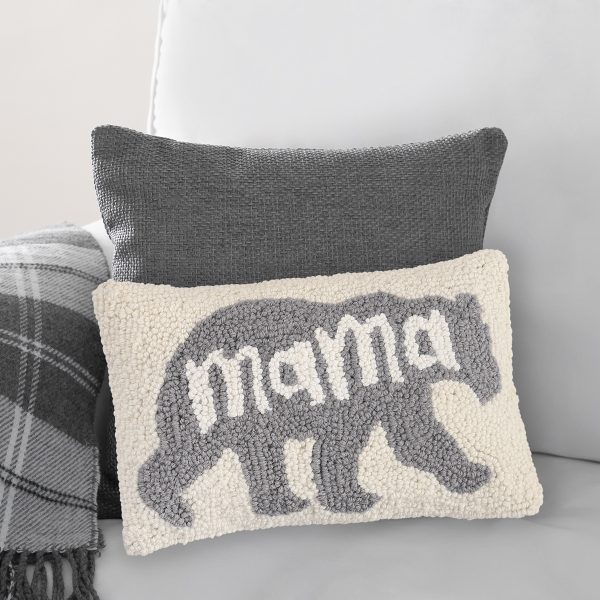 She'll also love the fact that your gift supports the National Wildlife's Federation to make sure that wildlife is protected.  As America's largest conservation organization, the NWF is on the ground across our nation's diverse and wondrous landscapes, fighting to protect our most treasured natural resources and creating experiences that inspire a lifelong connection with wildlife and wild places.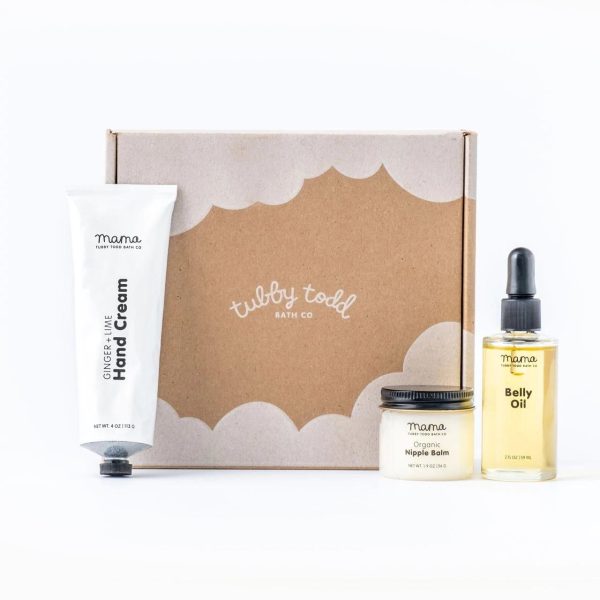 Pregnant (and new) moms need pampering too…even MORE so and this MAMA Gift Set from Tubby Todd Bath Co. includes 3 MAMA products, packaged in a beautiful gift box. Each product is formulated with natural ingredients* and is extra gentle for sensitive skin.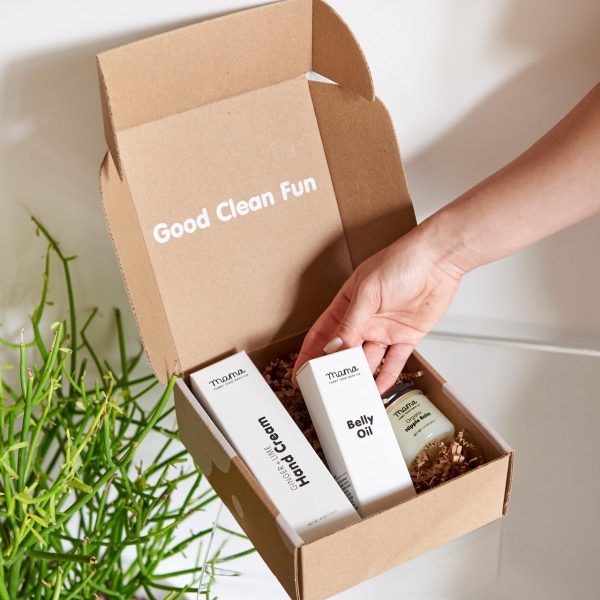 The set includes three essential products to care for and support her body through every season of motherhood:
Nipple Balm – An organic salve to soothe the tenderness of nursing
Hand Cream – A rich, deeply moisturizing cream to replenish mama hands
Belly Oil – A silky smooth oil that promotes elasticity and restores skin's natural luminosity
Available online at Tubby Todd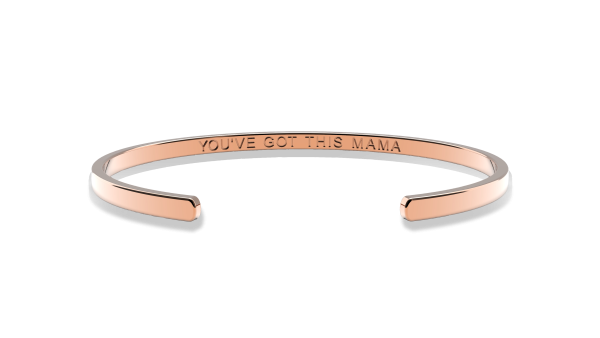 Sometimes we need a little reminder of just how strong we women really are. Lest she forget, you've given her the best reminder that she's got this…to wear around her wrist. The OVL Collection offers inspirational, meaningful jewelry for women and young girls, and are the perfect Mother's Day gift.
For the beautiful mamas of this world – the women who do it all and give their all. And just keep going every single day. You're loved, you're appreciated, and this is your special reminder that you've got this.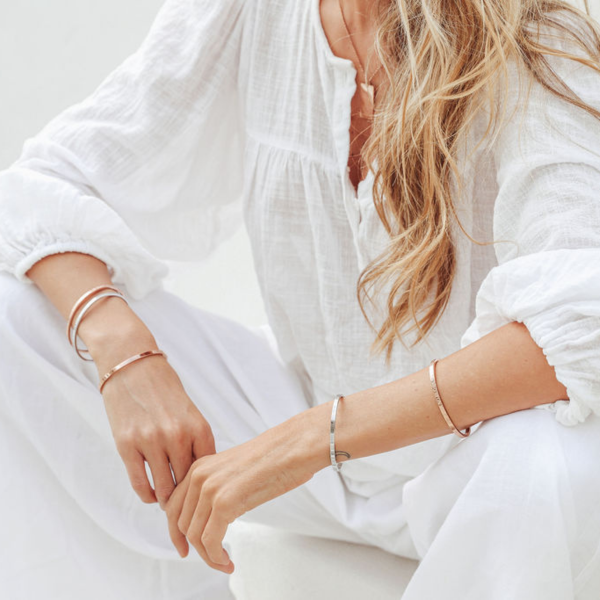 Each bracelet features a keepsake inspiration card with these powerful words:
When a baby is born, so is a mother. It's the most life changing experience you've ever had. You're the creator of life. The provider of comfort. Forever their safe place. You're everything to your little people. With resilience, strength and unimaginable love, you trust your instincts and give your all. You've got this.
ldren's bracelets are the perfect gift for grandmothers, mothers and daughters.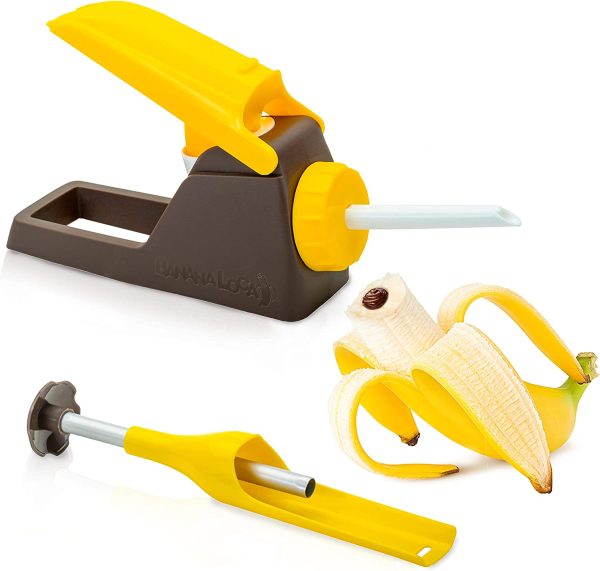 Mama wants a treat, but she wants it to be healthy! Meet Banana Loca, the innovative must-have product she didn't know she needed! The concept is simple – core and fill bananas while in their peel to make a fun snack. The results – simply delicious! This new innovative kitchen gadget that straightens a banana, cores it while still in the peel, and allows you to fill it with a variety of tasty food pairings like yogurt, honey, jams and jellies, peanut butter, and Nutella.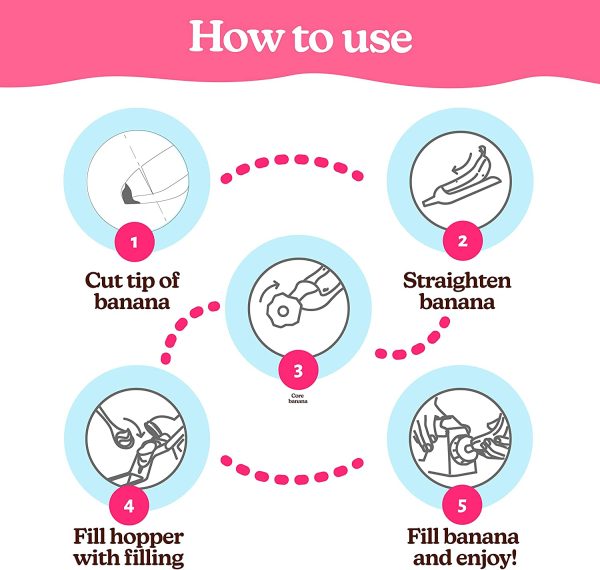 The interest in the gadget is exploding! Business partners and best friends Renee Heath and Bechara Jaoudeh secured a deal on ABC's Shark Tank with two sharks, Mark Cuban and Kevin O'Leary! Dream team! Banana Loca has been gaining momentum ever since.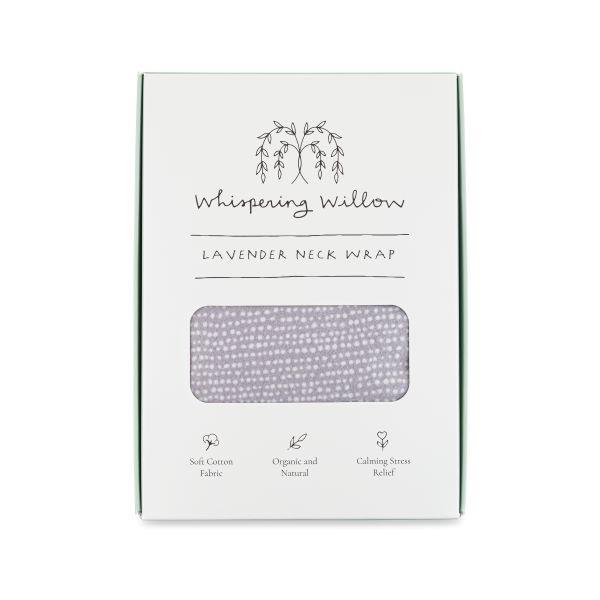 Whispering Willow's Neck Wrap provides a calming, luxurious aromatherapeutic experience. Handcrafted by a small team in North Carolina using wonderfully soft flannel, the neck wraps are filled with organic flax seeds and organic lavender flowers.  They can be heated to ease tension and tightness in your neck, shoulders, and back or cooled to be aid sore muscles. Just what mama needs after a day of carrying baby (whether pre or post birth).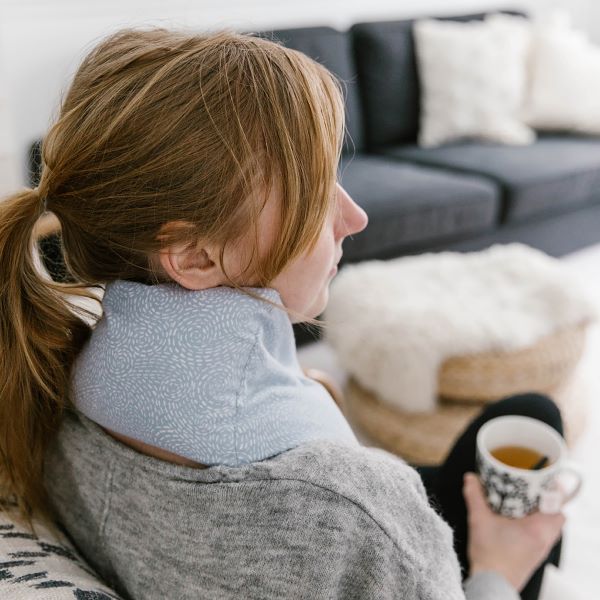 These beautiful neck wraps arrive boxed and ready for giving and are available in three colors: tranquil gray, cool mint, and deep blue.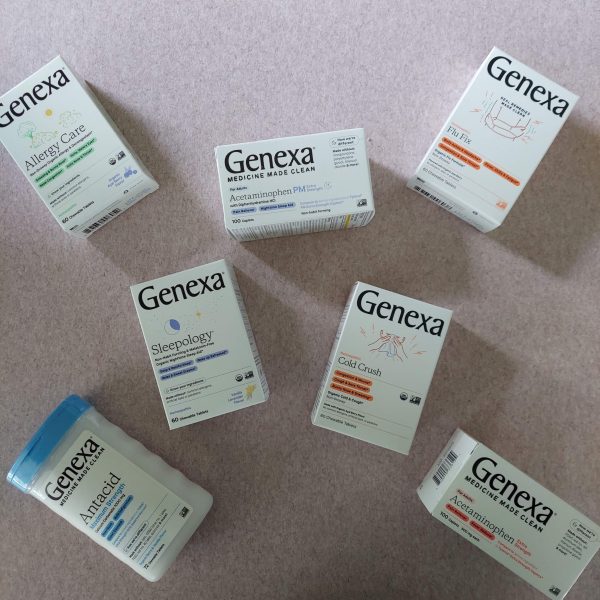 Mom worries about the meds she and her family takes. With some of her brood having allergies (like I do) to certain medications, it's nice to know that Genexa makes clean OTC medicines with the same, effective active ingredients as the legacy brands but no artificial fillers. Surprise her by stocking her medicine cabinet with the important OTC meds that she's been looking for.
Genexa covers everything from cough, cold, flu, digestion and allergy for infants, kids and adults. Adult products like their Acetaminophen Extra Strength (clean Tylenol) and Antacid (clean Tums) are best sellers with expecting moms needing relief but who don't want the artificial dyes, sweeteners and other chemically-derived ingredients while pregnant.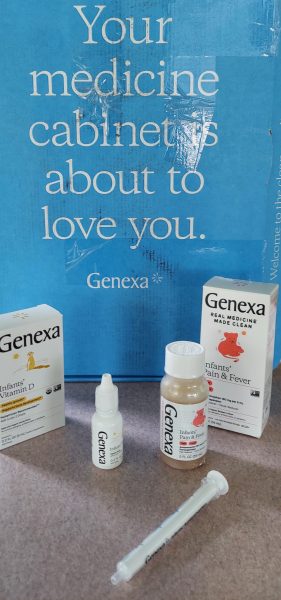 The Infants Pain & Fever (same effective acetaminophen in Infants Tylenol) and organic Infants Vitamin D drops are great for gifts for new moms to help them prep a clean medicine / first aid shelf for their babes!
This is a gift that she'll appreciate when she really needs it. Available directly from

Genexa.com
Mommies Work by Kristin Cowart Pierce
illustrated by Jordan Werre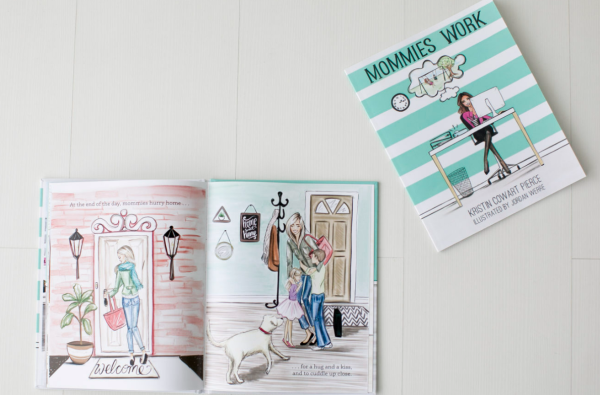 Part love letter to her children, part tribute to working moms everywhere, Mommies Work illustrates how women share their time and energy between career and family, "Mommies Work" highlihts the world of working mothers. Whether traveling for their jobs, heading to an office or working from home, moms everywhere can offer their littles a glimpse into their professional lives.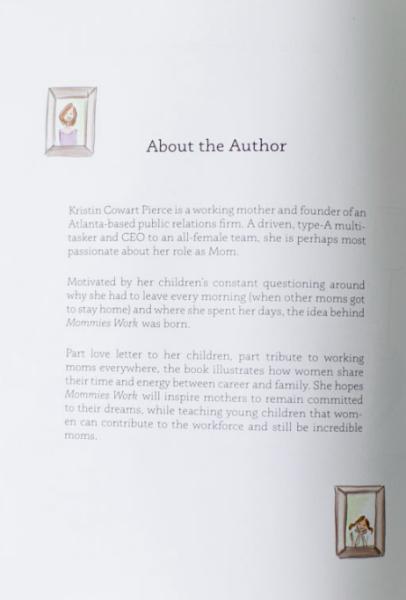 The perfect gift for mom to share with their child about the many facets of being a mom and why mommy goes to work (and opens the door for conversations about what mom's day at work looks like).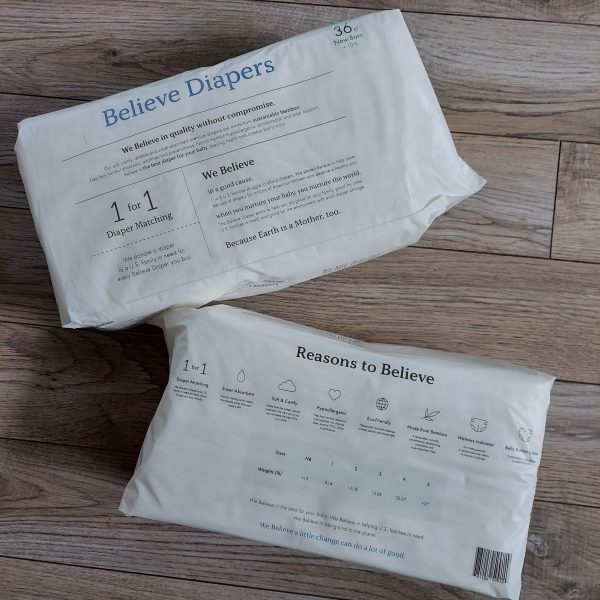 Give her a break from running out for diapers this Mother's Day with a subscription to the first and only socially responsible and eco-friendly diaper brand with a true 1-for-1 charitable model and are celebrating its two-year anniversary. In the first two years, Believe Diapers has donated over 3.2 million diapers and wipes, which have helped more than 70,000 U.S. families in need.
With one in three U.S. families struggling to afford diapers, philanthropy is at the brand's core. Diaper need can impact a baby's health, childcare, and a family's ability to work and attend school. Designed to be good for babies and the planet, Believe Diapers are made with bamboo, a renewable resource that is also hypoallergenic, antimicrobial, and odor resistant. These super soft, absorbent bamboo diapers are also free of all harmful chemicals, preservatives, and additives. Believe Diapers focuses on creating the best diapers for today's world because "Earth is a mother, too."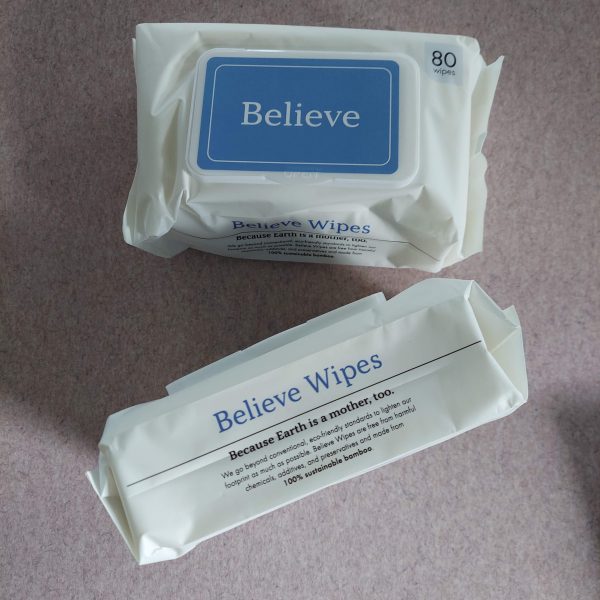 Believe Diapers are available in individual packs as well as a monthly subscription andr sizes range from Newborn to Size 5 (>27 lbs.). Believe Wipes are available in 4x80ct packs as well as 10x10ct travel packs.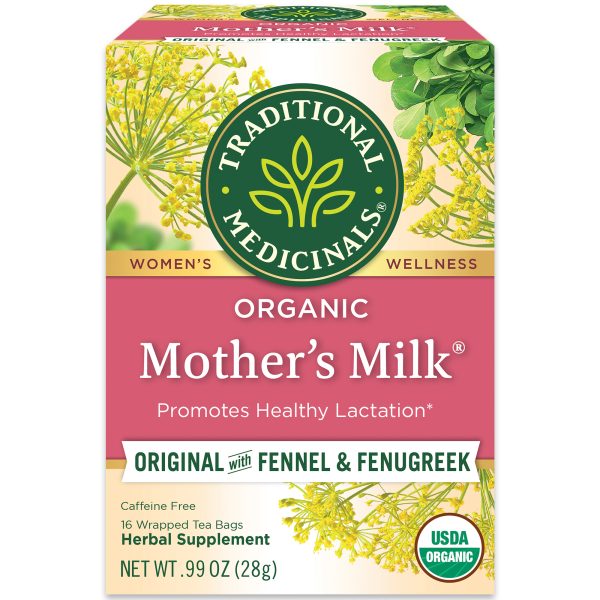 She'll take a break, enjoy a cup of tea with this medicinal organic Mother's Milk tea that promotes healthy breast

milk

production for nursing

mothers

. 
Moms have been trusting 

Mother's

 

Milk

 to help feed their little ones for over four decades. Inspired by a Traditional European Medicine combination passed through generations of women, this time-tested formula incorporates fennel, anise, coriander, fenugreek, and blessed thistle to create a breastfeeding 

tea

that helps promote lactation.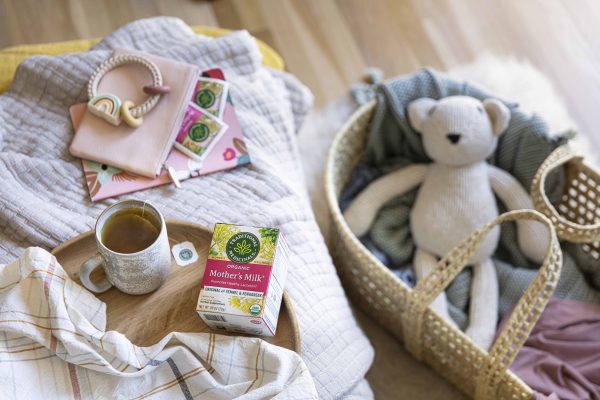 Recommended by lactation consultants, Mother's 

Milk

® Lactation 

Tea

 nurtures you so you can nourish your baby and feel comforted in your breastfeeding journey.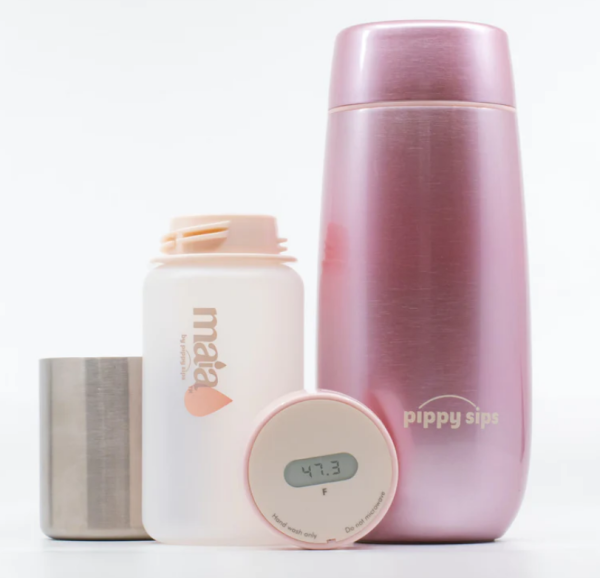 Mom wants a little freedom, but a nursing mom can feel very tied down because she feels like she always has to be there for baby. Well, you can change her life with this portable system that stores, cools and monitors breastmilk while mom is on-the-go. The launch of Maia™ and its mission of "making breastmilk even cooler™" comes after years of research and development, numerous prototypes, pandemic-related supply chain and production delays, and testing by and feedback from real, new moms across the U.S.  Maia™ is finally available.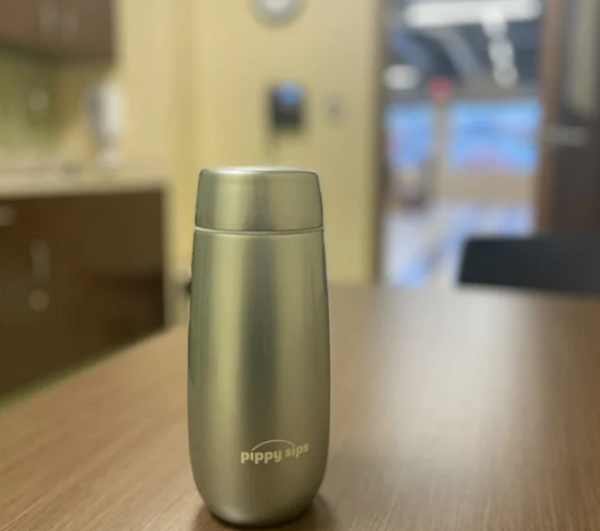 Now mom can actually feel like she can take a day off to go with friends, go to work and more. The Maia keeps up to 10 oz. of breastmilk at safe temperatures for at least 16 hours, without the use of batteries or a power cord. It's compatible with brand-name pumps and has a built-in thermometer and LCD screen to confirm the milk's temperature at any time. Sleek and beautiful with brushed metal on the exterior, it can discreetly sit on a desk or easily carried in a purse. The Maia is intended to give breastfeeding and pumping moms the freedom to feel a sense of calm knowing that their pumped breastmilk will be stored at a safe temperature for hours before returning home to baby.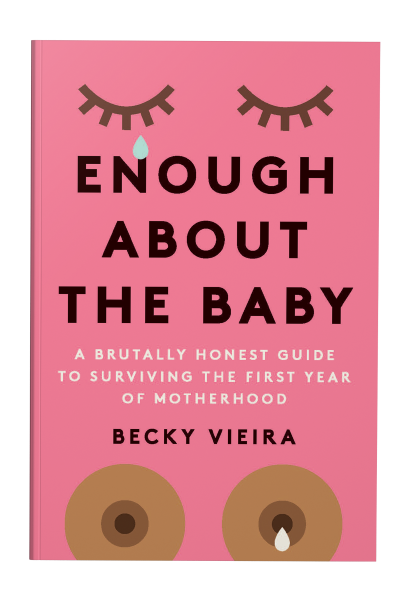 New mom's love their baby…but sometimes they feel like, well…I've heard ENOUGH. Enough About the Baby: A Brutally Honest Guide to Surviving the First Year of Motherhood is the long-awaited, much needed guide to new motherhood that has nothing to do with the baby. Author Becky Viera's describes the book as "everything I wish I had known" and provides actionable, real-world advice on how to successfully endure the challenges a new baby brings to every aspect of life.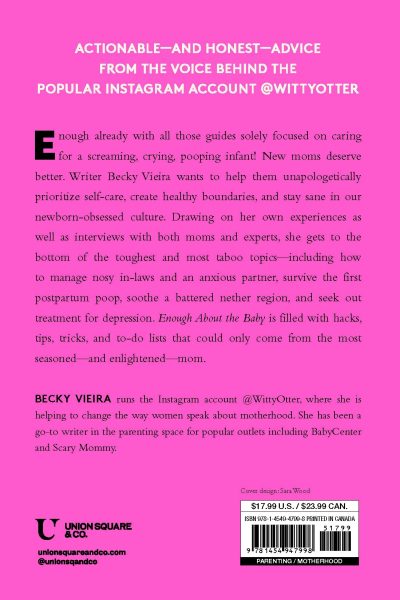 She gets to the bottom of the toughest and most taboo topics—including how to manage nosy in-laws and an anxious partner, soothe a battered nether region, post-baby body image and seek out treatment for depression. Vieira dismantles the way women have previously discussed motherhood in favor of a more honest dialogue, presenting a first of its kind guide for new and expecting moms. The book is peppered with advice from experts, from doctors to baby seat reviewers, and stories from other moms that help illustrate the good, bad and exhausting parts of motherhood that often go unspoken.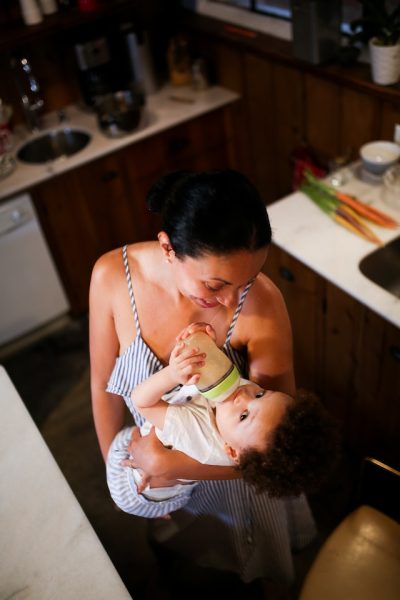 When you know a mom who's stressed out about feeding her baby SimpliFed has support. Mom can go to the SimpliFed website and receive on-demand, insurance-covered guidance from certified baby feeding experts and may also secure Nature's One, a trusted organic infant formula as either a single purchase, or a subscription package.
The formula will be priced comparatively to in-store offerings to allow for an accessible, affordable option. They also have baby formula available for those who need and want it. It's not free, but it's available. All of this is in addition to their core business — telehealth for baby feeding support, starting at 27 weeks of pregnancy, so before baby is born, and/or after baby is born — at no cost to the patient, because this is by law covered by health insurance companies under the Affordable Care Act. And, even if someone doesn't have health insurance they are given free appts by SimpliFed.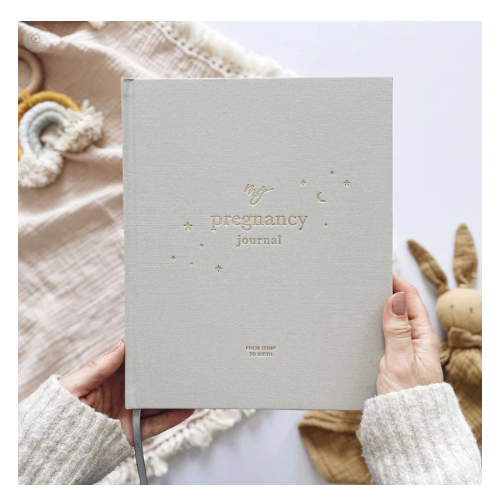 Discover the pregnant mom's Mother's Day gift with "My Pregnancy Journal," a beautifully crafted keepsake designed to capture the incredible journey of expectant parents. This elegant, gender-neutral journal is not only a delightful countdown to meeting their little one, but also serves as a heartfelt keepsake to cherish for a lifetime. With weekly development milestones, space for photographs, and sections to document moods, feelings, appetite, and cravings, this journal allows parents-to-be to create a treasured record of their pregnancy journey.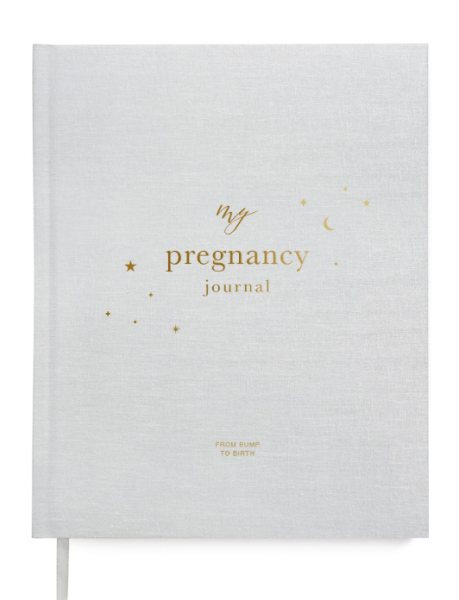 Packed with interactive features like birth predictions, a family tree, baby shower memories, and ultrasound scans, "My Pregnancy Journal" is a thoughtful and timeless gift that will surely make any baby shower unforgettable.
Pick this beautiful gift up at Easy Tot
The trend lately has gone far from the old maternity clothes and moving to comfy clothing and sleepwear that works throughout pregnancy and beyond. I wish that when I was pregnant (many years ago), that we had thought to do that. Not only is it more stylish, but it is also eco-friendly and affordable.
Kindred Bravely's sleepwear, bras & undies and clothing do JUST THAT. They work from pregnancy through breastfeeding and on to shear comfort throughout those days, weeks and months after the baby arrives.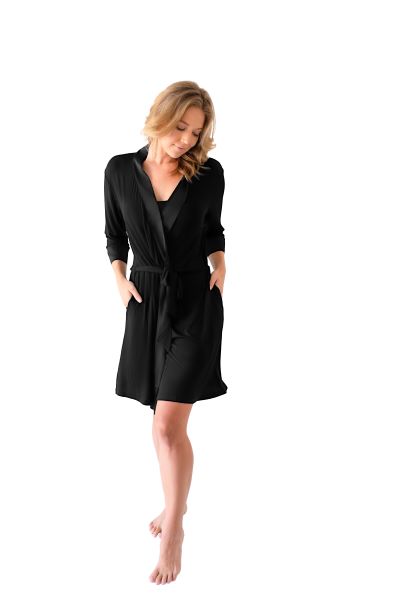 Give mom the gift of comfy luxury and the tools to relax! The silky, lightweight, super-soft knit fabric will have mom grabbing for it in every stage of motherhood. Sleeping, lounging, nursing, you name it, mom will be wearing it for everything! The belt can be worn 2 ways, creating an empire waist (great for pregnancy) or a traditional waist (perfect for postpartum and beyond)! Add in deep pockets with 3/4 length sleeves and you've got a robe that can carry all of the essentials while keeping sleeves out of the way. Bonus points? Works great as a nursing cover.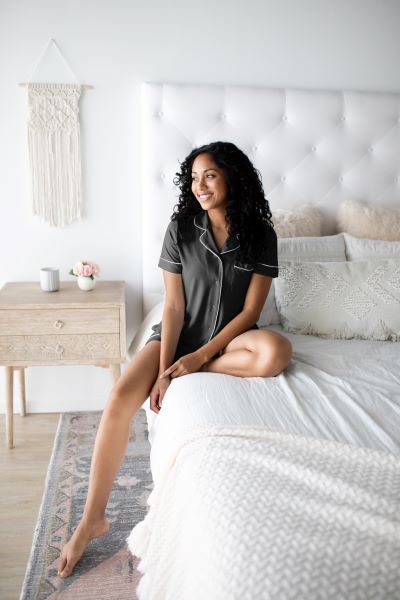 Clea Bamboo Classic Short Sleeve Pajama Set
Give mom the gift of a good night's sleep because she deserves it! A good pair of PJs can make all the difference in a truly restful sleep so make sure you're providing mom with the best of the best. Bamboo is a temperature-regulating fabric that is breathable and lightweight so you won't wake up in the middle of the night with hot flashes and a desire to strip. On top of keeping you cool, bamboo is so incredibly soft and silky, you might never want to take them off (we won't judge!). The Cleas even won a 2022 Health Sleep Award as a product to help you sleep better! If you're a new nursing mama, there's easy button down access and a gentle elastic waistband allows for comfort during pregnancy and postpartum. Oh, and did we mention the pockets? Functional pockets.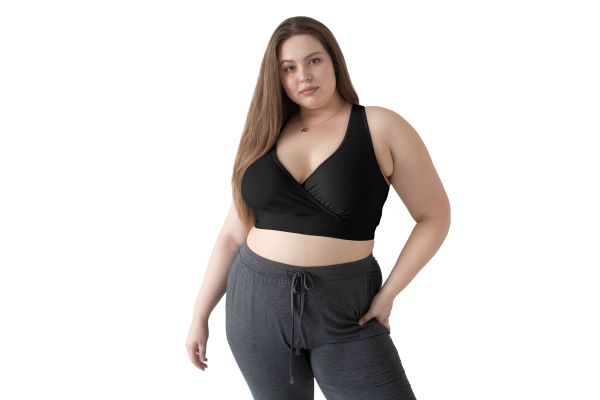 This What to Expect and Good Housekeeping favorite will be mom's favorite comfy, wireless bra pregnancy through postpartum. The ultra-soft, stretchy fabric provides gentle support all day and night so you'll actually enjoy sleeping in it. Sizes are available in XS – XXL-Busty, fitting cups 28B – 42I! For nursing moms, this provides easy, one-handed pull-aside breastfeeding access so there's no need for a swap between lounging and sleeping. With several color options and patterns, there's a style for everyone. Hello, best bra ever!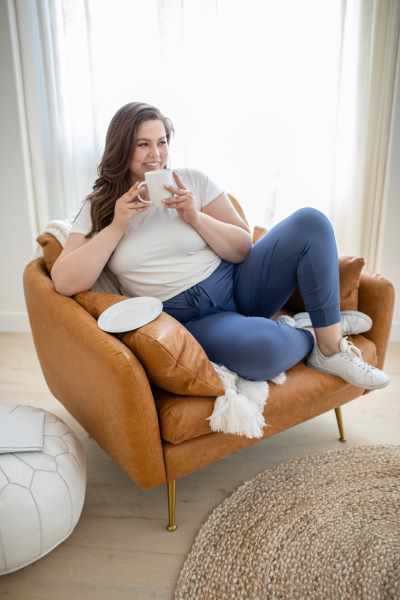 – The Mom's Choice Awards, National Parenting Product Awards, and over 1,700 moms on Amazon agree that the Everyday Lounge Joggers are the best maternity joggers. Unbelievably soft and lightweight? Check. Deep pockets? YES. Cute enough for lounging or shopping with the girls? You bet. Stretchy and adjustable for pregnancy and postpartum? Of course. Sign us up! Bonus points for being available in multiple colors and a "tall" style so everyone can find their perfect match and reach the ultimate state of cozy and cute.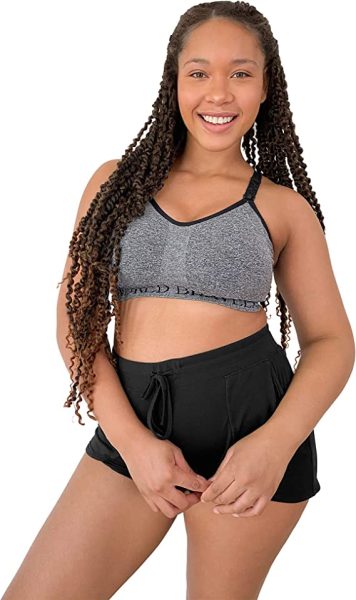 We can't forget gifts for the new mamas out there that want to pump some dopamine! The National Parenting Product Awards and over 3,000 moms on Amazon agree that this was built with active, nursing mamas on the brain. Breathable, moisture-wicking material meets soft removable padding, creating a sports bra that's super comfy, supportive, and always maintains its shape. Nursing mamas are prepared in a pinch when the little one's hunger strikes thanks to clip-down cups for easy nursing access! Busty versions provide extra support for cup sizes E-I with expanded fabric in the cups, a tighter knit fabric, and wider straps for better weight distribution. Every mom can feel cool, comfy, and supported during workouts (and nursing breaks).
PROMOS:
Sitewide sale on Kindred Bravely up to 25% off from May 11-16, WITH A BONUS CARD!
PJs All Day Nursing Bundle – includes the robe, pajamas, and (2) French Terry Bras for $129 through May 10.
Labor & Delivery Essentials Bundle – includes the joggers, French Terry Bra, Labor & Delivery Gown, High-Waisted Postpartum Recovery Panties (5pk), Simply Sublime Tank, and a Florence Tote – $135 through May 10.
Mother's Day Sale – Up to 25% sitewide May 10 – May 15

Bonus Card: Spend $125 and get a $25 Bonus Card

Bonus Card redemption: June 1-15
These are deals that you DON'T WANT TO MISS!
Happy Mother's Day shopping and don't miss our OTHER Mother's Day shopping guides including: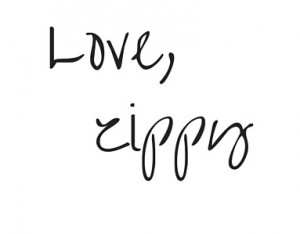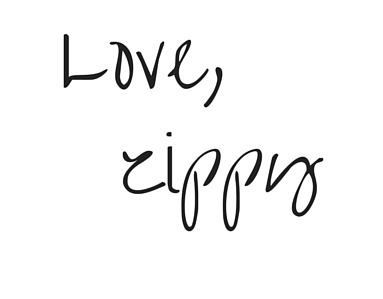 &