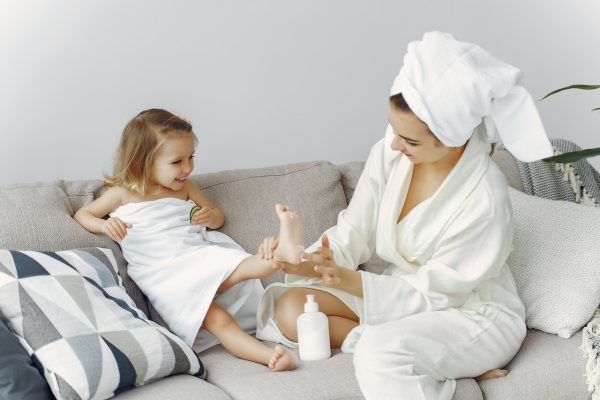 Is there any better way to spend a day off than finding ways to pamper your skin? Well, if you have some time to yourself this weekend, go ahead and give one or all of these a try.
Soften Yourself Up a Little
Soft skin just feels great, both to the touch and in your mind. When you are softened up, you know you are relaxed and ready to tackle the day. But what are the best ways to do this? You can try using relaxing organic bath bombs, exfoliating body sugar scrub, and the classic lathering bath or shower gels. Of course, these must be accompanied by hot water, and soaking in a bathtub is probably the best way to relax your body and open up your skin's pores.
Go Ahead and Treat Your Feet
When you are done in the tub or shower, the relaxation shouldn't end there. If you are lucky enough to have a foot spa, then go ahead and give your soles, toes, and ankles a day off. Foot spas with bubbles and hot water will relax your feet and soothe any aches. Additionally, they will help promote blood circulation, helping prevent issues if you use them regularly. And the tingling afterward is fun. Dry them off, and then go to town with your favorite skin care moisturizers.
Pamper Your Skin with the Power of Steam 
One of the main ways your skin feels great is by opening up pores. This prepares your body for taking in skin nourishment products. But it also helps remove toxins that have built up as well. And there is no better way to do this than with the age-old method of taking a schvitz. Steaming your face has been around since ancient Roman and Greek times. And the methods used today are the same. Use a pot of steaming water or a face-steaming device for 10 minutes.
Get Yourself All Oiled Up
The main cause of dry, itchy, and tired-looking skin is loss of moisture. There are many reasons for losing moisture in your skin. But the main one is having your bath or shower too hot. But this detracts from the pleasure. So you need to trap moisture in and replenish what you have. You can easily do this using skin oil products. Some of the best for relaxing and rejuvenating your skin include coconut, almond, and argan oils, which are also antioxidants.
Finish Off with the Right Lotions
Skin oils are excellent for helping to promote the natural oils of your skin. But you need to also keep moisture locked in. Skin lotions are a great way to finish off a relaxing day at your makeshift home spa on your day off. You can massage moisturizers into your skin to help your body receive them better. Of course, you can do this yourself. Or your partner can help you. This is an essential step after steaming. But wait until it's absorbed before using makeup.
Summary
Sometimes you just want to pamper your skin to look better and feel great. It helps to soften your skin first. You can remove toxins with steam. And finish a routine with moisturizers.