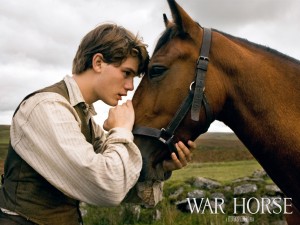 What are you doing this Christmas Day? You've opened the presents, had enough food to satisfy you for the next month, and hopefully the family that came to visit has decided to leave a little early. My suggestion – Go see Steven Spielberg's War Horse which opens in theaters everywhere on Christmas Day.
I had the opportunity to see this epic movie at the world premiere in New York, and although I tend to be jaded when it comes to film – this is one that's a feel-good, who cares what anyone thinks kind of movie.  We're FINALLY getting another Steven Spielberg epic here, with amazing cinematography (you'll be oohing and ahhing over the lighting in some of the scenes), majestic thoroughbreds, and spot-on acting. Lead by newbie Jeremy Irvine, and a supporting cast of actor's actors (like the great Emily Watson and Tom Hiddleston), the audience is transported to England, and a time of struggle. From Britain to war torn Europe, we ride among the equines amidst thundering hooves, to a spot in history that should not be forgotten.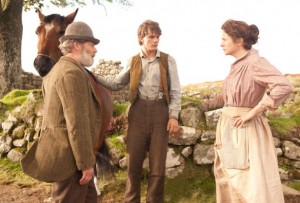 The story of Albert (played by Irvine) and his beloved horse Joey, is as timeless as Old Yeller. This story of friendship set against the backdrop of war is emotional and inspiring.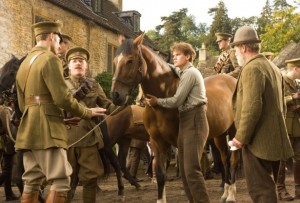 Must see scenes are those depicting war, include those filmed in no-man's land as the horses and cavalry charge in a man against machine history of war,  as well as those in the trenches – where we see what happens as young men face devastation for the first time. Especially heartwarming (although quite unrealistic) is the scene where a Brit and German soldier come together over Joey, to free him.
Both heartwarming and violent, this is a film best seen by teens and adults (the war scenes may be much to gory and real for children).
There seems to be a real push to digital and this is Spielberg's first to be edited digitally. It's a match made in heaven (much like Woody Allen's first digitally edited Midnight in Paris). Welcome to the new age of film Mr. Spielberg – it fits you VERY well.
As I said in the video
If you love horses
Historical movies
Steven Spielberg
Wonderful Acting
Then put War Horse on your must-see list this holiday season.
I was a guest of Disney and Dreamworks for the World Premiere of this movie. All opinions are strictly my own.
**Apologies to Emily Watson and the horses who played Joey. Neither Clem the mini-bull-terrier nor I could ever do justice to the roles. We're just having a little fun. **