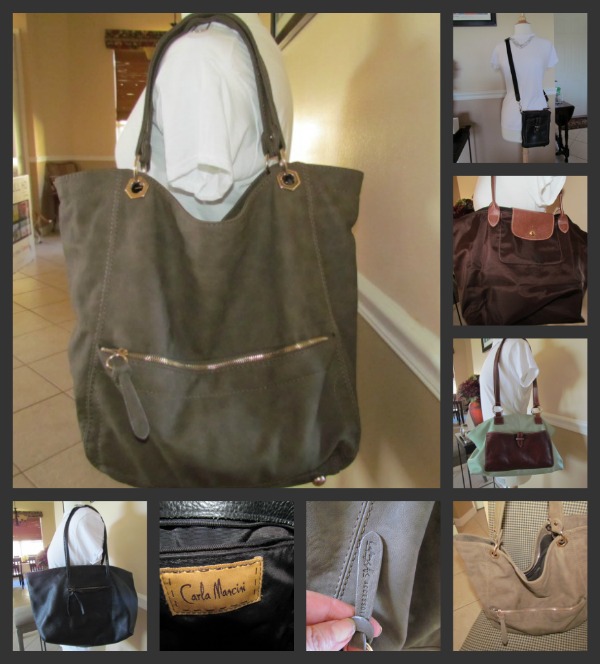 If your handbag could talk, what would it say about you? Would it declare
My owner is a slob – everything's just tossed in here
My owner is conservative and likes playing it safe
My owner loves having a big bag to fill up with shopping goodies
My owner likes having her hands free
My owner is neat, petite, and organized
Me? I think that I'm a bit of a chameleon. Sometimes I wear a compact cross-body bag (Coach), with my hands free I'm ready to hit the town running. Other times I wear my Longchamp tote – that means one thing – SHOPPING (it's designed to fill up with purchases), my all time favorite is my Carla Mancini bag, but I've worn it to death and when I was in Paris this year, I picked up this mushroom colored tote at Galeries Lafayette (it is their house brand Lafayette Accessoires), and that's what I've been wearing.
I like it because not only is it cavernous for shopping, electronics, etc., but it falls ever so nicely (you can also see how it falls sitting on a chair in the corner photo). It's really about the aesthetics for me, since you can take a simple white t and make it look like a million dollars, just by the handbag, scarf, and jewelry that you pair with it. Remember to skimp on the items that no one will ever notice and spend your money on those that catch the eye…like a great handbag.
So – what handbag best represents YOU? Pick one out of your closet and go HERE and let the Jane by Design team know (don't forget to tell them that you were sent by Champagne Living ) and you might have a chance to be Jane's Trendsetter of the week on the ABCFamily.com site!
Don't forget to mark your calendars and catch Jane by Design on ABC Family – coming on January 3rd at 9pm EST!
I wrote this as part of my "interview" process with the fictional Donovan Decker agency and the new TV show Jane by Design. All opinions are my own.