Join me on twitter this Thursday 9/18 at 8:00pm ET for an hour of conversation & Q&A with author Jonathan Tropper – #TIWILYChat

Reading before seeing the movie
I'm just about finished reading Jonathan Tropper's This is Where I Leave You. I make it a point to TRY to read novels before seeing a film, mostly because I have a need to know the ENTIRE story. I believe I started doing this when I first saw A Clockwork Orange and came away with more questions than answers.  It's also because I love a good story…and Jonathan Tropper has a way with words.
I'm loving every minute of this dysfunctional family forced together to sit Shiva after their father has passed away. You see, I come from a family that's pretty similar to the Foxman's, so I can relate.
ABOUT THE FILM
This Is Where I Leave You – In Theaters September 19

The dramatic comedy "This is Where I Leave You" is directed by Shawn Levy, and based on the hilarious and poignant best-selling novel by Jonathan Tropper. It features a starring ensemble cast including Golden Globe winner Jason Bateman ("Arrested Development"); Golden Globe and Emmy Award winner Tina Fey ("30 Rock"); and two-time Oscar® winner, multiple Golden Globe honoree and 2013 Emmy Award nominee Jane Fonda ("Klute," "Coming Home," HBO's "The Newsroom").

When their father passes away, four grown siblings, bruised and banged up by their respective adult lives, are forced to return to their childhood home and live under the same roof together for a week, along with their over-sharing mother and an assortment of spouses, exes and might-have-beens. Confronting their history and the frayed states of their relationships among the people who know and love them best, they ultimately reconnect in hysterical and emotionally affecting ways amid the chaos, humor, heartache and redemption that only families can provide—driving us insane even as they remind us of our truest, and often best, selves.
The movie opens this Friday, September 19 and to kick things off, I'll be moderating a question and answer chat on twitter, along with lots of our blogger/twitter friends who participated in the book campaign. Please join us for some fun and FABULOUS PRIZES.

DETAILS
What: Chatting about the film release of This is Where I Leave You along with the book's author Jonathan Tropper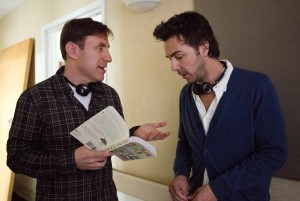 When: Thursday, September 18
Time: 8:00 – 9:00 pm EST
Who: Author Jonathan Tropper will be joining in from 8:10 EST – 8:30 EST for a live Q&A session
Hashtag: #TIWILYchat
GRAND PRIZES
GRAND PRIZE #1 – Custom Skinned TIWILY Kindle Fire HDX 8.9″ Tablet (8.9″ HDX Display, Wi-Fi, 16GB, $379)
GRAND PRIZE #2 – $500 Amazon gift card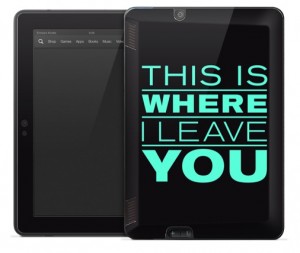 FIVE (5) RUNNERS UP (each receive the prizing below)
$50 Amazon gift card, a TIWILY Mug, Tote and copy of the book!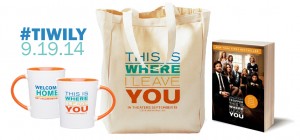 FOLLOW
Moderator: Zippy Sandler – @zipporahs
Special Guest: Jonathan Tropper @jtropper
THIS IS WHERE I LEAVE YOU hits theaters on Friday, September 19
OFFICIAL SITES
Note: I am being compensated to moderate the chat listed below. All opinions are strictly my own.