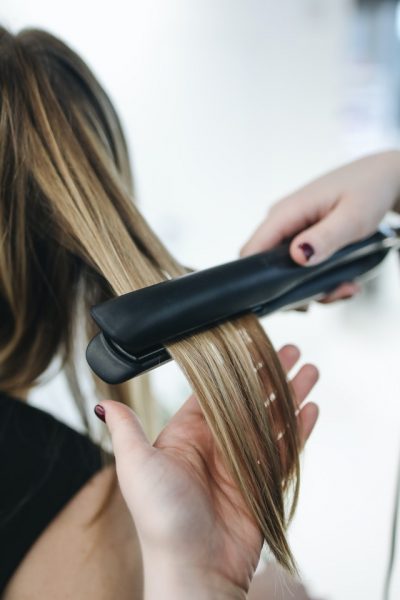 Many flat irons do not live up to their manufacturers' promises. Instead, they make your hair dry, brittle, and prone to hair breakage. Quality flat irons have the best quality plates, including ceramic, pure tourmaline, or solid titanium. What you're looking for is a long-lasting device that will give you many hours of high-quality, even heat application. One thing to remember, regardless of the model of flat iron you choose, is to use a heat protection spray to retain your hair's natural moisture and add moisture. And so without further ado, let's look at the six best flat irons to buy this year.
#1: Dyson Corrale Hair Straightener
The Dyson Corrale Hair Straightener is a cordless flat iron containing a four-cell battery inside of its base. It weighs about 1.23 pounds, which is quite heavy compared to other flat irons. The great thing about this flat iron is that it gives you the option to choose between three heat settings: 330° F, 365° F, and 410° F.
The Corrale straightener reduces hair damage by fifty percent and gives your hair a shiny and glossy appearance. It is unique in that magnesium copper plates are used. This makes the flat iron flexible and bent around the hair strands. At the same time, it provides the added feature of measuring its own heat every few seconds. This ensures the hair is receiving an even heat distribution and better tension. This leaves your hair with less breakage.
#2: BaByliss PRO Mini Nano Titanium Ionic Flat Iron
Its lightweight plates contain ultra-smooth titanium with a Ryton housing, enabling it to withstand high temperatures. An additional benefit is that the extra-long plates are well-balanced with LED temperature controls, so they can heat up to 450 F. The plates heat up quickly and consistently distribute even heat. As a result, your styling time will be shorter, and you will achieve that salon appearance. Your hair will also remain straightened, for several days, without the need to re-iron it.
#3: Cloud Nine Original Flat Iron
The Cloud Nine Original Flat Iron contains ceramic-based plates that are fully heated in twenty seconds. It has temperature gauges, which allows you to control the temperature easily. These silky, black ceramic plates keep the hair flawless and lustrous. Also, you don't have to press hard to maintain a grip on the hair. After use, your hair will feel soft, smooth, silky, and straight. The Cloud Nine is lightweight and easy to handle. It comes with a protective heat guard and a nice travel bag. Its swivel cord has a ball and socket design. This gives you so much freedom while styling your hair.
#4: Bellami Triple Shine Original Flat Iron
This entry on our list has black diamond, graphene, and ceramic plates, which are made to create that shiny, salon professional appearance. The plates can heat up all the way to 450°F in less than 60 seconds. This is due to its ultra-quick heat-up technology. This makes it possible for extremely efficient styling. Heat is also evenly distributed throughout the hair.
#5: CHI Original 1-inch Ceramic Iron
This flat iron is ionic with ceramic plates that heat up within 30 seconds, reducing the time it takes to style your hair. The CHI's infrared technology, which uses negative ions, reduces static electricity and frizzes in the hair and enables the flat iron to achieve maximum hair results. Almost immediately, your hair will be silky and shiny. If you do not want your hair straightened, the CHI's ergonomic design makes it easy to create waves, flips, and curls. Its swivel cord also makes it easy to store. You will also have the freedom to move while doing your hair.
#6: GHD Classic Original IV Hair Straightener
Finally, the GHD Classic Original IV Hair Straightener has ceramic plates with semi-rounded edges that preserve the hair's integrity and strength. The GHD Classic, named as the best hair straightener by The New York Times Wirecutter website, also has a curved casing, which makes it useful for also curling your hair. This flat iron works best for straightening slightly thicker, wavy hair. What makes it stand out from other flat irons is that it only has one heat setting, which is 365°F (185°C). This temperature setting is supposed to make it an effective straightener on the first pass. However, it might take more passes to straighten out super thick hair; using a heat protectant is definitely essential. This flat iron will easily eliminate and smooth frizzes for long-lasting results.