Giveaway sponsored by Sawgrass Mills. Opinions are strictly my own.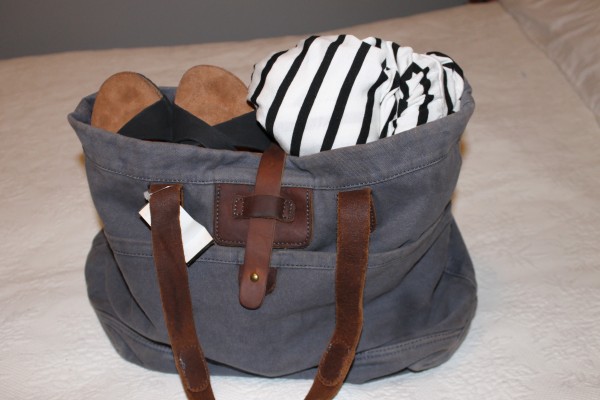 I admit it. I can pack a suitcase like NOBODY'S business! My carry-on looks like a bazillion clowns getting out of a little car at the circus, or at least it seems that way. I'm always asked just HOW I can fit SO MANY outfits into ONE LITTLE BAG.
The truth of the matter is that I pick and choose, and buy what I feel are just the right outfits for my travels. Nothing more, nothing less. While it appears that I have brought a lot with me, I have not. Over the years I've learned what is essential and what I can leave at home.
This summer, I decided to hit Sawgrass Mills in Sunrise, FL (one of the world's largest outlet malls) to buy an ENTIRELY NEW travel wardrobe, and I did it ALL for under $500 (including two outfits for Ben, who was accompanying me on a recent trip). Since I've been at this for so long, I knew EXACTLY what it would take to get me through a fabulous long weekend at an equally fabulous resort.
1. The bag – Barney's New York Outlet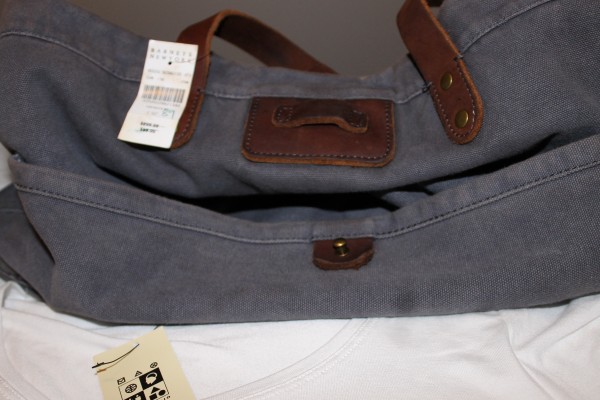 I never limit myself to what I find in the women's department. You never know what lurks among the men's or children's items. This canvas tote with wonderful leather straps and trim was sitting in the men's department. Perfect to toss my travel items in and use as a large handbag, camera bag or beach tote once I reach my destination. Multi-use items are one of the KEYS to packing efficiently. This one is classic and timeless. It holds JUST enough for a weekend getaway and fits under the seat on a plane with ease.
2. The bathing suit – Bloomingdale's The OUTLET Store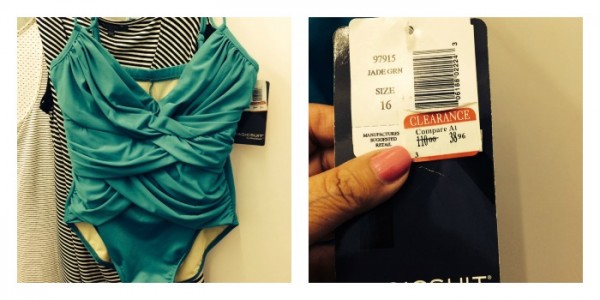 I adore Miraclesuits, and when I found this adorable teal one on CLEARANCE at The Bloomingdale's Outlet Store I knew it was a score. As you can see I'm NO SIZE 6, so on the hanger is as close as you'll see it (unless I've had a few glasses of champagne in me, and no longer care). Color on the beach makes the tan look deeper!
3. Flip-flops – Saks Fifth Avenue Off 5th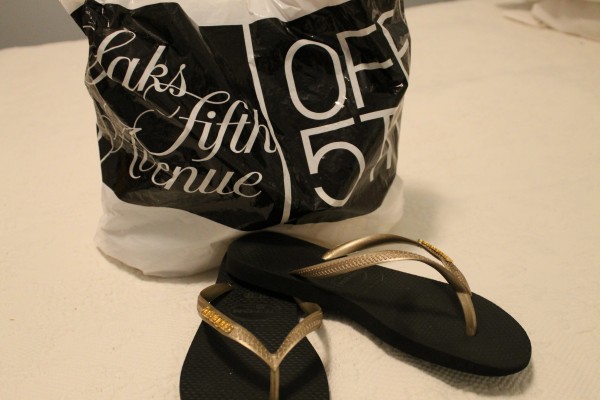 One can NEVER have enough Havianas, especially when they're half price at Saks Fifth Avenue's Off 5th outlet. I chose GOLD so that I can take them from the beach, to jeans, to a dress. Yes, even a night out on the town in flip-flops is okay when you're on vacation….and women know that GOLD goes with EVERYTHING.
4. Maxi-Dress – Neiman Marcus Last Call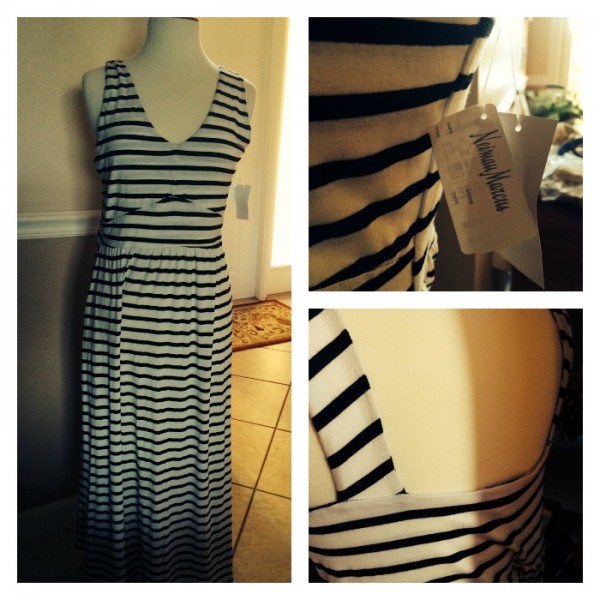 , From a seaside lunch to dinner out with Mr. S a maxi-dress works. Of course, I had to choose my signature stripes. For the daytime I'll toss those Havianas on with it, but for evening a pair of wedges will do. Why wedges? You'll see
5. Wedges – Neiman Marcus Last Call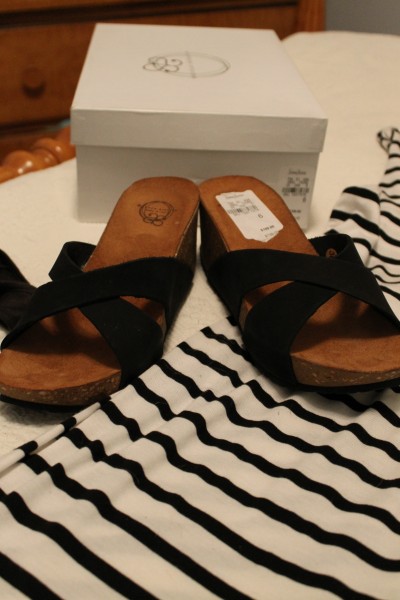 As I get older, I want comfort. I'm also barely five feet tall and a little height means not having to hem my maxi's or pants. I can slide in and out of them easily, and when I tried these on with a NUMBER of dresses, shorts, and slacks they looked GREAT. Plus there was a FABULOUS sale on all sandals, bringing the price WAAAAY down.
6. T-Shirt and Shorts – Calvin Klein and Max Studio outlets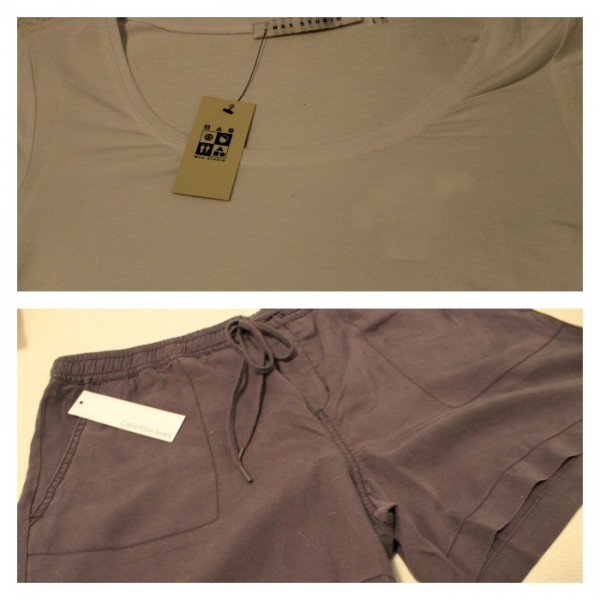 One of the things that I love about summer travel is that my days are so casual. Be it shopping, touring a new city, people watching from a little sandwich shop near the beach, etc. A comfortable pair of shorts and a t-shirt are de rigueur. By making the t-shirt a simple white and the shorts a sort of bluish gray, I've opened the door to mixing and matching with pieces that are already in my wardrobe. Once again, either those flip-flops or the cute wedges look AWESOME with this.
7. A Night Out Dress – Bloomingdale's Outlet Store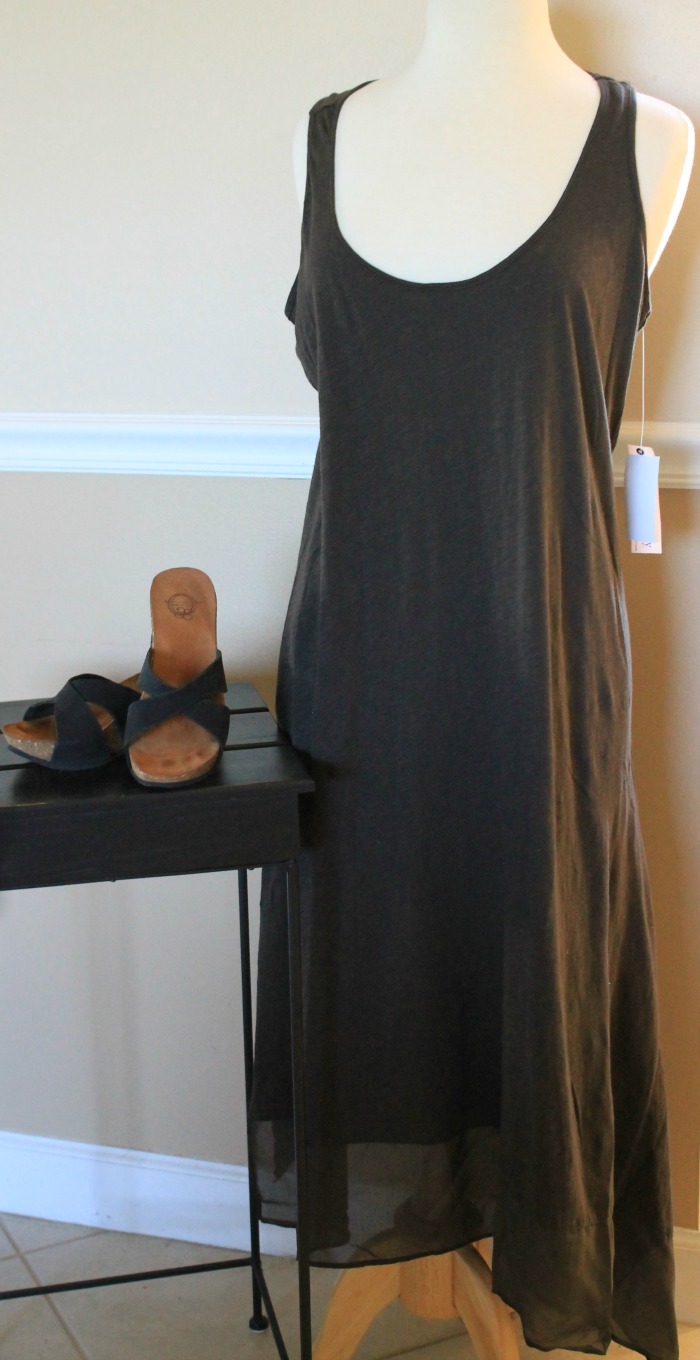 Stepping it up JUST a bit, but still staying casual, this Philosophy dress is PERFECT for dinner out, clubbing, or whatever the evening may bring. The hem has just enough ooh-la-la for night time (with a sheer over fabric), and those wedges still work PERFECTLY.
8. Change purse – Barney's New York Outlet
While this may seem ODD to some, when I'm traveling I like to just tuck my license, a credit card and a couple of dollars into my pocket, my beach bag, etc. A big bulky wallet doesn't work and when I saw this little one at Barney's I knew that it would get a LOT of use.
HIM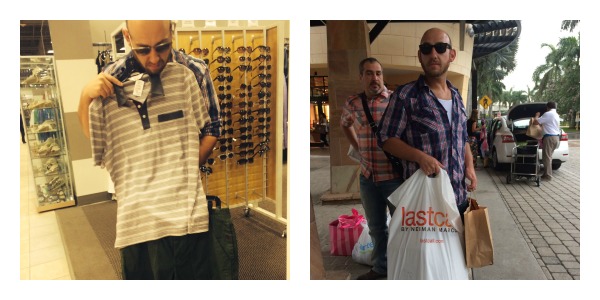 Ben picked up two outfits, including this shirt and shorts combination at Neiman Marcus Last Call. I had to stop him before he took off with my gift card.
I began with $500 and I got such GREAT DEALS at Sawgrass Mills, that there was STILL PLENTY LEFT to spend after that haul. I headed back for more and I'll be updating you soon.
If you're a bargain hunter with STYLE, then hands down Sawgrass Mills is the place to shop. With over 350 stores including top designers like Tory Birch, Burberry, and hundreds more,  and of course the large retailers like Bloomingdale's Outlet, Neiman Marcus last Call, Saks' Of 5th and Nordstrom Rack, I visit Sawgrass at LEAST four times each year to update for the seasons.
>>>Sawgrass Mills is conveniently located at the crossroads of West Sunrise Blvd. and Flamingo Road, just 15 minutes from Fort Lauderdale International Airport and 35 minutes from Miami and Palm Beach.
Enter to win
Visit: Sawgrass Mills and decide WHICH store you'd love to shop in