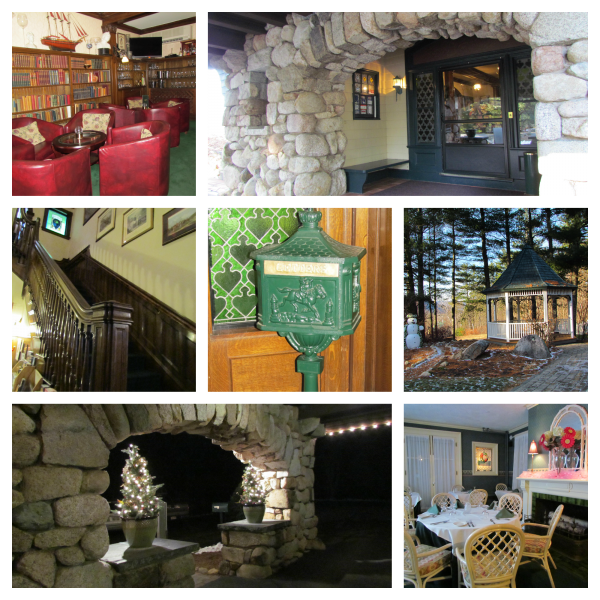 It's rare that Mr. S joins me when I travel, so when he agreed to head up to New Hampshire to visit the Stonehurst Manor in North Conway I was shocked. We had talked about driving from Florida to Rhode Island to see the family for Thanksgiving, but truthfully we did that MOST years, and he'd always back out. Mr. S and I are VERY different that way. I could spend my life living out of a suitcase and seeing the world, while he's a homebody (with the exception of the occasional cruise).
For many years we drove from RI to NH on Friday after work, and back home again on Sunday evening. This was our winter (and sometimes summer) routine. Some years we'd rent a ski chalet for the season, other years we'd just pull into a hotel that we knew would take our big dogs. Back then we had Old English Sheepdogs, and finding a place that would welcome a 100 lb. dog could be an issue. We'd always pull up the drive to the beautiful Stonehurst Manor in North Conway and say, "ONE DAY."
That "ONE DAY" came last month when we finally made it back to the White Mountains after 10 years of being away. Our first reaction was. Why did we wait so long? Well, we were concerned about boarding our dog.
Stonehurst Manor is pet friendly
From a tiny kitty to a Great Dane, all breeds and sizes are welcome. I realized JUST how much that they actually MEANT this when I checked in and was greeted by Sophie the official greeter and big-dog-in-residence (who was in the office and looked up at me as I introduced myself).
While they're not allowed in the main manor house rooms, they have a designated pet section, making it VERY easy to walk directly outside and into the wooded trail behind the manor. Clem loved his outings so much, that I think we all got MORE exercise than we usually do. The path is cleared and marked with a "Dog Walk" sign making it a great meeting place for a little dog play time with other friends we met.
Do you fantasize about going to an Inn and
Sitting around a roaring with friends?
Sleeping in a beautiful canopied four poster bed with a fireplace in the room?
Hearty meals with a European touch that rival a four star restaurant?
Making friends over drinks & hors d'oeuvres by the fireplace that may last a lifetime?
Views of the White Mountains from your Adirondack chair?
Hiking through the woods with the leaves crunching underfoot?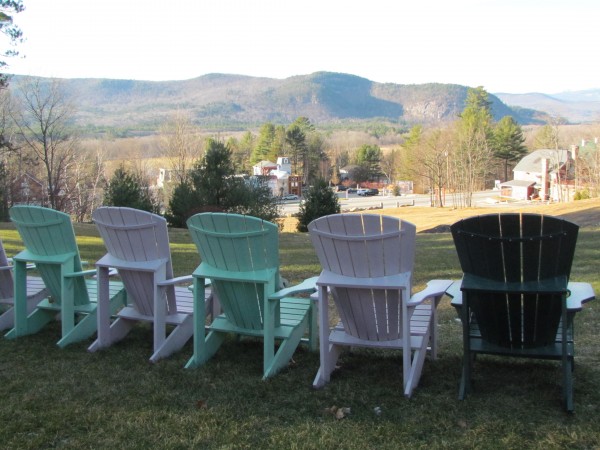 So did I, but I thought that
The prices for an Inn that includes meals would be out of our budget
We'd have to board the dog, adding to the cost of our vacation.
Most Inns and Manor Houses only have a few rooms, so getting one when we want to visit would be difficult.
We don't know anyone there, so "fitting in" would be an issue.
Our visit to the Stonehurst Manor was amazing. From the moment we pulled up the long entrance to the circular drive I knew that this was going to be a vacation to remember. The fireplace was lit as I opened the front door, and all of the charm that I had expected was laid out before my eyes. Heidi and the staff were warm and welcoming, and while I was worried about Clem the mini-bull-terrier-in-a-china-shop at a place like this, I shouldn't have. Room 22 may  not have had the four-poster bed with canopy, but it was perfect for those traveling with pets.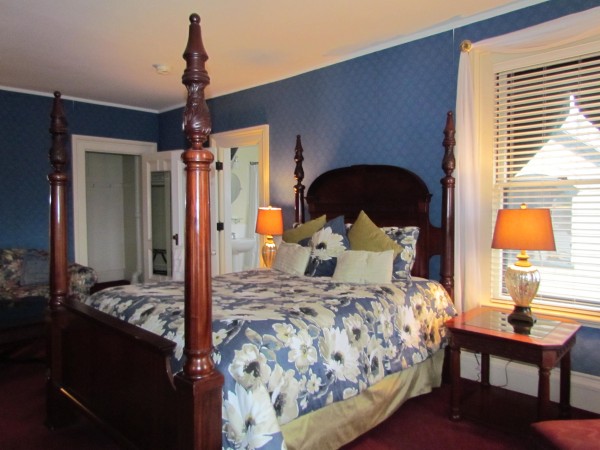 Evening hors d'oeuvres with a drink in hand is the perfect way to meet guests friends
It's funny how sitting around a living room in such an intimate setting helps create friendships. I immediately hit it off with a couple sitting nearby who live in Rhode Island, and we sat together and chatted for an hour. The next morning at breakfast, Mr. S was feeling a bit under the weather, and I ventured to the dining room alone. My new found friends joined me and we continued our conversation. That DOESN'T happen very often when I'm traveling. I later learned that many friendships have developed over the years, and guests keep coming back with friends that they've made while sitting around that fireplace. Year after year, the groups have grown to include people that they've met on previous trips.
We're STILL talking about Chef Avi's food
When you book a room at Stonehurst Manor, breakfast, afternoon cocktails/hors d'oeuvres and dinner are included in the price. Everything, and I mean EVERYTHING that I tasted was in a word
PERFECTION
If I could have kidnapped Chef Avi and had him cook for me forever, I'd be a happy, happy, woman. Well, at least I know that I can head up to North Conway and have him prepare a bit of magic on a plate for me. Even if you're NOT STAYING at the Manor, you can still stop in for dinner. They offer a full menu, and whether you're in the mood for a pizza or a baked stuffed lobster you'll be in for a real treat.
I'll be writing more about the incredible food that Chef Avi Deiter put in front of us each morning and night soon, including some of his secret recipes!! So, check back and recreate his Porcini Mushroom Rub on your next steak!
The Amazing Part
All rooms included breakfast and dinner for TWO at very reasonable prices. They have not one, not two, but FIVE pet friendly rooms. Prices are less than I've payed for a no-personality-hotel-room-at-a-chain place. For example their high season is mid-September through October and a deluxe room in the Manor house goes for about $196 (remember that includes MEALS for two and their wonderful fireside happy hour).
For my DEAL TRAVELERS
They almost ALWAYS have specials (and if you're flexible you'll REALLY SAVE). Consider traveling up to the beautiful White Mountains between November and March and do a MIDWEEK stay.
You can check out their current specials here: Stonehurst Manor Specials
For More Information