This is a sponsored post written by me on behalf of COVERGIRL and ULTA.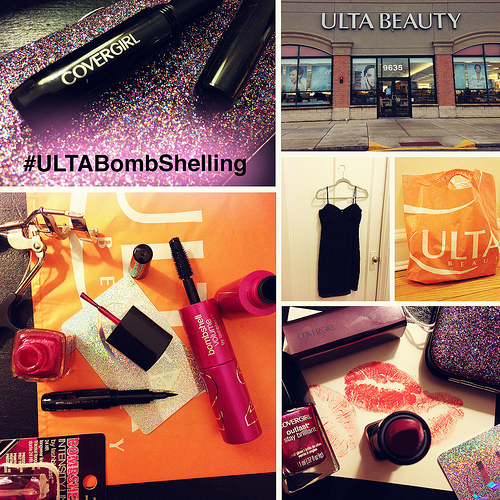 There's nothing I enjoy more than getting ready for the day, evening, or a night out on the town, and two of my favorite brands ULTA and COVERGIRL have joined forces for a fabulous party this Monday night and YOU'RE INVITED.
It's no secret that I'm a bit of a mascara snob.
Well, maybe snob isn't the right word, but I seem to have a buying, trying, and hoarding issue when it comes to eye makeup. I suppose it's the face that when I look into the mirror
My age shows around the eye area
When I take the time to make up my eyes I feel younger
There's nothing like framing your eyes with the RIGHT cosmetics
If I don't conceal the flaws and showcase my strong features I don't feel "go out" ready
COVERGIRL (my go-to for cosmetics) has come out with a brand new line – The Bombshell Collection. The collection is available at from January 5 – 25 at buy one get one 50 percent off at ULTA Beauty. Luckily I have an ULTA in nearby at  the Landing at Tradition (less than 5 minutes from the mansion), but if you don't have one nearby, this great deal is available online as well.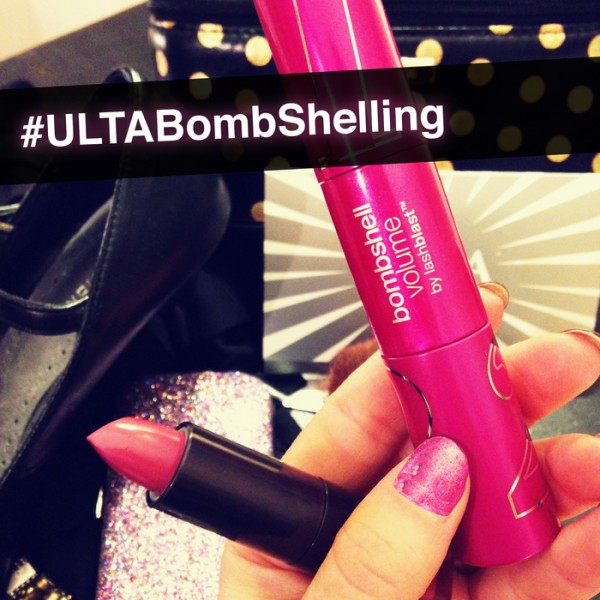 Even at 59 I want to be a Bombshell
I've recently learned that I can actually manage a liquid eyeliner much easier than I did with pencils. COVERGIRL Bombshell Intensity Liner by LashBlast has a felt tip which  means I can use a little or a lot and take my eyes from everyday to intense with a simple stroke. It's available in both Chocolate Kiss and Pitch Black Passion for around $7. My tip? I layer the two colors for a more natural look (using the brown Chocolate Kiss as the first layer and then a quick sweep of the Pitch Black Passion over it).
As a mascara snob, I'm always on the hunt for one thing – VOLUME. Bombshell Volume by LashBlast Mascara's two-step Bombshell Boost System assures me of LOTS & LOTS of volume without having to layer on coats and coats of mascara (which can look messy and unnatural). Me? I like my lashes dark, so Very Black is my color and $10 is my price point.
"The Wet-Lash Look is something we've been creating behind-the-scenes at the shows for years, using a combination of different products. The Bombshell mascara is impactful, excessive, and strikingly beautiful. The mega intense trend is amazing as it keeps the massive volume as well as getting an extreme JET-BLACK Wet-Lash finish for sultry intense eyes."                                – PAT MCGRATH, GLOBAL CREATIVE DESIGN DIRECTOR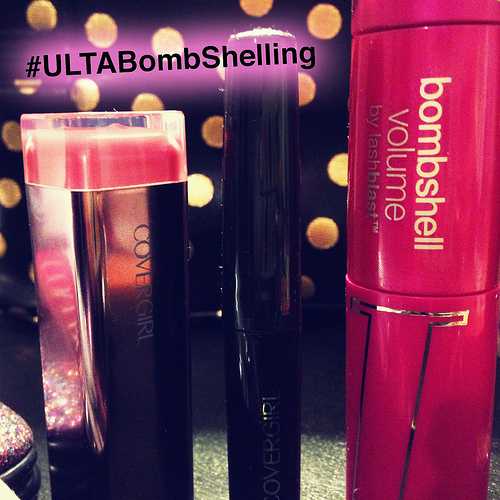 I don't wear eyeshadow during the day, but if I'm heading out for an evening event, I want just a bit of sparkle and shine, and COVERGIRL Bombshell Shine Shadow by LashBlast in Platinum Club is the PERFECT color for me. Check out the great colors that are available at ULTA. At around $7 you can pick up the entire collection of colors without doing damage to your wallet, especially with the buy one get one at 50% off promotion.
Which brings me back to THE PARTY
Join me for another FUN TWITTER PARTY. So you don't miss out, mark these details in your calendar and RSVP below:
When: Monday, January 6, 2014
Time: 9:00 pm EST (6:00 PT)
Hashtag: #ULTABombshelling

Prizes include:

 $250 ULTA gift card and COVERGIRL Bombshell products.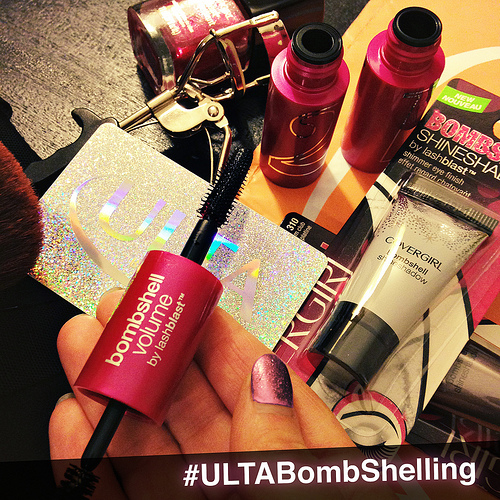 I'll see you there, let's get ready to talk about how YOU can be a bombshell too.
This is a sponsored post written by me on behalf of COVERGIRL and ULTA.