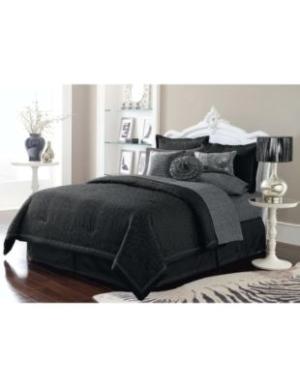 As I watched Modern Family last night, I chuckled knowing that my favorite actress on the show – Sofia Vergara was in the mansion. As a matter of fact, she's left her touch on my master bedroom and bathroom.
Let me explain. Last month, I decided that it was time to start a major redecoration. I've been taking my time, going from room to room (the reality is that I've barely finished two of the rooms – but it's a process). Sofia V. (we're on a first-name basis at this point…ROFL) stepped up to the plate and decided that she'd decorate for me. Um….wait, that's not right.
Sofia Vergara has designed a line for Kmart that includes clothing, bedroom, and bath decor and they agreed to ALLOW me to showcase her Black Magic collection at the mansion. It's been at least 7 years and a few moves since we've bought new furniture or redecorated except for this amazing mattress I bought last summer when there were steep discounts on foam mattresses online. The mansion was starting to look dingy.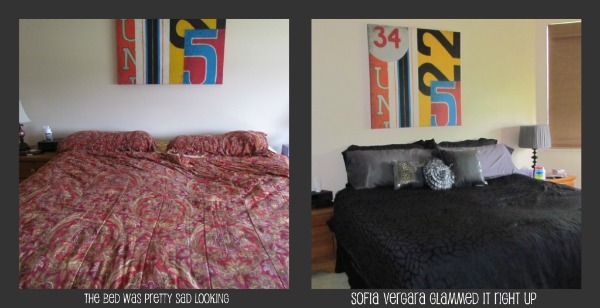 My house, like my wardrobe, looks best in black & white with splashes of color. The reason being that I can change things with simple throw pillows, artwork and other accessories. The Sofia Vergara's Black Magic Collection allowed me to continue the look that's throughout the rest of the house into the bedroom.
The goal was to create a bedroom makeover for less than $200 ~
Whether purchased in-store or online, Kmart makes the process EASY! Mine was delivered to the mansion and it took me all of 15 minutes to go from GAWD AWFUL to GORGEOUS. If it was that easy and budget-friendly to redo the bedroom, I figured why not continue to the en-suite bathroom. There's nothing like having the decor flow from the bed to bath, so I decided to use Sofia Vergara's towels, rugs and accessories to glam up my Plain Jane bath.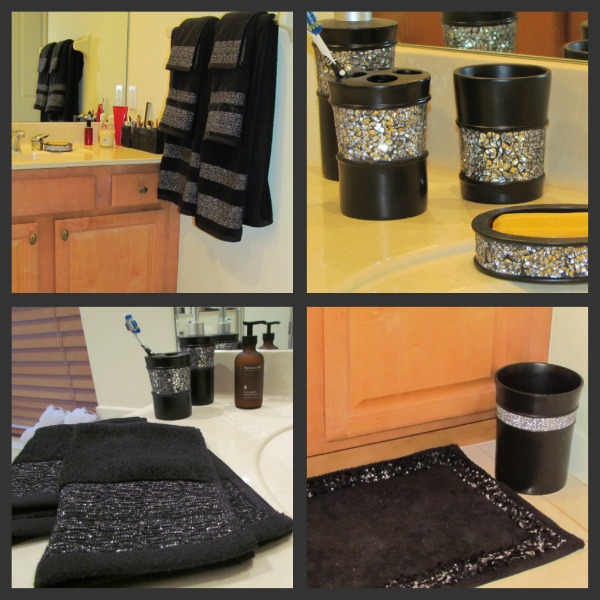 With towels ranging in price from $5.00 – $12.99, the bathroom was going to be a BREEZE to redecorate, and again, I was able to do it for a LOT less than the $200 budget that I had set. I didn't need the shower curtain or hooks because I have a glass-enclosed shower, but even if I had I would have come in under budget (I actually came in under $150).
The mansion is feeling new again and I've been inspired to work my way into the homes MAIN rooms. Next up – the kitchen!
If you're looking to doing some Spring Spruce ups, check out the Sofia Vergara Home Collection at Kmart. There are a variety of colors and patterns, and whether you want the dramatic Black Magic collection as I chose, or the ephemeral Champagne Dream look, there's something that will fit YOUR BUDGET and give you a fresh new DESIGNER look.
I received products to facilitate this post. All opinions are strictly my own.