Most people are adopting natural ingredients into their skincare products. For this reason, natural skincare products have gained momentum and are at the forefront of the beauty industry. They combine botanicals, vitamins, and minerals that restore and heal the skin without harming the planet.
Additionally, they are cost-friendly, like rice oil cleanser, which keeps the skin's PH in check and the overall microbiome healthy.
Beta Carotene
Beta carotene can be extracted from yellow, red, and orange fruits and veggies like pumpkin, carrots, and sweet potatoes. This natural ingredient protects the skin against harmful UV rays, which cause sun damage and burns.
The body transforms Beta carotene into vitamin A, a nutrient that heals wounds encourages cell renewal, and prevents sun damage. Beta carotene is topically applied to the skin; it boosts discoloration caused by melasma, owing to its antioxidant benefits.
Licorice
Licorice is one of the best natural ingredients for treating rosacea and redness. Its extracts have anti-inflammatory elements, and it has also been proved to minimize the appearance of pigmentation by blocking melanin production in the body.
Besides, it is used in the beauty industry to lighten the dark under-eye circles. Include licorice-infused skincare products in your routine, especially if you have uneven skin tone due to hyperpigmentation.
Green Tea
Green tea has significant levels of antioxidant chemicals that assist in preventing and reversing Ultra Violet rays' damage to the skin. The antioxidants also make green tea a natural anti-inflammatory agent which acts as a skin-soothing element in skincare.
Oats
Oatmeal treats skin conditions including dry skin, eczema, poison ivy, insect bites, and poison oak. It contains both antioxidant and anti-inflammatory properties and thus has maximum benefit to the skin. Also, it has proteins and lipids that protect the skin barrier and replenish it.
Purchase skincare products with colloidal oats extract and you will prevent most skin irritations.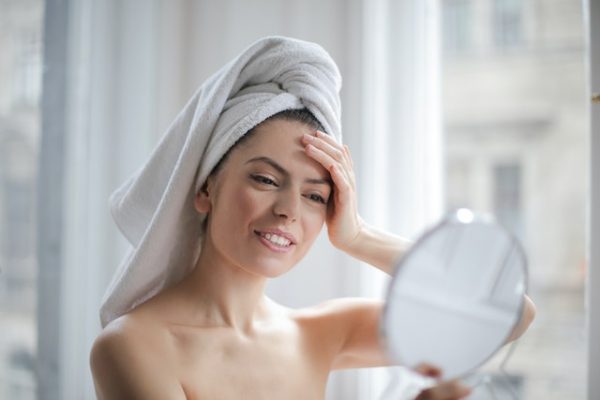 Soy
Soy is a good natural alternative to chemical prescriptions such as hydroquinone and retinoid. It lightens discoloration caused by sun damage and melasma by inhibiting the overproduction of skin pigment, melanin, by the skin. Soy extracts are used for brightening dull skins and making skin tone even.
Vitamin C
The natural ingredient prevents aging, such as dull and sagging skin. It helps synthesize collagen, which is important for smoothness and firmness. It offers antioxidant properties that aid in battling free-radical damage and brightens dark spots on the skin.
Vitamin C also regulates sebum production and prevents acne and decreases inflammation.
Willow Herb
It is an exceptional anti-irritant, anti-microbial, and a natural antiseptic that soothes skin irritations such as rosacea and eczema. It kills microbes responsible for causing acne; thus, the ingredient is a great alternative in treating breakouts.
Witch Hazel
It is used in beauty products to control oil, and it also provides hydration and minimizes redness. It is also used on bruises, swelling and sores, and it is commonly used in aftershaves.
Conclusion
Skincare products with natural ingredients are crucial for healthy glowing skin. The natural ingredients are safe to use and do not harm the environment because they lack chemicals that damage the skin and cause pollution.