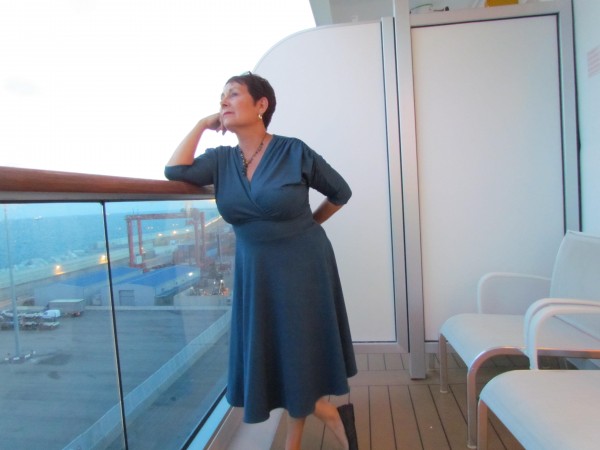 I'm home from my "European tour" and while the cities that I visited are now embedded in my memory, the dresses that I wore have become staples of my wardrobe. I'm a dress girl. Other than ONE pair of jeans, all that I own are skirts and dresses. I love looking feminine, and frankly, the right cut of dress makes me look taller, slimmer, and yes…even richer.
I arrived in Barcelona looking fresh, in my blue/gray Marisa dress from Karina Dresses. I may have been waving goodbye to Spain, but I was about to say HELLO to a night of fabulous food and wine, and there was NO NEED to change what I was wearing. I love the fact that this dress goes straight from a six hour transatlantic flight to champagne and oysters.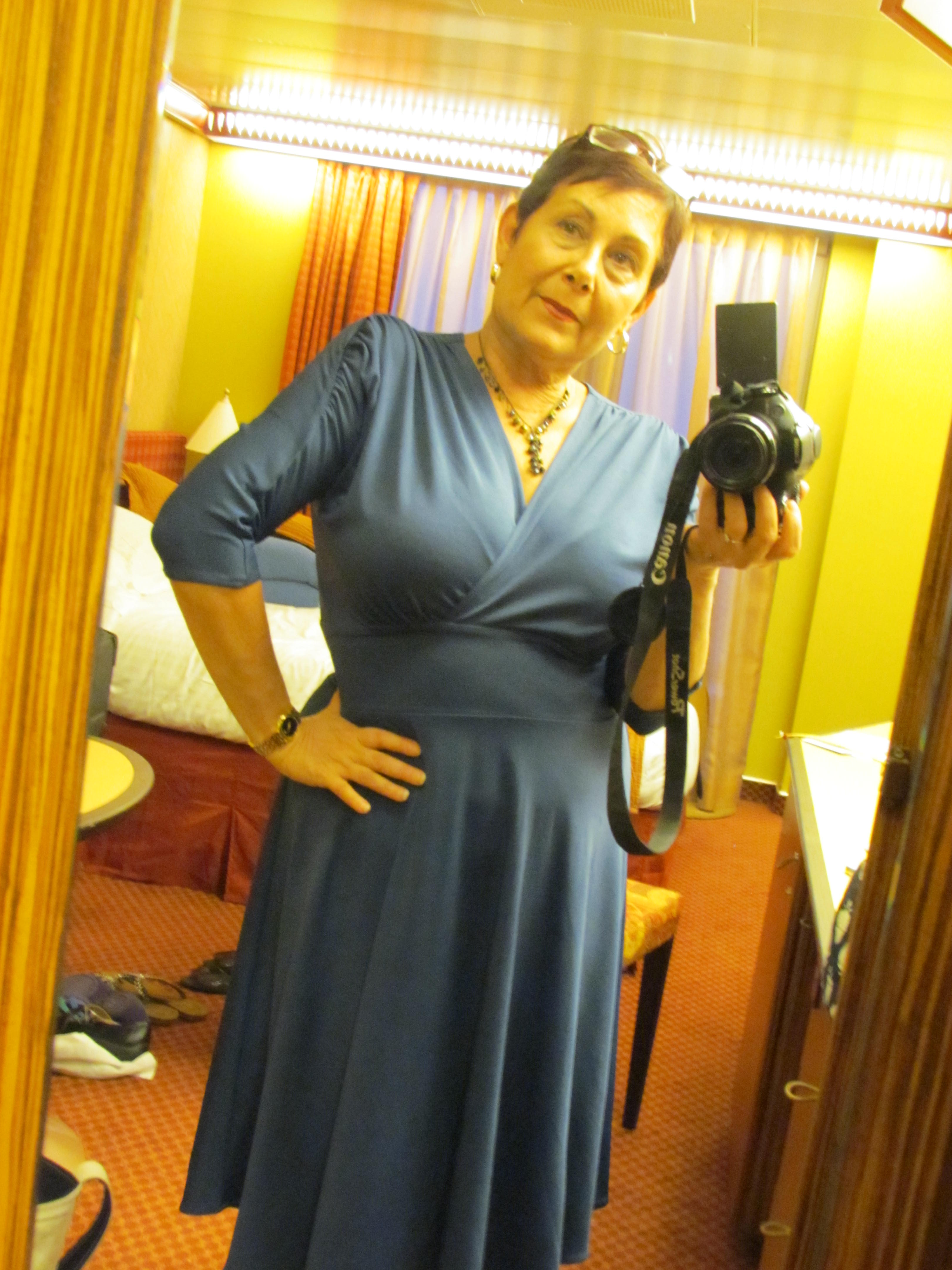 My stateroom looked like it had been in the sinking of the Titanic, but I looked pulled together. All I needed was my favorite little necklace (picked up in Paris about five years ago at BHV) to pull off this dress who's color mirrored the beautiful Mediterranean ocean waves that lapped at the side of Costa's Luminosa!
While I was a little curious how their sizing worked (this is a M/L – which seems like a BIG span of sizes), the stretch of that little bit of lycra (8%) in the micro-fiber fabric allows it to fit where it flatters  and flow to cover "those" spots that you may not want to call attention to. As someone at the HIGH end of a M/L (I'm a size 14 and barely 5'1″), this was a huge PLUS.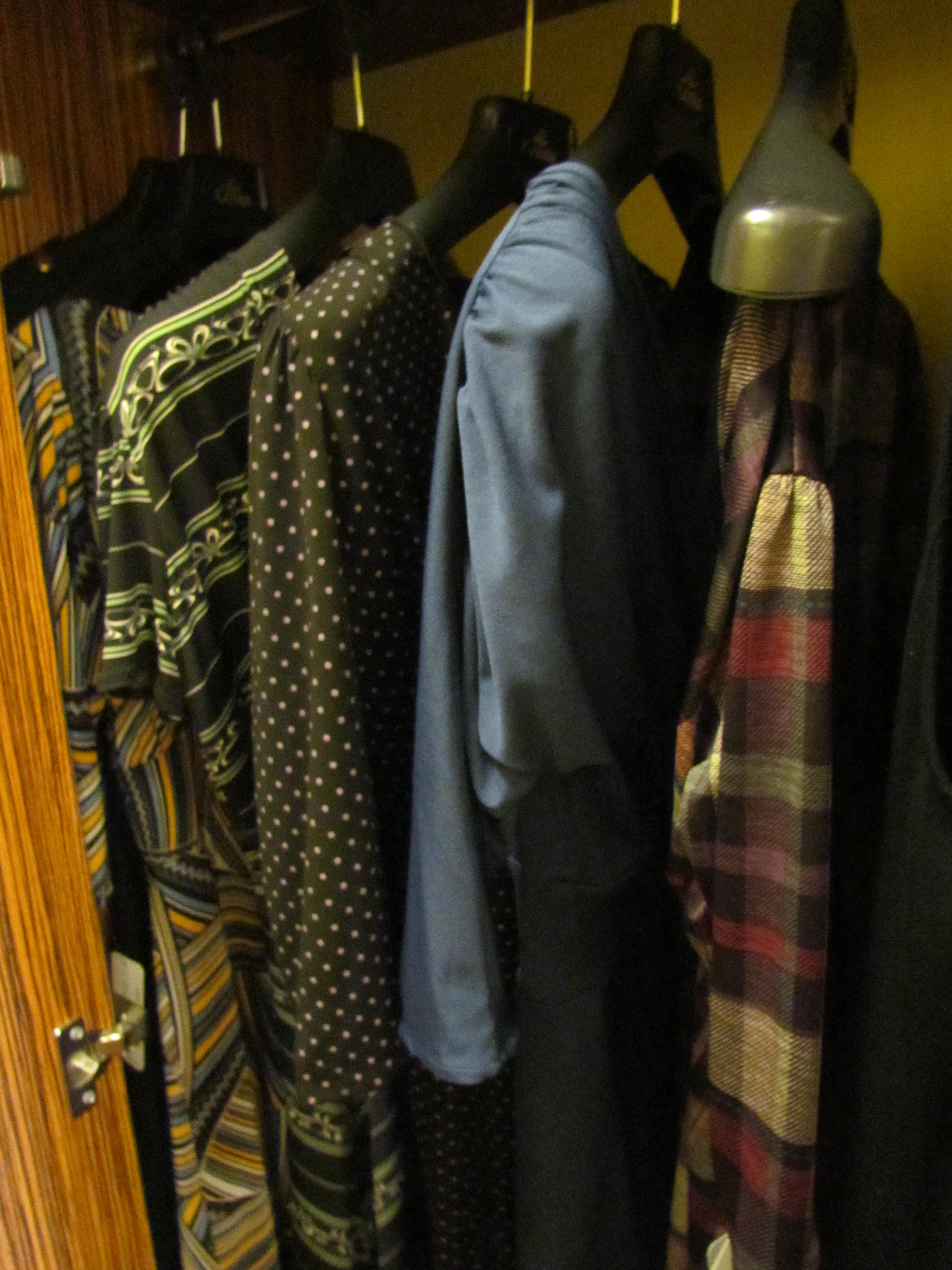 Travel
Packing can be an issue when you're trying to get the most out of your carry-on. I simply rolled my dresses, and had ROOM TO SPARE. That's right…my Karina Dresses allowed  me to pack for an entire WEEK in a carry-on. Since all of Karina Dresses are a wash and wear fabric with no ironing needed they're the PERFECT way to look like a million dollars, even if you've booked at a discount. No one will know you're in the inside cabin, when you glide into the Italian themed Ristorante Taurus for dinner followed by that nightcap at Bar Supernova with it's giant sculpture by famed artist Fernando Botero.
BIGGEST PLUS
I wore this dress when I FIRST arrived in Barcelona, the first day/night on the ship, and when we returned to Barcelona (I spent an extra day there). I was able to wash any stains out in my bathroom sink, and hang it to dry using the steam of the shower to get any wrinkles out. This is TRULY the perfect travel accessory….much better than my silly travel pillow that somehow slips off on the plane when I'm trying to sleep.
How did YOU do?
Did you choose the Marisa dress for my visit to Barcelona in the Karina Dresses giveaway? Keep track of how many you actually got RIGHT! I'll be contacting the winner soon.
It's ALL in the DETAILS
Find out more about the PERFECT dress for you at Karina Dresses – don't forget to sign up for their newsletter!
I received my cruising wardrobe from Karina Dresses to facilitate these posts. All opinions are strictly my own.