I participated in a campaign on behalf of Mom Central Consulting for Etymotic. I received a product to facilitate my review and a promotional item as a thank you for participating.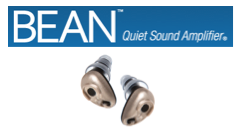 I may be turning 60 in 3 months, but those of you who know me (and I know a LOT of you do), would NOT call me old (only I'm allowed that liberty). I can keep up with a 25 year old, I am always on the run, and my health is pretty darn good. I do wear glasses, and I have since the first grade, and have NO problem hearing.
EXCEPT FOR
As I write this I'm in my office and I can hear TWO televisions, each tuned to a different channel. I'm afraid that I haven't trained Mr. S to turn it off when he leaves the room. He and I are the only ones home, and I'm on the computer. I GIVE UP.
I'm just lucky that I ran into the woman who invented this amazing device in Atlanta last month, and that MomCentral asked me to review it. It has cut down on the arguments around the mansion. I may have no problem with my hearing, but I still want that "one click louder" that this small amplifier allows me. Even smaller than my phone's bluetooth, the Etymologic's Bean amplifies the sounds JUST ENOUGH for you to not have to strain to hear your hubby in a crowded restaurant. Better yet, Mr. S isn't complaining about my hearing (and vice versa) with our television "issues."
It doesn't matter WHAT age you are, there are instances when you just need to hear a little louder, and the reality is that some people JUST LIKE TO HEAR LOUDER THAN OTHERS. From children to your grandmother, we all like to hear at different levels, and for those of us needing just a slight increase in volume, the Bean is the PERFECT solution.
To learn more about this fabulous product: