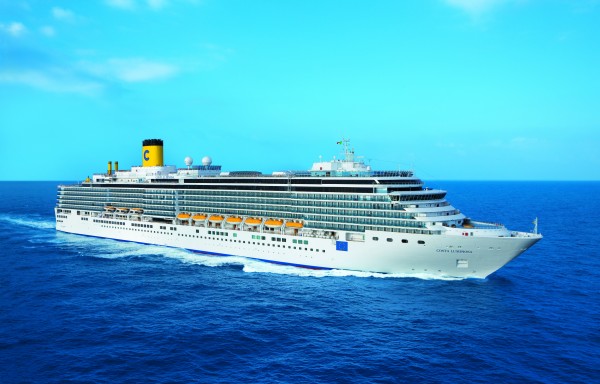 If you look REALLY hard you'll see me waving from my balcony. Count the decks
one
two
three
four
five
six
seven
EIGHT – see THERE I am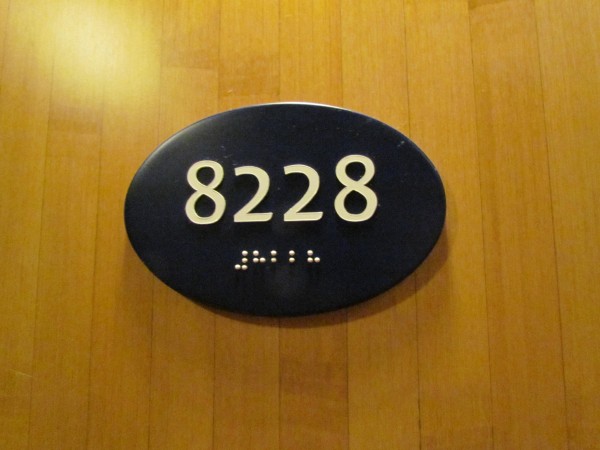 As soon as I'm done waving, I'm heading out to my special elevator, the one that's only for guests staying in the Samsara Spa staterooms and suites. That's right, two weeks ago, I was treated to my own Samsara balcony cabin aboard the beautiful Costa Luminosa to get a sneak peek at JUST what a floating spa offers before it arrives here in the States on December 7th for it's winter sailings from Miami through the Caribbean waters.
With it's upcoming 10-day cruise schedule that visits the tropical islands of the Caribbean (depending on the voyage, the islands that are visited will change), you'll have PLENTY of time to spend relaxing in all that this amazing 2-level spa has to offer.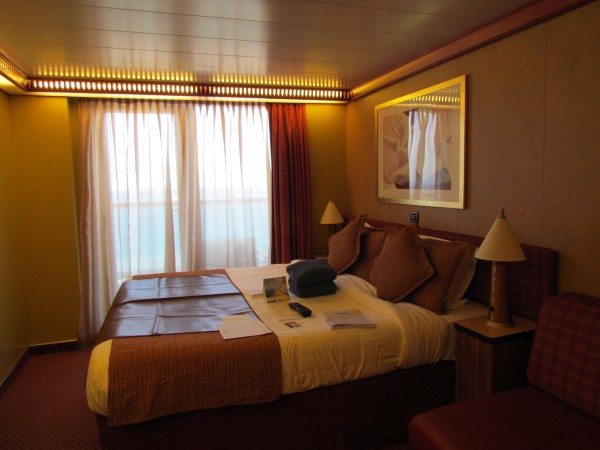 Samsara – Sanskrit for continuous flow
Spa addict that I am, I've been to a few that were floating the ocean before, and have always preferred those on land. Most cruise lines try to pack the MOST that they can into the small space reserved for those of us who want to spend our vacation days pampering, but they pale in comparison to the sports and entertainment that the ship offers.  I love cruising, but the spas are generally a one or two day visit for me (vs. those destination spas that I LOVE visiting).
The Italians got this spa RIGHT
The Samsara Spa on Costa's Luminosa can hold water with the best of many land based spas that I've visited. Built on TWO levels, the 23,000 square foot spa is larger than ANY I've ever seen, and offers an array of services and idyllic spots to hide away from the world. Costa has created a  floating destination spa that encompasses everything from special spa cabins to the healthy Ristorante Samsara that is included at no extra cost, for those of us who have booked the Samsara cabins and suites.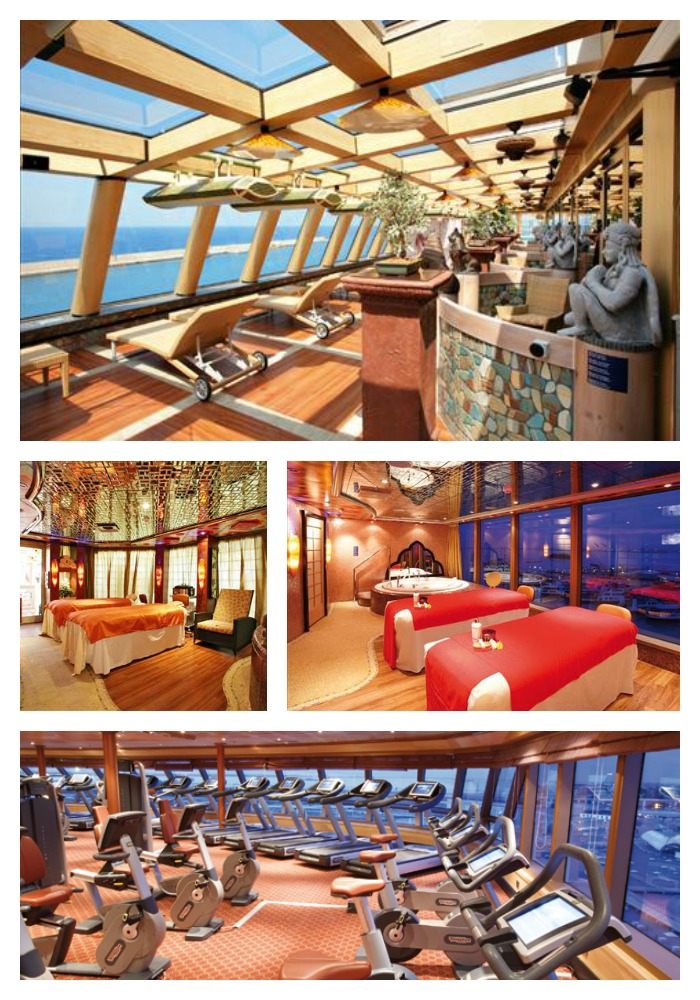 Girlfriend getaways
Grab your besties, and head straight to the Port of Miami, because the Costa Luminosa is arriving NEXT month. Spend an extra day partying at the clubs in South Beach, because you'll have plenty of time to combat that night of excess at Samsara. Book a Samsara cabin and you're entitled to  unlimited use of the spa facilities,  two complimentary fitness classes, a personalized wellness consultation, two treatments from the amazing spa menu, two sun-lamp sessions in the solarium and an invitation to the lovely Japanese tea ceremony, as well as use of….
this AMAZING Thalassotherapy pool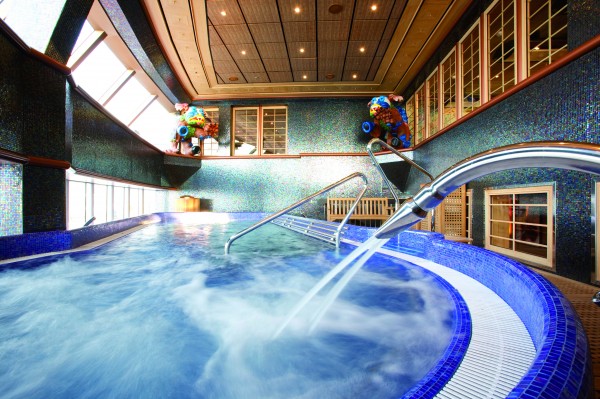 The Mood
From the  moment you enter and inhale the relaxing aroma of this spa that uses one of my favorite spa brands – Elemis, to the calming and yes TASTEFUL (unusual for a cruise ship) decor, you'll understand why the Samsara was named  "best spa" in the 2009 Cruise Critic "Editors' Picks" Awards.
The Flow
The Samsara Spa lives up to it's name, with a flow of saunas and steam experiences that gently immerse you. You slip gently from the stresses of the outside world and work your way through a series of experiences that range from a rock sauna (a hotter version of classic saunas), through two Turkish baths (there is both a traditional and an aromatherapy bath with the scent of rosemary, eucalyptus & lavender), over to a warm thermal bath called a Tepidarium, and on to the solarium, and tea room.  Moving from door to door through the 7 experiences that cleanse not only your pores, but your mind as well. When you reach the solarium with sunlamps above and the sea to gaze out on, and sip your tea, you realize that there is NO other experience quite like this on any ship you've ever sailed.
Of course there's also a full fitness center with classes, Beauty Salon and everything else you'd expect in a full scale spa.
Thankfully, whether you've booked a spa cabin/suite or not, you can purchase the Dream package which gives you access to this and all of the other spa experiences, including two treatments.
My experience
After a tough day of flying from Miami to Barcelona and then on to the ship, I opted for an Exotic Lime & Ginger Salt Glow with half body massage (that's right…a salt scrub AND a massage all wrapped up in one delicious smelling treatment). My skin had dried out from the cabin air on the plane, and my body ached from sitting in my seat for all of those hours. It was the perfect mix of relaxation and beauty treatment all wrapped into one.
Day two brought me back to the spa to see what they could do for the dullness I faced when I l looked into my stateroom mirror. Lack of sleep had taken it's toll, and I needed something to lift my spirits and my skin. The Hydra Lift Facial was JUST what my face was craving. I hadn't realized just how dehydrated my skin was until I looked in the mirror at the after-effects of the wonderful moisture and lift from a great facial.
The Menu
Many of the treatments are based in Aryuvedic principles. The goal of these are to restore a physical and mental balance and sense of well-being. Of course you'll find an array of both relaxing and revitalizing massages, facial treatments for young and old, and Samsara's signature Aryuvedic purifying and detoxifying treatments for your body.
 The Restaurant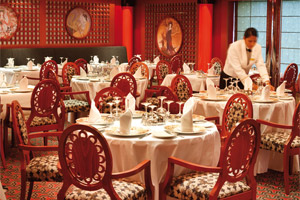 With a lighter menu than the "usual" cruise fare, the Ristorante Samsara still offers the flavors of Italy, but with a healthy touch. There's no need to give up dessert, as the chef has creative little bites that are large in flavor. Those booked in a Samsara cabin can dine here nightly as part of their experience, for guests not on the package, there is an additional charge.
With only 5-days on my journey, I was only able to "taste" a couple of the treatments. Thankfully, with the Luminosa's 10-day route in the Caribbean, you'll be able to spend DOUBLE the time at this wonderful spa, plus enjoy everything else that the Costa Luminosa has to offer.
I plan on
Calling Sandy and a couple of other girlfriends to see if they want to get away for a bit this winter. From December through March the Costa Luminosa will be offering cruises throughout the Caribbean leaving from the Port of Miami.
The prices are INCREDIBLE
Starting at $599 per person for a 10-night cruise (add more for the upgraded Samsara experience)
For complete DETAILS
Go to Costa.com for information and to book your cruise
I was a guest of Costa to facilitate this post. All opinions are strictly my own.