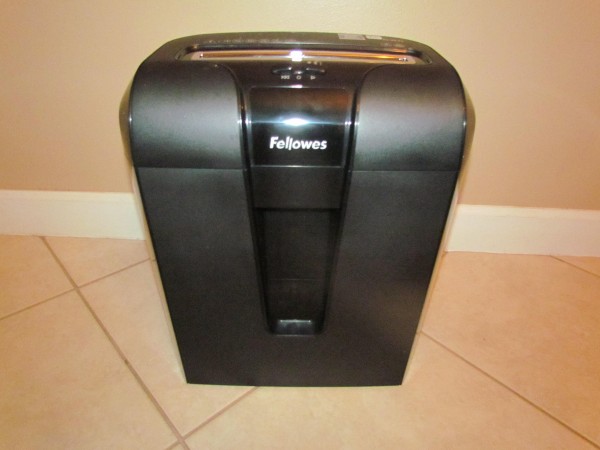 I participated in a campaign on behalf of Mom Central Consulting (#MC) for Fellowes. I received a product sample to facilitate my review and a promotional item as a thank you for participating
My brother is a banker. He's not a teller, he's not a customer service person, he's not even a branch manager….he's a CHIEF OFFICER of a bank. We're quite opposite, as I tend to be flighty and creative and he's all about the numbers. Did I mention that he's the Chief Officer of RISK MANAGEMENT? When he heard that I toss all of my paperwork into the trash (credit card and bank statements) he just STARED in disbelief.
I recently changed banks, and I have books and books of old checks that I was going to TOSS IN THE TRASH. I think I may have given him a heart attack when I told him that the other night. Thankfully this Fellowes Powershred 63Cb came from MomCentral to review – JUST in the KNICK of time.  It's heavy enough to not "dance" across the floor when I use it, and I can add 10 sheets of paper into it at once!
Here…take a look….
Now, since I'm not terribly organized, and truthfully, it's not JUST the checks that I have to shred (I have PILES of old paperwork, social security papers for Mr. S, medical information that I no longer need, etc.). I think Mr. S is going to like seeing that portion of the kitchen counter again – you know, the spot where you put everything you're going to get to LATER.
Since I honestly had never had a shredder before, I figured it would be difficult to figure out. But, it's as simple as turning the machine ON and feeding it. It cuts the sheets into 302 particles per sheet and you can use it for up to 8 minutes (that's longer than MOST home shredders on the market) before it goes into it's automatic cooling mode. The best part, it AUTOMATICALLY STOPS when your hand (or the dog's nose) touches the paper opening. Check out the photo and you'll see why THAT makes me happy!

Those are some MAJOR teeth!
Between the Jam Blocker, SafeSense and Energy Savings Technology I don't have to worry about getting frustrated with paper jams, accidents or possible overheating. It even shreds credit cards (don't tell Mr. S…he'll want to go through my wallet and feed mine to the shredder), staples & even PAPER CLIPS.
I STILL may not be the most organized person.
BUT, at least I've tamed the paper monster in my kitchen. Next stop….the office.
Which shredder is best for you?

The Fellowes Powershred  63Cb is available at Amazon, Office Depot, and OfficeMax for less than $150
For more details: