READY – FIRE – AIM
That's my  motto. If I spent too much time aiming, I might miss the opportunity, so I often just "GO FOR IT" and wonder why the heck I did that AFTER the fact. A few weeks ago I ordered a Salt Lamp from Puritan's Pride. It arrived today and I immediately took it out of it's box and plugged it in to one of the USB ports on my computer.
WHAT?
Isn't a Salt Lamp all NEW-AGE and stuff? Why would I plug it into my computer?  And why oh why would I buy a Salt Lamp when I have NO IDEA what it's used for?
Because I thought it was pretty
Now I have this beautiful glowing lamp made from Himalayan salt AKA halite (commonly known as rock salt). I know that I sometimes do things in a backward manner, and this is one of them. I bought the lamp knowing that it was supposed to do something "GOOD" for me, but without doing any research, I ordered it. So, in my usually skewed way, I'm going to learn what I can NOW.
My lazy research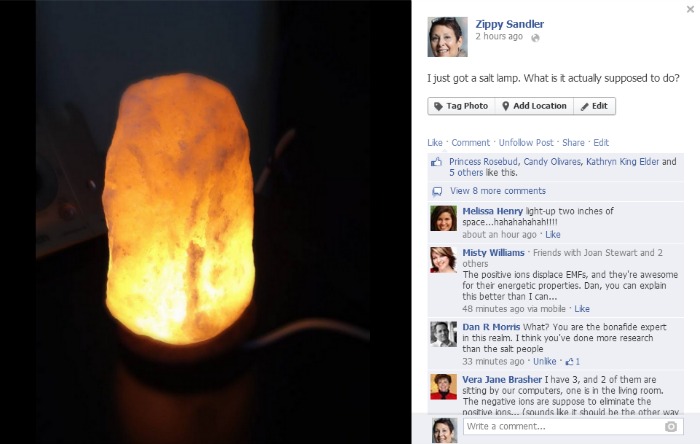 I know that I have a very knowledgeable group of friends and acquaintances on facebook, and if I had no clue, one of them would. It turns out that there are quite a few of my friends who use salt lamps.
Next I turned to the manufacturer
Keeping a Crystal Salt lamp next to your computer helps counter EMF pollution organically, because these ancient crystals resonate at a frequency nearly identical to our bodies'.

Each Solay Himalayan Salt Crystal lamp is hand-chiseled to preserve its primordial energy and maximize its therapeutic benefits, and is mounted on wooden base and features a LED light so you never need bulbs; simply plug into your computer's USB port for power!
That's not good enough for me
Not that I need a reason to have this beautiful lamp glowing next to my computer, but…I want to know more. So I dug deeper and learned.
How do Salt Lamps help?
Natural dehumidifiers  
The salt attracts moisture in the air. Since salt is a natural anti-bacterial, it supposedly kills the mold spores that are attached to the moisture in the air. As it works it releases negative ions that bind to the positive ions in the air (dust, smells, etc.) and they drop to the ground from the weight, rather than stay airborne for you to breathe.
BTW
You never have to replace the salt lamp, it will last longer than YOU do (you will have to replace the bulb).
Forget cleaning them…they clean the air, so they STAY clean (no dusting necessary).
Leave them on all day and night to do their job (whoo hoo, it looks like it's candle lit and oh so romantic).
Do I sit and just wait to feel good?
Right now it's just a pretty light on my table and if that's all that it does, I'm okay with it.  Hey, I'm sitting here anyway.
Want to try one for yourself?
I found mine here: Salt Lamp on sale for under $16.00
If you know more about Salt Lamps, I'd LOVE to know about them. Feel free to leave what you know in the comments below.
This post was sponsored by Puritan's Pride as part of my ambassadorship with them. I choose what I want to write about, and I love digging up and learning new things. All opinions are strictly my own.