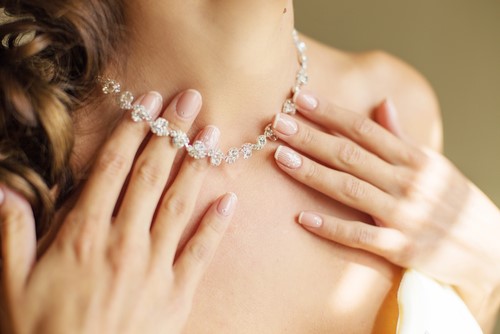 Every bride dreams of being draped in fabulous jewels on their wedding day, but buying fancy jewelry can be quite costly. Most brides probably aren't willing to shell out thousands of dollars for wedding jewelry. Instead of buying super luxe jewelry, rent from a jeweler. You can rent literally anything from luxurious necklaces to dazzling drop earrings!
Renting Wedding Jewelry
Renting wedding jewelry for brides requires a lot of trust from the renter. It can also be stressful for both parties involved. While renting jewelry seems to be a stressful task, most jewelry stores or online jewelry rental websites make it super easy. For most brides, the hardest part of the bridal jewelry rental process will be selecting the pieces they want to wear.
If you rent from a store, you'll have to pick up the pieces and return them within the allotted time frame the store gives you. When you rent online, the pieces you select will be shipped to your door. When you are done with the jewelry, you just pop the jewelry back in the mail to the company.
Borrowing Wedding Jewelry
Many jewelers are willing to let brides borrow jewelry if the engagement rings were purchased from them. Borrowing wedding jewelry from a jeweler typically entails a deposit or rental fee for the pieces you take out of the store with the agreement that you will pay for anything that gets lost or comes back damaged. Be sure to ask the renter any questions about damage or pricing that you think are relevant before agreeing to take jewelry out of the store. You need to be sure you fully understand everything before signing an agreement.
Remember that if you are renting, you can get whatever you want, but if you are borrowing jewelry, the store may have a maximum value limit set for borrowed jewelry. Respect that the store can't let you just take whatever you want out of the store. Some stores may even have other rules that they require you to follow if you are borrowing jewelry.
Best Pieces to Borrow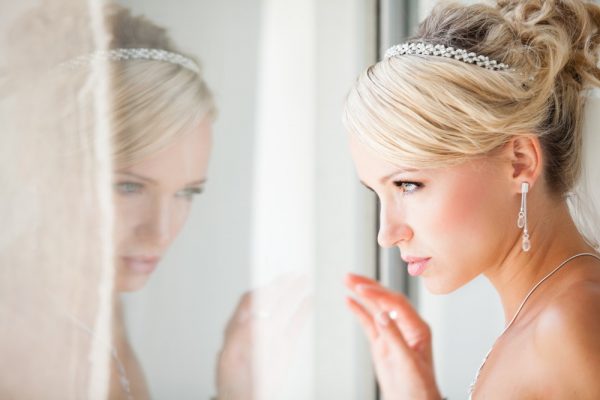 When borrowing or renting jewelry, it may be wise to just select a couple pieces depending on price to rent and value of the pieces. If you have a strapless dress, you may want a necklace that you can really show off, but if your hair is down, skip the earrings that nobody will see.
Take inventory of what you are going to be wearing and what the best pieces to complement the style of your big day will be. You may even want to browse Pinterest to get an idea of what would look best with your wedding dress and hairstyle.
Remember, as long as you are respectful and careful with the jewelry you borrow or rent, you shouldn't have to pay any additional fees, which makes renting or borrowing bridal jewelry a hit with modern brides who still want a lot sparkle on their big days. Check in with local jewelry stores and online jewelry rental services to see if borrowing or renting your bridal jewelry is a good option for you.