I received product to facilitate this review. All opinions are strictly our own.
Every time I look in the mirror, I immediately go to 
I should have taken my makeup off before bed.
I wish I had used sunscreen as a teen.
Where did these spots come from?
How do I turn back the clock?
Unfortunately, it's not possible to age backwards, but I'm trying my best to AGELESS FORWARD. I seek out the best products that will help repair as much damage as I can, and I DO take my makeup off before bed and use sunscreen now. Better late than never.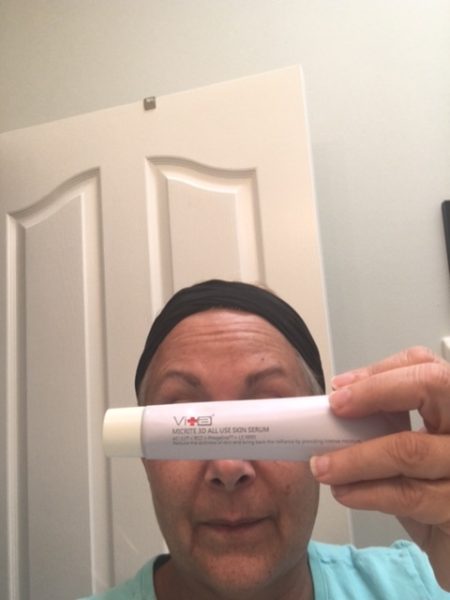 In my hunt for great skincare products I came across Swissvita
Using cutting edge innovation Swissvita has developed a series of products using only top grade ingredients. The goal? A more luminous complexion. The formula is specifically targeted at fading dark spots (and I have PLENTY of those to test on).
Putting it to the test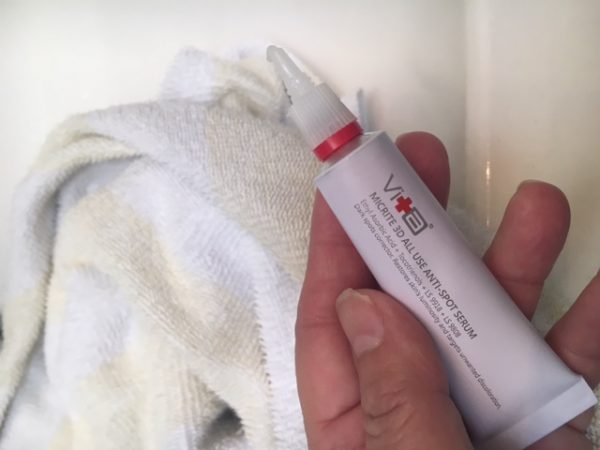 I've been using two of their products each morning and evening for the past 5 weeks. After washing my face, I've been putting Swissvita Dark Spot Corrector on my face. I have been using it not only on the spots, but all over. The formula goes on easily, with no greasy feel. The cream is infused with vitamin B12 for accelerated skin repair and collagen production.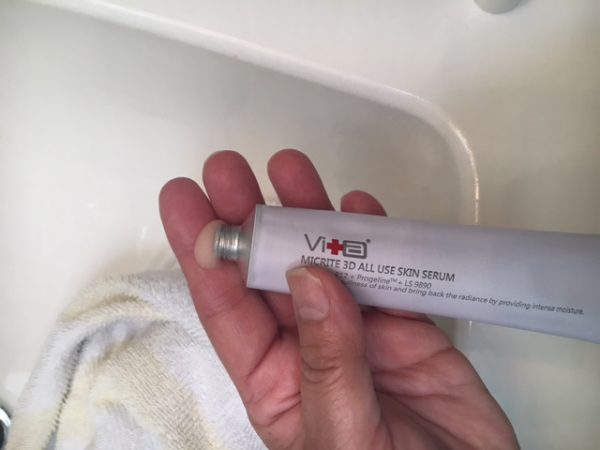 After the spot corrector, I apply Swissvita Anti Aging Serum, again making certain to cover my face. While the serum appears slightly thicker, it works into my face easily with no residue. Neither of the two products that I'm testing have a fragrance, and they both are packaged in aluminum tubes…which they say prevents the possibility of product contamination and maintains the effectiveness of the active ingredients, but from my perspective…they just look UBER COOL. Once again, this product contains Vitamin B12, plus an ingredient called Progeline™ which is supposed to improve the skin's firmness and elasticity.
Six Week Check-In
It would be great to use a product for 4-6 months (or more) before writing about it. As you well know when you begin a new skincare regimen the changes can be slow. In six weeks I have seen a brightening of the skin and a lot of the dullness that I hate is gone. I seem to have a more even skin tone, and the spots, while still there, are not as noticeable (except the very large one that I have). I have noticed that my skin feels tighter when using it, but I'm not certain that the results are cumulative. At least not yet.
There is no such thing as a miracle
But, when I see an improvement…especially at the 6 week mark, I am impressed. I don't have a lot of obvious wrinkles, except around my eye area, so I can't really speak to whether Swissvita softens them, but what I HAVE seen makes me want to continue using this product. I took a photo the other day to show a lipstick color and it was THERE that I noticed how much better my skin looks. I was a little shocked and the ONLY thing that I've been doing differently is to have switched from the product I was using to Swissvita.
I give both of these products (used in conjunction) a big thumbs up! Not only did Swissvita exceed my expectations, but they offer FREE SHIPPING and 100% money back if you're not satisfied with their products.

For more information and to purchase Swissvita products visit them online at Swissvita.us (both products are ON SALE as I write this).