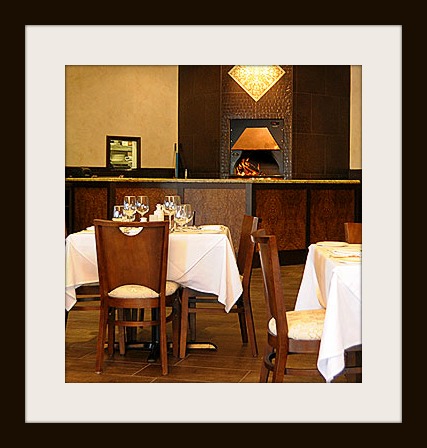 Location, location, location –Raffaele Ristorante arrived in Boca Raton by way of New York with it's roots firmly secured in Naples and Southern Italy. Nestled in the fabulous Royal Palm Plaza, Raffaele is an absolute gem. We Floridians are thrilled that Chef Raffaele Esposito decided to bring his fabulous menu that New Yorkers have loved for YEARS to the Sunshine State.
At a recent media dinner I had the opportunity to try a variety of his menu items. First let me say, that it was not at ALL what I expected. Forget about loads of spaghetti with veal parmigiana, because at Raffaele  you'll be experience Italy as you never have before. From the Grilled Shitake Mushrooms with scallops and leeks that sat on my appetizer plate, to the Rigatoni Imbottiti that was stuffed with veal and mixed veggies in a delightful pink sauce I knew that this meal was one to remember. The courses kept coming and I have NO IDEA how I found the room for the amazing Stuffed Quail and Sautéed Branzino (with pomegranate sauce and fresh mint) or the Pineapple Tiramisu and Pistachio Mousse with strawberry sauce that finished the meal….but I did.
With Mother's Day only 10 days away, this would be a place to impress MOM. She'll know that you put a lot of love and attention into choosing JUST the right spot to treat her on her special day. Make sure to enjoy a selection from their amazing wine list!
Raffaele Restaurant
Royal Palm Place
508 Via De Palmas
Boca Raton, FL
Reservations: 561/392-1110
I attended a media dinner to facilitate this post. All opinions are strictly my own.