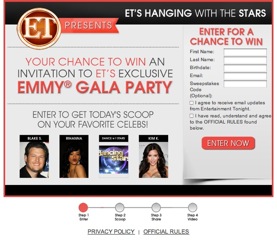 If you could go to this year's ET's Exclusive Emmy Gala Party.
What would you wear? – Whatever my stylist Margaret Codola picks for me!
Who would you want to hang out with? – Nancy O'Dell
Where would you sit? – In VIP of course
Would you walk the red carpet or slip in through the back door? – Silly questions – red carpet of course.
What if I told you that was possible? REALLY! Not only could you win the opportunity to go to the FABULOUS Emmy Gala Party, but you'd be flown to L.A. and spend 2 nights in a hotel just like the celebs do! Entertainment Tonight is giving you the chance to go to this star-studded event and all  you have to do is go to:  Hanging with the Stars and enter! You'll also be eligible to win weekly and daily prizes as well!
GO HERE TO ENTER!
Sweepstakes ends May 24, 2012.
I'll keep my fingers crossed for you, and if you win….remember that you can bring a friend (*hint *hint).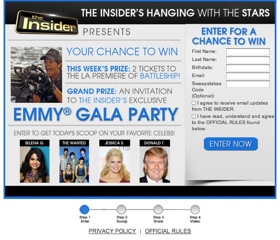 Want to up your odds? Head to Win with the Insider for a second chance at getting a chance to go to ET's Emmy Gala Party, as well as the RIHANNA BATTLESHIP PREMIERE PRIZE and weekly & daily prizes. So, enter and hopefully you'll be shining brightly with the stars on September 23rd 2012!
GO HERE TO ENTER