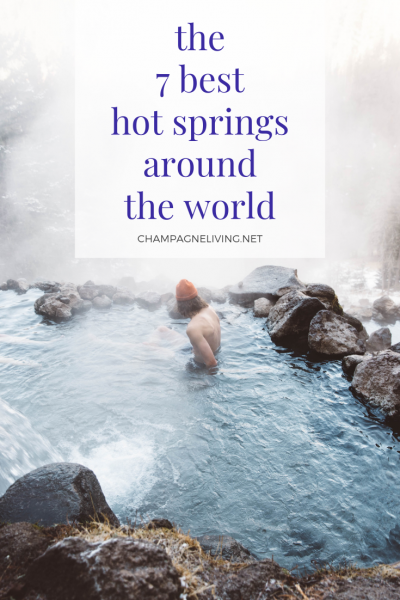 Hot springs aren't just meant for a winter visit- they are the perfect place to vacation at all year round, and if you too, are planning a trip and are confused about the options, here's some help your way. Read on to discover the 7 best hot spring destinations in the world.
Burgdorf Hot Springs
Just a few hours drive from Boise, the Burgdorf Hot Springs in Idaho may be a bit secluded and inaccessible, but that's the entire beauty of it. The natural springs here are definitely worth soaking in, and if you're there during the summer, you can picnic, drive and hike around as well.
Mystic Hot Springs
Mystic Hot Springs in Utah is famous for giving you nothing less than a surreal hot spring experience. Why? Well, would you expect to enjoy soaking in the natural warm water right in a bathtub right in the middle of the Utah desert? Come here during July so that you can enjoy the music festival too- it'll leave you in a sense of physical and spiritual wellness like nothing else will.
Strawberry Hot Springs
Strawberry Hot Springs in Colorado is a nice, large hot spring that is located at just the right spot- accessible but still away from the hustle bustle of city life. Come here because it is one of the best places to soak and relax your tired muscles. The best time to get yourself here is during the night, because then you'll also be able to view the stars in the sky and have a deep, beautiful experience.
Travertine Hot Springs
Located in California State Park, Travertine Hot Springs has one of the most gorgeous settings and lets you experience hot springs for free! Sure, it can get a bit crowded here, so try to visit it on off days. The upper hot spring is the most popular one, but if you're looking for a bit of privacy, you can go further along the trail and check out other springs there.
Hot Springs National Park
Hot Springs National Park in Arkansas is another great hot spring destination in the world. It is still as picturesque and beautiful and untouched as it was 185 years ago, and when you're here, you can not just soak in and take a bath but also treat yourself to a facial or take the sunset trail.
Thermae Bath Spa
Want to soak yourself in a hot water spring where the Romans did some 2000 years ago? Come to Thermae Bath Spa in England, which is located right in the center of the town. The bath waters here are thought to be rich in minerals and if you'd like to take things up a notch, you can also choose from a selection of relaxing spa treatments that they offer.
Eco Termales Hot Spa
Eco Termales is located in Costa Rica, one of the best places in the world to visit, especially if you're a nature lover. The hot springs here are located deep inside the rainforests and is definitely one of the most romantic destinations to be in. There's plenty to explore here too, and with waterfalls and forests around, the place will leave you recharged and amazed!