Beach weddings are becoming increasingly popular, however, there is just one issue that needs to be contended with, and this is choosing a dress that is appropriate for this style of venue and the hot weather. But, don't panic, as we have put together this guide to give you a helping hand.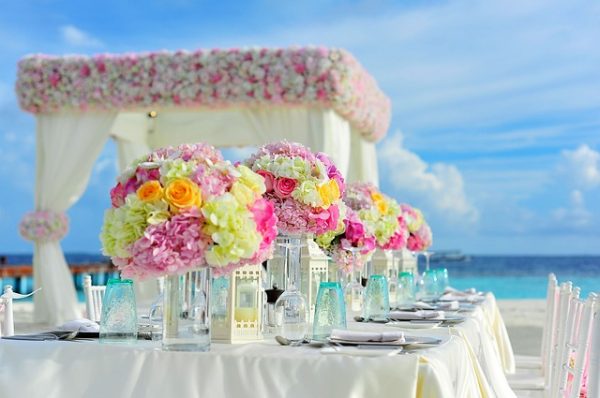 Wedding dress styles to consider:
   

Short dresses

–

A lot of people opt for a short wedding dress, such as a midi style, when getting married on the beach because not only is this more comfortable in the heat, but it is a lot easier to move around on the sand. A short dress doesn't have to be any less glamorous or striking than a long gown, with striking waist detailing and diamantes offering an excellent way to give your short dress the wow factor.
   

Lightweight fabrics

–

If you are having a wedding in the summer, lightweight fabrics will ensure you're not sweating on the photos of your special day. Dresses made from lightweight fabrics often have a floaty and dreamlike quality to them, ensuring they are not only comfortable but fit for a princess too. These dresses are elegant and romantic and are assured to draw gasps from all those in attendance.

 

  Traditional

–

Some people don't want to stray from a traditional wedding theme when it comes to their big day, and if this applies to you, you will want to stick to a conventional style of wedding dress. Unfortunately, this does mean you will need to sacrifice a bit of comfort, but there are styles that are better suited to the beach and heat than others, such as sleeveless dresses.

  

 Greek goddess

–

This style is ideal for a beach setting, and a lot of people request this style of wedding when taking advantage of wedding planning services. Imagine taking your picture in front of the sea dressed in a beautiful

Grecian style

gown – stunning! You could even finish off the look with an authentic style Greek headband as opposed to a veil or tiara.

   

Ankle length dress

–

Last but not least, if you don't want to wear a short dress, but you are looking for something that won't trail along the beach and collect all of the sand, an ankle length dress is an ideal choice. You will be able to achieve that luxurious, elegant look you are seeking without having to sacrifice comfort. These dresses are flattering to most body shapes too.
When choosing a wedding dress, the most important thing is to find something that fits perfectly and flatters your body shape. After this, you need to take the beach setting and hot weather into consideration to ensure you are wearing something that you will feel comfortable yet beautiful in on your big day.  
Some other pointers for your beach wedding:
There are a few other things you need to consider when planning a beach wedding. This includes the following:
   

Photography

– You need an experienced photographer who is going to be able to capture all of the special moments. The natural elements and the bright sun can make beach wedding photography difficult, which is why you need a specialist. You may also want to look for someone with experience in the type of wedding you are hosting, for example, a specialist in

LGBT wedding photography

. Take the time to look at photos they have already taken and read reviews left by others too.

   

Guests

– When it comes to your guests, you need to think about their comfort. If you are happy for your guests to wear sandals and smart yet comfortable beachwear, make this known on the invite. Your guests will not assume this is the case, and they may spend the whole day sweating in a full-length suit.

   

Weather

– Of course, the weather plays a huge role when it comes to a beach

wedding

. Don't simply assume the weather will behave itself because you are getting married overseas or in a typically warm destination. Look at historical temperatures over the years so you can choose a date with care. Also, make sure you have provisions in place should the weather take a turn for the worse.
So there you have it: everything you need to know about planning a luxurious beach wedding!