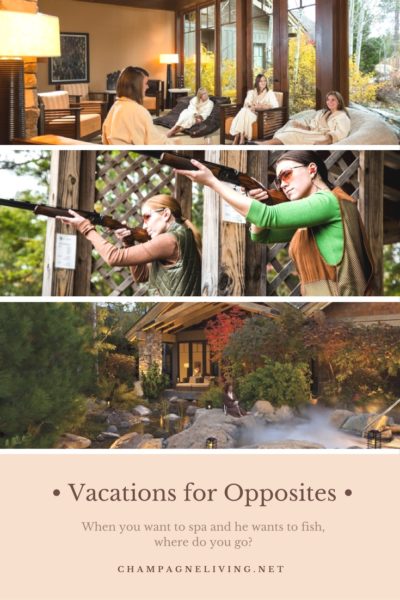 You say SPA. He says SHOOT!
Only, when he said shoot, you didn't quite take it literally!
Thankfully, we've got the answer to those couples who like to vacation in opposite directions, or girlfriends who want to explore a range (sic) of options. So, if he really MEANS shoot, you can STILL get him to get away with you!
Destination: Adairsville, Georgia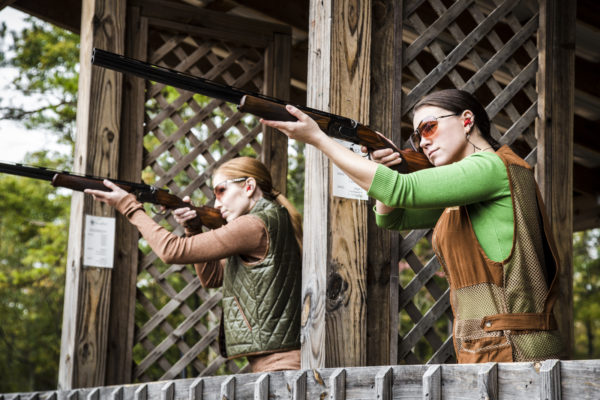 You'll both get JUST what you are looking for at the 
Barnsley Resort
. If you love to enjoy your vacation TOGETHER, simply head to 
the foothills of the Blue Ridge Mountains north of Atlantaj. There you'll find a charming luxury 3,300 acre resort-meets-village playground is where cottage-style accommodations, outdoor adventure and Southern comfort come together as one. For couples seeking a getaway that pairs his love of shooting with your perfectly relaxing vacation, the Barnsley Resort's Syren Shooting & Spa Package is the perfect solution. With the two-night Syren Shooting & Spa Package, guests receive a shooting lesson at the clays course at SpringBank Sporting Club, including 50 targets per person and rental of the Syren shotgun, designed specifically for women by the experts at Caesar Guerini and Fabarm.
After the shoot, relax with a $100 spa credit per person for The Spa at Barnsley Resort. The two-night Syren Shooting & Spa Package, available from $680 per night, also includes breakfast for two in The Woodlands Grill daily and luxurious overnight accommodations. 
He fancies himself a mountain man & all you wanted was to relax with a massage.
Destination:
Cle Elum, Washington
He wants to grow a beard and pull his plaid flannel shirt out from the back of the closet, but you can but a HALT to that foolishness by suggesting that he live out his mountain man fantasies in he picturesque town of Cle Elum, just a short hour and a half drive from Seattle. Couples looking for the ultimate outdoor adventure fused with a bit of tranquility, will find common ground at the Suncadia Resort, where you can BOTH can kick up their feet and take in the breathtaking mountain views surrounding the 3,500 acre property. This Pacific Northwest Destination Hotel, is the perfect playground for those looking for rest and recreation anytime of the year. You'll BOTH enjoy the 6-mile expanse along the Cle Elum River as you explore the 40-plus miles of trails available to guests. He'll feel like he's been living in the while as he enjoys guided cross-country skiing and fly fishing tours to river rafting and trekking biding tours. But, you won't have to give up your dream as you relax at the resort's Glade Spring Spa, which offers specials ranging from a Coconut & Coffee Manicure to the Evergreen Mountain Escape Massage.


For more information about the shoot & spa vacation: barnsleyresort.com.
For some great fly fishing and trekking, followed by a sybaritic spa experience: Suncadia Resort