This post has been sponsored by Petcurean.  All opinions are my own and my four-legged best friend.
Before Clem the Miniature Bull Terrier, we had Old English Sheepdogs. Lots of them. I sometimes look back and think how much fun it was tripping over dogs as I walked through the house. Our home would have 2 or 3 at a time, sometimes more, sometimes less.
Only ONE of them was really ours
You see, we were a foster home for the New England Old English Sheepdog Rescue. Our home was filled with sheepies who were there temporarily waiting for a loving new home. As part of the largest sheepdog rescues, Mr. S would have to bring dogs back from Florida to New England when he traveled and I always found myself at rest areas transferring big balls of fluff from one car to another as our rescuers would get the dogs and I'd do the pick up for fostering.
Just because we love purebreds, doesn't mean we don't support adoption
There are incredible breed rescues all over the country that rescue purebreds out of abusive homes, homes where the humans have gotten ill or passed away, and families where the match between dogs and children was not a good one. Sometimes it was sad to have to take a dog, other times it was joyous. In all cases I knew that my hairy friend would be blessed with a better life, which is how I was able to separate.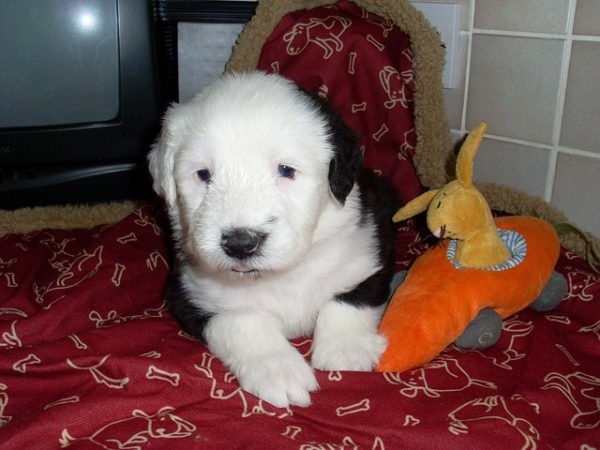 Reasons why adopting is Wonderful! 
You will be saving a life. And providing a safe, secure loving environment to a dog or cat who really needs it.

Very often rescue or re-homed dogs are already housetrained and have some basic behavioral training as well.

Shelters and rescue groups often include vaccinations, microchipping, and spaying or neutering in the adoption fee.
Consider Adopting a senior pet! 
There are no surprises with a senior pet. Their personality traits are established already and they are normally very accepting of whatever life throws at them. The puppyhood or kittenhood headaches of housetraining are well behind them, and their more mellow demeanor is a comfort to live with.
Senior pets are also usually less destructive. The urge to chew and scratch is much less likely to cause problems. Dogs are often content with a sedate walk in the neighborhood or a gentle game of fetch as a form of exercise, as opposed to the more energy draining needs of a younger dog who needs more activity. Many senior cats will also still enjoy chasing that little red dot of the laser pointer, but perhaps for not quite as long as their kitten counterparts.
December isn't the only month to give back and you can help your local rescue with more than  monetary donations.
Eastwood Ranch Foundation, a non-profit animal rescue organization founded by actress/director Alison Eastwood, has launched FosterFurkids.com a website that connects rescue groups and animal shelters with a nationwide network of pet fosters and transporters. To support the launch of FosterFurkids.com, the first 100 people that sign up to be a foster pet parent will receive a Petcurean care package