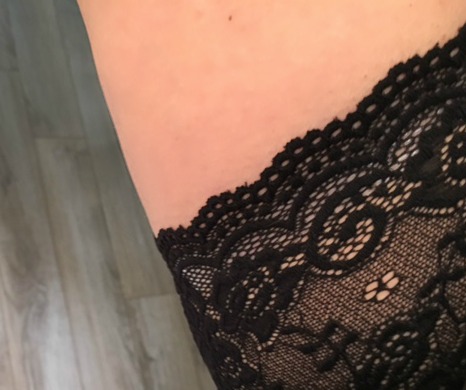 Things I talk about with my hairdresser
The best place to buy XXX
How neither of you wear dresses anymore because you can't stand the feeling of your thighs rubbing together
The same as above for sleep (PJ's vs. Nightgowns)
Sex toys that are ridiculously funny vs being a turn on
What's going on over the weekend in XXX
What I'd look like with XXX color hair (this changes ever 4 weeks)
Granted, my hairdresser Shana is the first friend I made when I moved to Florida, so the post could have been renamed – "Things I talk about with my girlfriends."
Last month the focus was thighs….and how she wouldn't wear dresses anymore, and I won't sleep in a nightgown because of thigh chafing or chub rub. You Northern gals don't have this issue this time of year, because you can throw on a pair of hose and your thighs will easily glide by each other. We Southern gals suffer with it year round. It's too hot for stockings or tights, and when the temperature or humidity are high it's just no fun baring our legs and looking feminine.
Enter BANDELETTES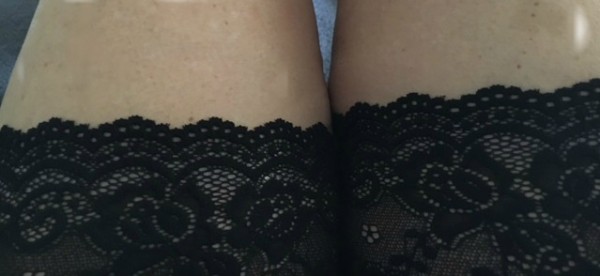 As if by some force of nature, I came home from my appointment to find an invitation to review Bandelettes® Anti-Chafing Thigh Bands in my in-box. Talk about great timing. I said ABSOLUTELY…send the to me…you have impeccable timing.
First impressions
These are so feminine. They look like beautiful lingerie…the kind that I adore! They arrived in a 2-pack, one for each side. But would all of that lace be as irritating as it looked?
I tried them on
Lined with silicone bands near the top and bottom of each, the bands stayed in place through walking, running and getting up and down without slipping. The lace is soft, not that coarse fabric lace that I thought they'd be, PLUS with the additional layer of silicone bands next to my thighs, I didn't feel any lace discomfort at all.
Wearing them
I put them on and wore them for a full day with a short skirt. It's been rainy and humid, and I'd normally wear slacks or shorts in this weather. I ran to the grocery store, sat at the desk, and did some work around the pool (putting together my new hammock stand), before coming in and making dinner. By the time night rolled around I'd realized that I'd been wearing them all day WITHOUT EVEN NOTICING that they were on my thighs, yet I was able to go all day long without the sweaty thighs that I'd normally find irritating in a skirt.
Beside providing anti-chafing protection, these make me feel SEXY.
Fun Fact
The word "Bandelette" is a French term for the embellishment on the top of a column. Thus, Bandelettes® pay homage to the organic form of the female leg, because sometimes the most beautiful structure needs a little trim on the top!
Options
Bandelettes come in a variety of colors  including
Black (like mine)
Beige
Red
Chocolate
Caramel
There offer a few different lace patterns, as well as two UNISEX Bandelettes (perfect for guys and gals who do play sports) in black and beige.
Sizes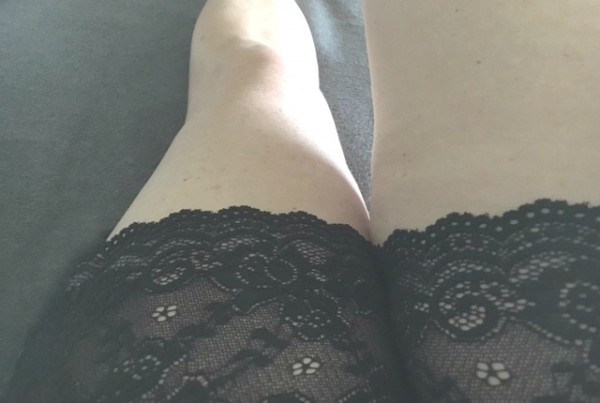 I love that Bandelettes come in SIX different sizes, yes…including PLUS sizes. Measuring for your Bandelettes is easy
Measure the circumference of the fullest part of your thigh. Make sure that, when you circle your thighs, the tape is level and neither too tight nor too loose. Also measure yourself on your bare skin, not over clothes, while in standing position.  If you don't have a tape measure, use a string or piece of yarn then measure that flat against a ruler. If your measurement falls between the sizes we suggest choosing the smaller one.
Care
Because these are made of lace and silicone, I suggest handwashing them along with your other lingerie.