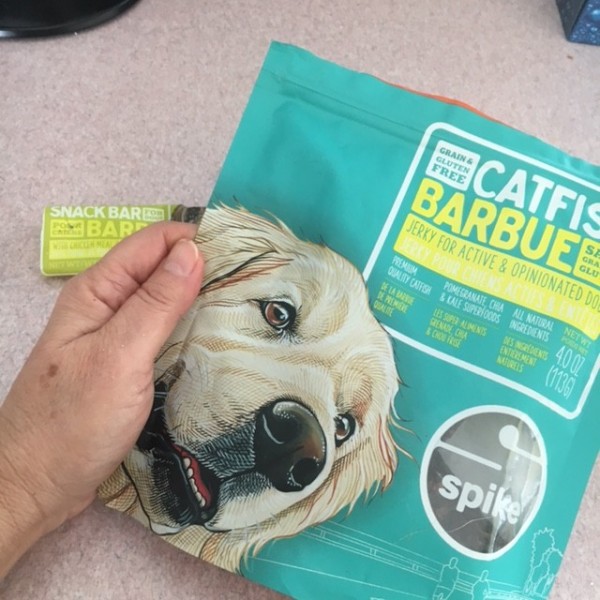 Clem was born Bullmoon's Caporegime – call name Clemenza. The entire litter were named after characters in The Godfather. We kept his name, mostly because he knew to come to it and there would be less training involved. BUT SPIKE would have been a great tongue-in-cheek name for a miniature bull-terrier with a gentle nature.
But instead of calling him that, I now treat him with SPIKE All Natural goodies from Petcurean. His newest fave is their Grain Free Catfish Jerky for Dogs.
Why:
SPIKE Jerky treats use only use premium quality catfish and all natural ingredients.  All of SPIKE treats supplement your pets diet with superfoods chia, pomegranate and kale. Ingredients that are nutrient-rich, high in fiber and packed with vitamins, minerals and antioxidants, for an active, happy dog. I love that they contain no by-products, added growth hormones, glycerin or artificial preservatives, flavors or colors.
What:
Clem's FAVE – the Catfish Jerky contains
Antioxidant-rich fresh pumpkin that is high in beta-carotene
Catfish as a low sodium source of high quality protein
Whole chia seeds for digestive health and omega-3s
Zero grains, gluten or glycerin
Who: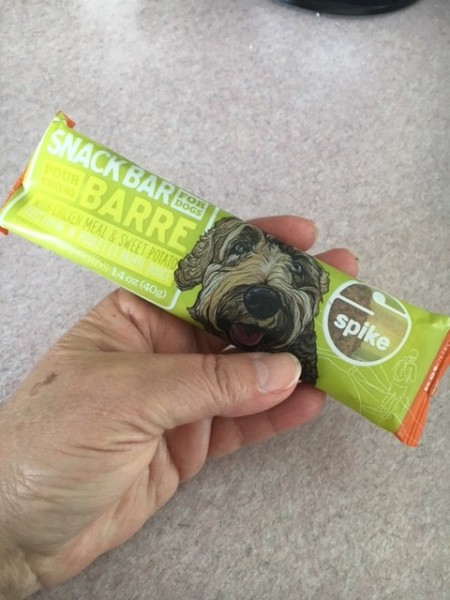 Petcurean makes products for all ages of a dog's life, and I'm so excited that they're finally including TREATS in the line-up, including a Snack Bar for dogs with ingredients that I WOULD LOVE in a human bar.  Made with Chicken Meal & Sweet Potato, these individually wrapped barres are great for road trips, a day at the beach, or anytime that you want individually wrapped treats to recharge after a fun day of romping around. Like all Petcurean products, these are made with all natural ingredients and packed with meat protein and carbohydrates, and are free from by-products, added growth hormones, glycerin and artificial preservatives, flavors or colors.
Where:
You can purchase these where you find your Petcurean Dog Food at THESE LOCATIONS.


Clem received a year's supply of Petcurean dog food and our FAVORITE pet charity the New England Old English Sheepdog Rescue (whom I used to work with) received a generous donation to facilitate our posts. We appreciate both immensely. All opinions are my own and my four-legged best friend, who is always there for me.