Now that you're done drooling (as I was) over the oh-so-handsome Mr. Josh Duhamel, we have to get SERIOUS! Yes, he's adorable, yes he's NICE (I had the opportunity to meet him on the set of Safe Haven last year), and yes he's charming. BUT, is he charming enough to get me to part with my Diet Pepsi? While that face of his is CUTE, he'd have to be offering something EXTRA special for me to hand over my can, and there's only ONE thing that this Champagne Living diva would pass it to him for…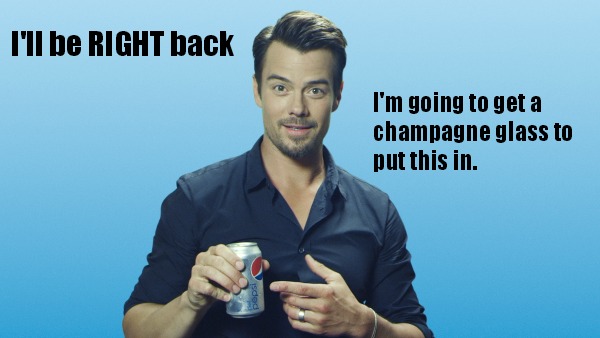 Truthfully, I'm LOVING the new Josh Duhamel ads for Diet Pepsi, and I've been secretly hoping to look up and have him "check me out" at the grocery store. In the meantime, I had a little fun. What about YOU?
This post has been sponsored by Diet Pepsi.
For more about Josh Duhamel Diet Pepsi become a 

Facebook Fan

.