This week, our resident man about town is in beautiful New Jersey attending a wedding. You'd think for a guy it would be easy, but it seems (at least by all of the shopping we did), that men have the same issues that we women do when it comes to dressing for nicer occasions.  The truth of the matter is, that we often focus so much on our own style that we forget to help our partner (and, let's face it, he often needs help). There are some amazing tailoring trends for men at the moment so, if you've got a function (or a wedding in NJ) coming up and you want to look like a princess, make sure your man looks like your prince charming.
The Mourinho:
Want your partner to look like the self proclaimed "special one"? This look is incredibly easy to achieve and it is marginally less formal than the other options, making it suitable for a greater array of occasions. Simple, plain suits are combined with a cashmere sweater to create 'the Mourinho' look, and, if it is well fitted, your man can be a 'special one' too.
The Double Breasted: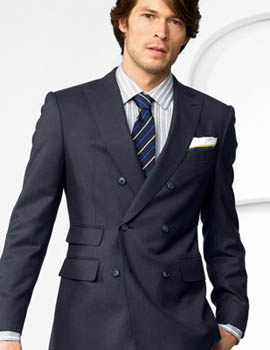 A double breasted suit has a sense of swagger and gravitas about it. In a double breasted suit, your man will be the talk of the town. Double breasted suits ooze confidence, style and sophistication and hark back to the swinging sixties and roaring twenties. So, if you're attending a blues or jazz event then there's nothing more fitting than a double breasted suit.
Double breasted suits have featured in numerous James Bond films over the years and who doesn't want their partner to look like James Bond? Simply match it with a martini to complete the look; shaken and not stirred, obviously. Ben went for the navy double breasted blazer (with gold buttons of course), only his affair was a bit more casual, so he paired it with a nice pair of khaki slacks.
Sleek and Slender: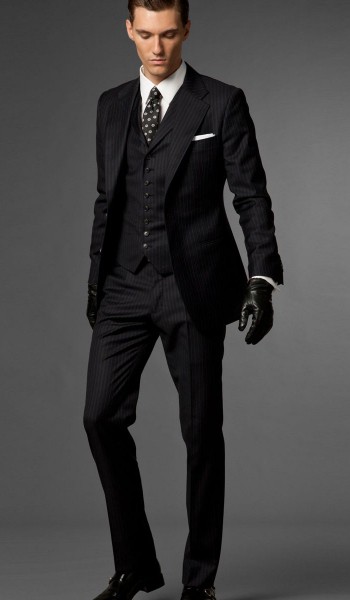 If your man has a good body then a slim fitting or heavily tailored suit can really emphasize this. We always select dresses that show of our bodies (or hide our lumps and bumps) and we should ensure that our men do the same too.
Don't let them buy the first thing off the rack; ensure that their suit shows them at their very best!
All of these styles are bang on trend and will ensure that your man looks like your prince charming. Remember, however, that no suit is complete without a top quality pair of leather shoes. Brogues are also really in fashion and if you're looking for great English craftsmanship then look at somewhere like Crockett and Jones.
There are thousands of suit options available and, to guarantee results, splurge and go for a great tailored one, it will fit PERFECTLY, and he'll look like a million bucks.
>>Always make sure you approve of any suit choice before he buys, that way you can guarantee that he will look like your prince charming.