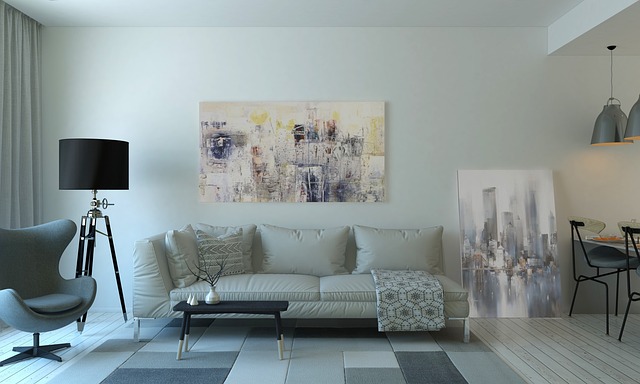 Even the most unassuming of spaces can have a dramatic effect when you add some well-chosen accessories, artwork, and other interior design tips. And creating a chic atmosphere in your home doesn't necessarily require don't expensive designer furniture. All you really need is a little ingenuity and some understanding of how to integrate different elements to create the perfect living space for you. 
With just a few well-chosen interior design tips, you can transform any home into one that feels fresh, inspiring, and modern – from top to bottom!  So, whether you're new to the game or have years of design experience under your belt, here are some insider tips on improving the look of your home.
Make a style plan
If you want to design a chic home, you'll need to plan ahead. This means defining your theme and using it as a foundation for your design. This will help you choose furniture, decoration, and accessories that all go together. Start with a vision board of what you want your home to feel like. Make a list of the characteristics you want to see in your home and incorporate them into your mood board. 
If you want a home with a sleek and clean feel, incorporate more neutral tones and accessories. Equally, if you want your home to be warm and inviting, try picking out more bold colors and natural textures. Once you've figured out what you'd like your home to feel like, you can start to plan how you'll achieve these visual goals. 
Decorate your entranceway
Why not decorate your entranceway to create a spatial impact? Most homes have dull entranceways that are a blank canvas for you to design to your heart's content. There are a number of great ways to use your entranceway as an area to add some décor. 
You could add a wall hanging, or a decorative table and/or chairs to create a space to welcome guests and create a stylish entryway. Another idea is to add a wall hanging to create a visual focal point or to add a decorative plant to create a more organic focal point.
Add an accent wall
An accent wall can be used to create visual interest and to draw the eye to specific areas of the room. There are a variety of different ways to create an accent wall. You may want your wall to be painted a single colour or a patterned wallpaper. 
Another great option is covering the accent wall with pictures. This can look especially striking when done with black and white photos, for instance. Don't be afraid to play with the depth of your room by adding a wall texture, such as wood, stone, panels or a veneer effect. 
Don't forget flooring
When you're looking to elevate a living space, stylish flooring is a must. This is no place to be skimping on quality. For kitchens and bathrooms, tile or wood are great options as they're both classic and durable. And for room like the bedroom or living room, consider upgrading to a high-quality carpet, because it will last for years and keep your home cosy.
When it comes to choosing a type of flooring, consider the following factors. First, think about the style of the rest of your home and whether you want your new flooring to feel harmonious with the other rooms in your house. Next, think about how often guests will walk on your flooring and whether or not it will withstand stains or spillages. Finally, consider what you'd like the flooring to feel like; soft, smooth, or some combination of the two.
Incorporate furniture with purpose
Before you go shopping for new furniture pieces think about the overall 'vibe' you'd like your living space to have. For example, if you want your home to feel more sophisticated, you might want to pick out pieces with elegant designs such as glass tables or tall dining chairs. Alternatively, if you want your home to feel more casual, you might want to pick out pieces with more rustic designs like a vintage wooden table or a fluffy chair.
Choosing the right furniture goes a long way to adding character to any space, so remember to regularly review your vision board and stick to the theme you've created. For instance, if you've decided to go with wooden furniture, consider going with something that shows quality and character, like Amish dining room furniture or a vintage armoire. 
It is vital to find the balance between style and purpose or functionality. So, while choosing furniture pieces that have a purpose is important, they should also be aesthetically pleasing. When shopping for furniture, always take measurements of the available space, and never forget to check reviews online.
When it comes to interior design, one of the most important things to remember is to create a space that's both comfortable and functional. That means finding a balance between choosing furniture that's stylish and contemporary, but also practical and durable. Here are a some tips to help you achieve this goal:
First, try to find furniture that's versatile – such as a side table that also works as a seat.
Second, make sure your furniture is stylish but not over the top or too distracting. While you want artwork for example to look modern and stylish, you don't want it to clash with the rest of your interior design, so opt for pieces that fit the color scheme of your mood board.
Incorporate stylish lighting
When you're trying to elevate the mood and atmosphere of a living space you'll want to think about the types of lights you have in your home. If a room gets a lot of natural light, it might not need a lot of artificial lighting. However, if a room tends to be relatively dark or gets minimal natural light, you'll want to make sure it has plenty of sufficient lighting options. 
When choosing the right lights for your home, consider the following factors. Do you prefer warm or cold lighting? If you want your living space to feel more relaxed in the evenings, for example, orange-toned mood lighting can look stylish and improve your quality of sleep.
You may want to add soft white lighting to your kitchen to create a relaxed ambiance or install dimmer switches to create a moodier atmosphere in your living room. Installing elaborate light fixtures could also improve the look of your home. Think about which you prefer: unobtrusive overhead lighting or statement lighting, like a chandelier. 
Think outside the box with art and accessories
To really elevate a living space, you might want to think outside the box, especially in terms of artwork and accessories. This is especially true if you want to make a statement with the decor in a room. 
For example, you can use unique art pieces to help upgrade your style. You can also use interesting accessories like an ottoman that doubles as a coffee table or a plant stand to help elevate your decor. You can also use both decorative and functional items like clocks to add that extra detail to a room. 
When looking for accessories, it's particularly important to consider aspects like quality, durability, and versatility. Try and find reputable online homeware stores like ArchiPro which have accessories for every room in the house.
Get creative with textiles and fabrics
When you're trying to elevate a living space, you might want to consider investing in unique textiles and fabrics. This is especially true if your home has a wood element like a kitchen island or a dining room table. 
For example, if your kitchen has a lot of wooden elements, you might want to consider investing in chairs with a natural or neutral color like cream or brown. Matching textures with colors can help tie a room with the rest of your home's decor.
You might want to consider investing in high-quality rugs. This is especially true if your home is decorated with a lot of wood or stone. For example, you might want to consider investing in a plush rug with a neutral or natural color to help tie your home's decor together.