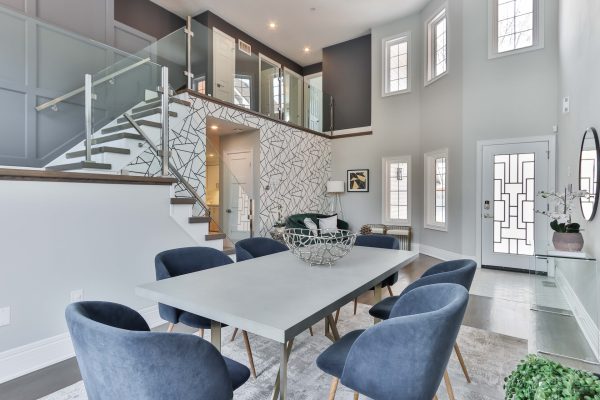 Luxury living is often considered to be something we enjoy on occasion. For example, you may plan a high-end party to celebrate your birthday or escape to a 5* resort for an unforgettable vacation. However, it's important to note that you deserve the benefits of luxury living every single day. 
One way in which you can achieve this goal is by carrying out some simple home renovations that elevate the space. With that in mind, here are some steps you can follow to turn your home into a luxury property. 
Hang some mirrors.

Hanging mirrors throughout your home may not immediately scream luxury, but it's a great way to make a room appear bigger and more spacious than it actually is. As a result, they work most effectively in smaller rooms and hallways. 
Install a Cooling System.

Everyone loves the feeling of stepping into a cool, well-ventilated space, especially on a hot day. As a result, you may want to consider reaching out to an

Evaporative Cooling Service

to install an EC system in your home. This is a particularly popular form of AC, as it filters the air ahead of time, which will improve the air quality in the room while also keeping you cool! 
Declutter.

Decluttering your home can also make the space feel a little more luxurious because it will help you to keep your home clean and organized. It's also good for your mental health as clutter "

can affect our anxiety levels, sleep, and ability to focus

."

This means that getting rid of the clutter can make you more productive in your daily life. 
Prioritize Comfort.

While luxury means something different to each and every person, luxury living often boils down to being comfortable and relaxed. As such, you should make this a priority moving forward, especially when choosing furniture such as sofas, chairs, and even mattresses. The more comfortable you feel the more luxurious your home will become by extension. 
Invest in luxury pillows and bed linen.

Do you ever feel like you get your best sleep when staying in hotels or resorts? This is because these facilities work hard to

create a sleeping environment that is conducive to relaxation.

One way in which they achieve this goal is by choosing high-quality pillows, blankets, and bed linen. While this could mean spending a little more money, quality products often last longer, which means you can enjoy them for a lot longer. Plus, if they help you get more sleep, they're a worthwhile investment. 
Hang some wall art.

Displaying high-quality art within your home is another great way to elevate your interior design choices, though you should think carefully about the art you display. For example, ensure the colors featured complement the other colors within the room, or that the art matches the theme you have been developing. This will make your design choices appear more intentional, creating a room that will 'wow' anybody who walks through your door. Thankfully, there are plenty of places to buy art – either online or in person – but try to support local artists where possible.