Thank you to our West Coast writer Kathy Leong for this great St Regis story
So when it was time for executive chef Joe Tiano to craft the holiday tea menu at the St. Regis San Francisco, he could have saved himself some time and opted for the traditional fare of cucumber sandwiches and scones.  But no… he dared to be different, and we're so glad he did.
Kicking off the Art of Tea seatings from 2-4 p.m. this season, is the Holiday Afternoon Tea, an elevated experience for the savviest of afternoon tea aficionados. I came just before opening day with my daughter to sample the wares and celebrate Gwen's new job.  Not only is this the first-holiday tea offered in two years, but it is also the first one in the new afternoon tea salon that was recently redesigned.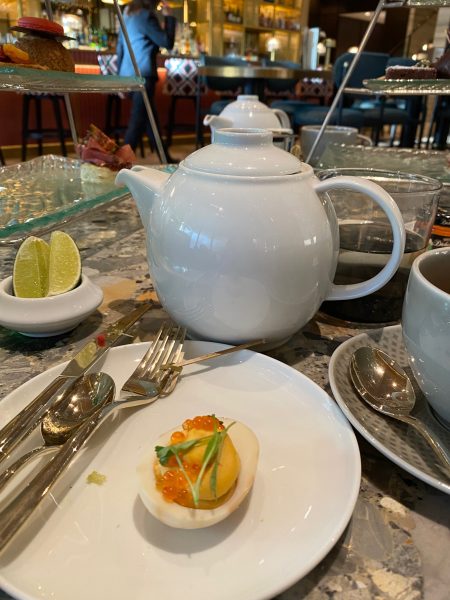 This tea service is a feast for the eyes and palate, showcasing items that you'll find untraditional and yet familiar. First, the tea cups are not dainty wares with flower patterns and gold rims. These are solid gray teacups with gray patterned saucers, more contemporary in design.  Your round plates are simply white, and your personal teapot is simply white as well.
Second, the tea selection is quite large with 13 choices categorized by green, black, white, and herbal. The menu explains the aroma associated with each one as well as its purpose. For example, the floral jasmine's scent is "sweet and heady" while its purpose is to "fall in love." And as a guest, you get to see and smell each option. A wooden tea chest is brought to your table with small jars of Tealeaves-branded tea.  This is a bonus as it is rare to find a hotel tea service where you can get a whiff before ordering.
Gwen and I noticed the attention to detail as our server Bihm from Nepal brought a tea timer and set up the mini hourglass so that our beverage would be steeped perfectly.   Service, by the way, was very attentive as Bihm often stopped by to pour our tea and make sure we had enough hot water and leaves to our liking.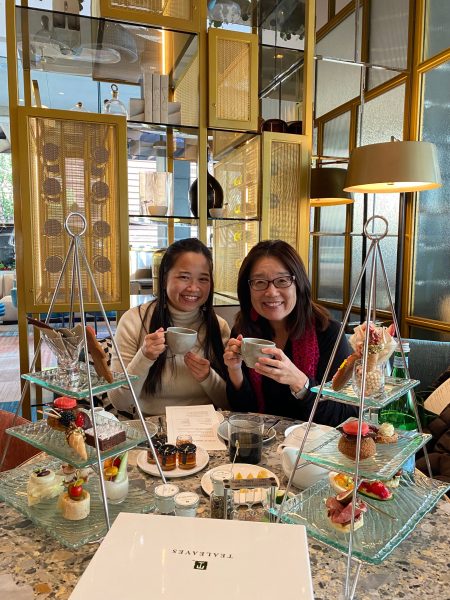 Now, the food. That's what you came for, right? Four savory items were painstakingly prepared, delicioso, and artistically presented. The beet-cured smoked salmon was served on a slice of cucumber round and topped with house-cured beets and house-pickled rhubarb. A yellow sliver of kumquat offered the color contrast to the red beet. Yes, I could have eaten a boatload of these as the tartness of the kumquat paired well with smoked salmon, and the crisp crunch of cucumber simply made our tastebuds swing from the trees.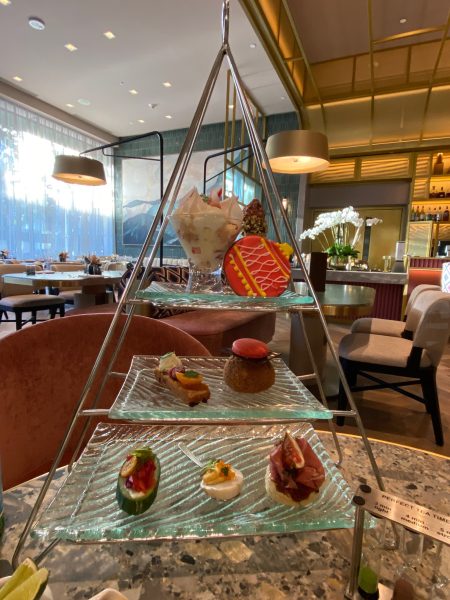 Next in line came the mille-feuille, a housemade puff pastry with fig jam, truffle, and prosciutto. The juxtaposition of jam and the prosciutto popped in that savory sweet gourmet marriage.  The truffle was very light in flavor.
When you want eye candy, you've got it at this tea presentation.  The deviled tea egg was served on a silver spoon.  Harkening to Chinatown, St.Regis' neighbor, Chef Tiano has boiled the egg in Chinese oolong tea from his favorite tea shop in Chinatown.  The result is a subtle tea flavor and the visual of the brown lines from the cracked shell is a delicate reminder that this is no ordinary deviled egg dish.  The yolk is blended with sriracha mayo and topped with trout roe fish eggs so the bite is complex, but not overpowering.
Caprese, the last bite, was delivered on a focaccia base, layered with mozzarella, tomato pesto, and rocket.  The freshness of all those elements just caused us to bite, taste, and swallow ever so slowly to keep the song in our mouths as long as we could.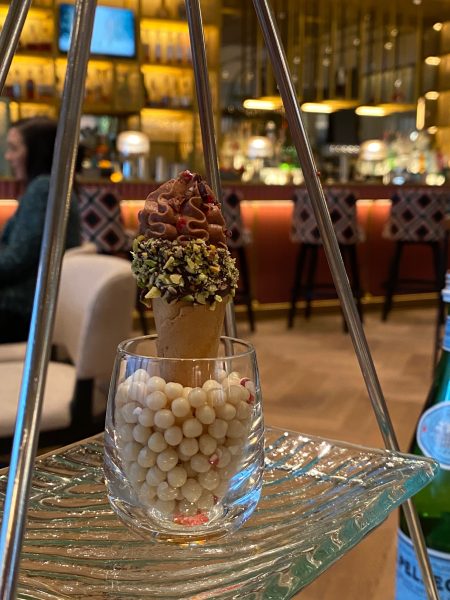 Just when we felt were had gone to afternoon tea heaven, we now had to dig into the sweet stuff. Five sweet treats awaited us.   Highlights of the sweet treats were the homemade gingerbread cream puff, infused with a fluffy vanilla pastry cream. This crunchy round sphere was crowned with a square of thin chocolate and a pink macaron just for the fun of it.
Now, you'll flip over this, but the scone looked more like a slice of toast.  So instead of a muffin-like shape, it was sliced like a small biscotti and topped with cream, jam, cranberry, and candied orange.  The chef gave this scone his own interpretation, sparing diners the hassle of having to spread their own jam and clotted cream.  Cute, but I prefer having an entire scone when I go out to tea because, for me, the scone is the highlight.
Very special here was the trifle dressed up in a tiny parfait glass. This little beauty was filled with chiffon cake and champagne-soaked strawberries. Chef Tiano stressed that the champagne strawberries is a nod to the champagne sabering tradition that occurs each evening at the St. Regis. Digging into this dreamy concoction was a delight. The dessert was just sweet enough and not too sugary with every spoonful.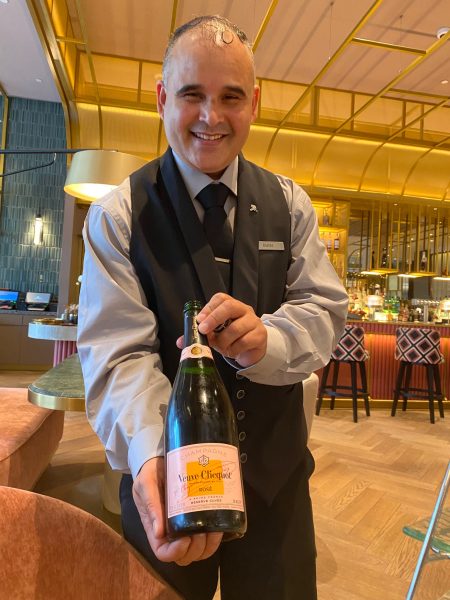 Now, if you want an even more elevated experience, order a glass of Veuve Clicquot Brut Yellow Label from France.  Several varieties of champagne are available on the tea menu.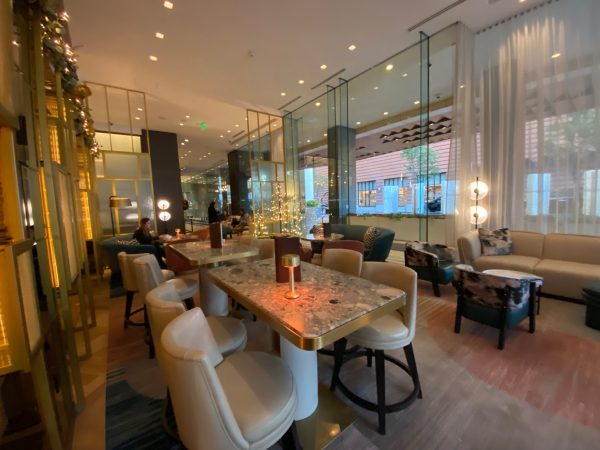 Finally, if your travels take you to San Francisco this season, reserve your spot for Holiday Afternoon Tea. The staff is amenable to gluten-free guests and can adapt the menu. Kid-friendly savories and sweets can also be ordered upon request. When you come, do ask for the courteous Bihm to be your server, offer up a cheers to the end of 2022, and indulge in sophisticated tea treats you'll find nowhere else but the St. Regis San Francisco.