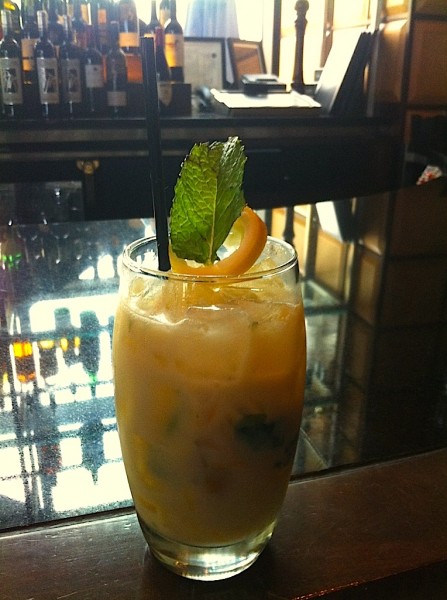 Next week I'll be checking out the new menu at III Forks and I've enjoyed a meal at Cantina Laredoback in March. In true Champagne Living style they've created this  "I'll Have Another" specialty cocktail that will be featured this Saturday at Cantina Laredo and III Forks in Hallandale.
If you saw watched the Derby and Preakness, you'll know the name "I'll Have Another" as the horse that we're hoping will win the Triple Crown! This drink incorporates ingredients from all three official cocktails of all three races — Mint Julep (Kentucky Derby), Black Eyed Susan (Preakness), and the Belmont Breeze (Belmont Stakes).  They'll also have appetizer specials available.
III Forks Prime Steakhouse and Cantina Laredo will feature drink and appetizer specials on Saturday, June 9, while showing a live telecast of the final leg of the Triple Crown.  Race Day offerings at both restaurants will include "I'll Have Another" special during the Belmont Stakes.
I'll Have Another
In a shaker glass, muddle:
8 mint leaves
1 Lime Wedge
1 Lemon Wedge
1 Orange Wedge
1 oz. Simple Syrup
Add ice and:
1.5 oz. Jim Beam Devil's Cut Bourbon
.5 oz. Harvey's Bristol Cream
1.5 oz. Fresh Orange Juice
Directions
Shake with ice until chilled and mixed.
pour, ice and all, into a 14 oz. footed pilsner glass.
Add additional ice to fill if necessary.
Garnish with a Mint Sprig.
From 4-7 pm, guests at either restaurant can receive two-for-one cocktail specials on house wine, domestic and imported beer, and an exclusive cocktail, the "Triple Crown."  At the III Forks bar, Kobe Beef Sliders will be featured for just $3 each; and at Cantina Laredo's bar, chips and a cup of Chile con Queso will also be $3.
The restaurants are located in the Village at Gulfstream Park, 501 Silks Run, Hallandale Beach.
For more information, call III Forks at 954.457.3920 or Cantina Laredo at 954.457.7662.