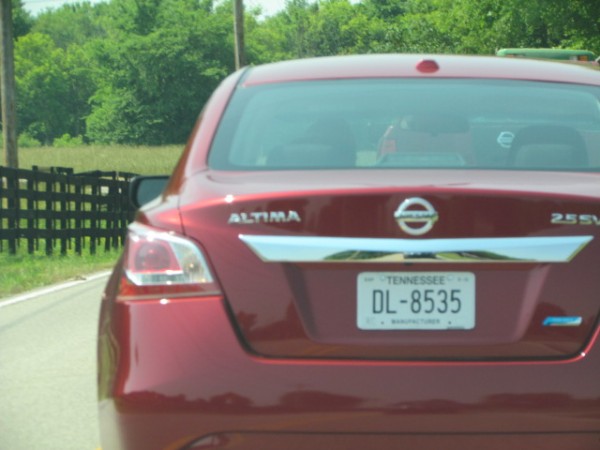 I really needed to get away, bad. So when Zippy said she could not go on a trip to Nashville to preview the newest Altima by Nissan, I jumped at the chance. I was nervous because this was only my second press trip and while I love cars, I was not sure I was qualified for this. So last Thursday I packed my bags and hopped an airplane to Nashville to try out the new 2013 Altima.
A little about my history with Nissan? – Well, I have none, but I have always wanted a Maxima. I have a ton of friends that swear by them. So I was going in on this cold for the most part. Scary.
Day 1
I arrived at the wonderful Hutton Hotel. This place was amazing but hotels kind of scare me (deep childhood trauma from seeing The Shining too young), so I linked up with The Bachelor Guy for a little tour of the town. We caught an amazing lunch at the hotel restaurant and went off to explore Nashville. Downtown Nashville is amazing! We popped in every little kitschy souvenir store, shopped for cowboy boots, and even ran into Steve Earle (one of my all time favorite musicians). Then we hit the bars and began drinking…(I will not go into the details of this part of the excursion to protect the reputation of all parties involved in said debauchery).
We popped into a small local restaurant and enjoyed an  equally wonderful dinner, and after enjoying the best of Nashville cuisine, we took off for a night of music and more debauchery (until around 1am) but I guess that's just how things go in Nashville! By the time we left (when bars close here) bands were just getting going into the hearts of their sets. I had to preserve myself somehow.
There was driving to be done!
Day 2
I kicked the dust out of my head with some breakfast and was ready to go – off to the Nissan factory! Here was where the fun began! After a short presentation we were in our cars. I paired up with The Bachelor Guy once again, and we hit the road in the absolutely amazing 2013 Altima. Let me say that again…This CAR IS AMAZING! It was comfortable, with newly designed seats, it was quiet even when rapidly accelerating, it looks cool  and it was fast!
The 2013 Altima has HOT Body styling
The new Altima has luxury styling that competes well with higher priced European cars.
Its wide aggressive stance, sloping rear roofline, deep fenders, high trunk, and small wheel opening gaps give it a sleek, sexy look
The projector-type halogen headlights are available with High Intensity Discharge (HID) Xenon headlights for great night driving
Available auto on/off headlights with two-stage function, windshield wiper interface (turns on lights when wipers are in use)
Fog lights are an available feature, making driving safer during conditions that could be difficult.
For those up North, there are available heated outside mirrors with integrated LED turn signal
The new Altima is available in a variety of colors – Java Metallic, Brilliant Silver, Saharan Stone, Metallic Slate, Super Black, Cayenne Red, Pearl White and Storm Blue
The Car
The Altima performed great at high speeds and cornering. As we drove through the back roads of Tennessee the speed kept creeping up on us even around some insane corners. With every straightaway I wanted to kick it into high gear and see how fast I could get it. The 3.5L six-cylinder car that I was driving, delivers 270BHP at 258 ft LB of torque on six cylinders.  While the base 2.5L four-cylinder engine was more efficient (getting and insane 38 miles per gallon) the 3.5 was more fun. Like most guys I love the column-mounted paddle shifters with manual mode that's available on 3.5-liter V6 models for sportscar style driving.
The transmission was also fantastic with absolutely no hiccups. The CVT (Continuously Variable Transmission), is very reliable and efficient because it has no gear. The CVT is like a track that spins at different widths according to your speed. This makes it amazing to drive on highways! It's so quiet.
The 2013 Altima is available in seven models:  Altima 2.5, Altima 2.5 S, Altima 2.5 SV, Altima 2.5 SL, Altima 3.5 S, Altima 3.5 SV and Altima 3.5 SL there is one for EVERY type of driver.
The new 2013 Nissan Altima is without question my new favorite mid sized sedan. The car really has it all. It's sexy, fast, and fun.
For more about the all new 2013 Altima follow:
Nissan paid for our trip to Nashville to preview the new Altima. All opinions are strictly our own.