Lexus gave Rach & I this car to use while we were in Malibu at no cost. We had a BLAST!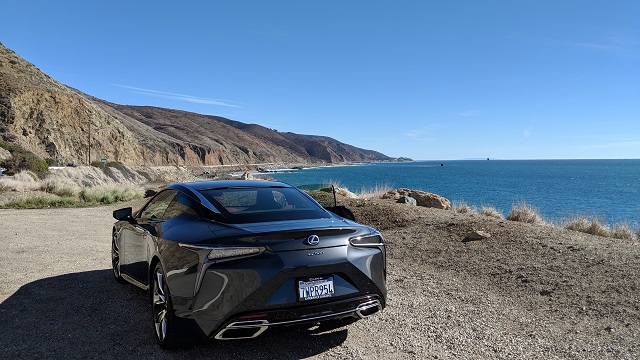 The Ferrari pulls up beside us as we head to the Pacific Coast Highway on our way to that cool Airbnb that we rented tucked into the Malibu hills overlooking the ocean. He pulls up slightly ahead and falls back alongside us as he tries to look cool and stare at the car at the same time. He does this a second time, and a third, and after that, I lost count. This scenario happened again and again in Los Angeles, Malibu, and Santa Monica. Each time we parked, we'd return to a group checking out the car as we pretended to ignore them and Rachel slid behind the wheel and me in the passenger seat.
As someone who drives a "practical luxury" car (a crossover SUV), the experience of spending a few days driving around in a Lexus LC500 was in one word – STELLAR!
FAST
One touch of the gas peddle and you KNOW you're in a sports car.
0-60 in 4.4 seconds!
471 horsepower
10 speed automatic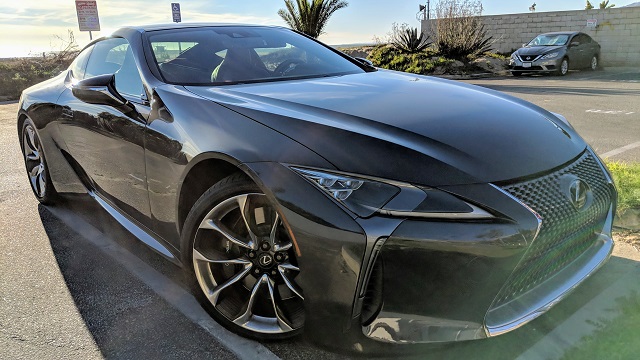 SEXY
The first things you notice when you approach the Lexus LC500 are the fabulous lines and aggressive grill. As a woman, I'm sometimes put off by a grill that looks like it's going to BITE you, but on this car it makes me feel like it's a lion ready to roar (something my cougaresque alter-ego LOVES). The interior of this sports car oozes a luxury that my plain-Jane SUV secretly dreams of, and the technology allows me to command the drive experience like no other.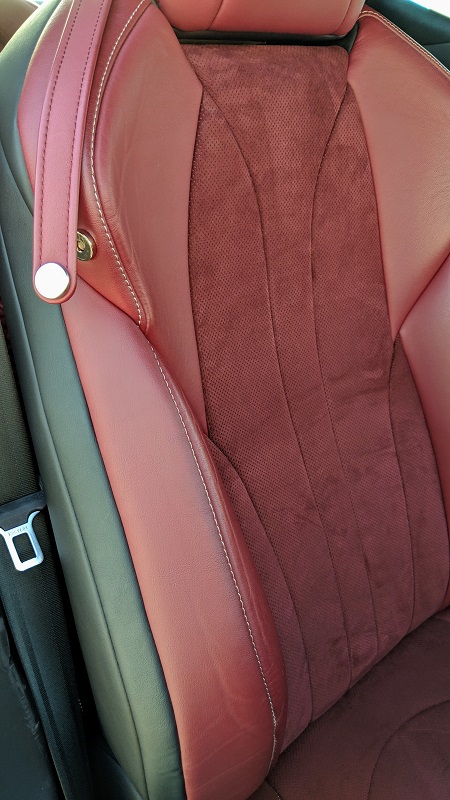 I have to admit that this is the first time I've ever talked about seat DESIGN in an auto post beyond my love of good lumbar support, but with 8-way power support, Lexus upped the ante by offering a great pelvis and shoulder (along with lumbar) support to really round out the comfort. The elliptical steering wheel makes taking corners at a high speed easy, and the ambient lighting in the cabin provides just enough light without being overwhelming.
Whether I'd be back in Rhode Island or in Florida, the temperature is perfect with ventilated and heated seats and dual-zone climate control (with a climate concierge).
DRIVING THIS BEAST
The look on Rachel's face behind the wheel said it all to me. She had a perpetual grin as we flew down the PCH in Malibu, stopping only to take pictures or for our hunger. The paddle shifters make turn this automatic transmission feel like you're driving in manual (should you choose to use them) and I was surprised that the gas mileage for a V-8 wasn't as bad as I expected with a 16 mpg city/25 highway for a combined 19….which was what my old Dodge Durango got.
DETAILS
And Lexus has outdone itself this time.
Are you in the market for a car that outperforms the Aston Martin DB11 (a car that Rach and I test drove 2 years ago)? The Lexus LC500 is your dream car….plus, YOU can be THAT girl in the HOT CAR. In the meanwhile, I'm going to be getting rid of what I'm driving by looking at junkyards that buy cars. (JK)

Visit your local Lexus dealer
Check the car out online at

Lexus.com/LC