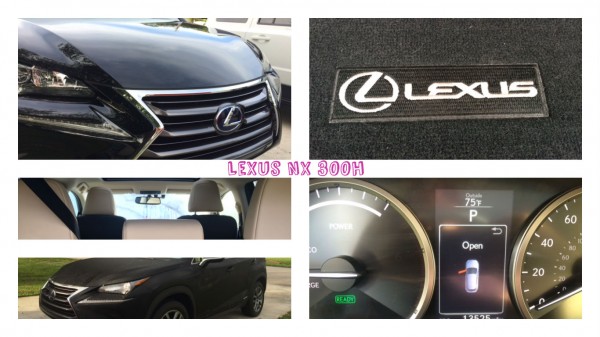 There's nothing like a mid-week escape to Key West when you're "OVER" the holidays and just need some family R&R. It had been a while…YEARS actually, since we packed up the car – Clem the bull-terrier, Mr. S, and I for a road trip through the Keys. We didn't really know how long the trip would be, as we've moved numerous times since having driven there before. We have inched our way up from Palm Beach county – all the way up to the St. Lucie – Indian River line.
It didn't matter

Our mode de transport would be the uber luxurious and oh-so-economical Lexus NX 300h. A hybrid that would take us on our mini-getaway in maxi fashion. I'm not usually a fan of crossover vehicles. They have an identity crisis – are they a truck, a car, a wagon? There is a tendency to be too large, but this car is a bit more compact. It's like a downsized version and I am all for the smaller size.
We piled in, putting the suitcases in the huge trunk space.
Clem jumped immediately into the back seat, while Mr. S took the pilot position. I was designated co-pilot/navigator. What used to take 3 hours we learned would take between  5-6.  Here's what we learned
Comfort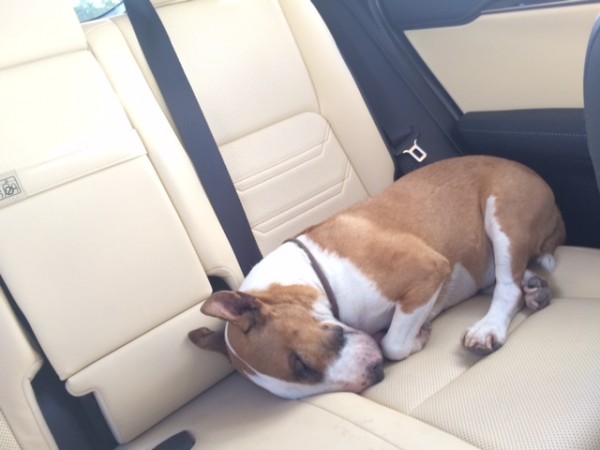 Clem jumped in the back and was asleep within seconds. This is a dog who is usually antsy in the car, because it is such a treat for him. I seconded the motion and if I weren't in charge of monitoring the GPS and radio, I might have done the same.  The comfort of my 8-way power passenger seat with the incredible lumbar support made the 5-hour trek feel like an hour (the driver's side has 10-way adjustments). Mr. S was happy behind the wheel – a rarity.
Performance
OK, we are NOT performance people. I can't tell you how long it took us to get from 0-60, but I can say that it was an easy drive. The car has a lot more pickup than my Honda hybrid and Mr. Leadfoot had no problem passing quickly on the one-lane highway that runs through the Keys. Besides, this is NOT a sports car, this is a comfortable leisure vehicle. We were shocked to make it 290 miles and use slightly over half of a tank (see gauge in photo above – taken at our destination The Pier House Resort in Key West). In true Lexus style, we heard no road noise, felt no surface underneath us, and the car hugged corners just as we expected it would.
Safety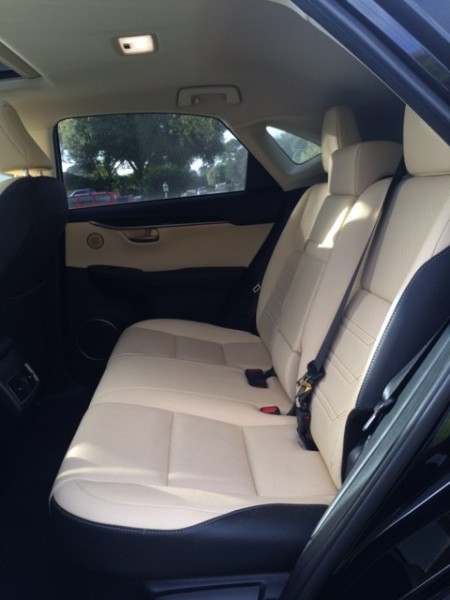 Putting Mr. S' driving aside for the moment, the 8 airbags, along with and the brake assist meant that we would be okay if something were to happen. Of course it is always nice to see what's behind you when you back up (especially in a crossover or SUV), and I appreciated the assistance of the back-up camera. The added touches of intuitive parking assist, outer mirrors with blind spot monitor (which Mr. S KEPT POINTING OUT when he saw the little car appear on the mirror), rear cross traffic alert, and the pre-collision system meant that I wasn't gripping the seat (I'm a HORRIBLE passenger), but instead enjoyed the ride and the view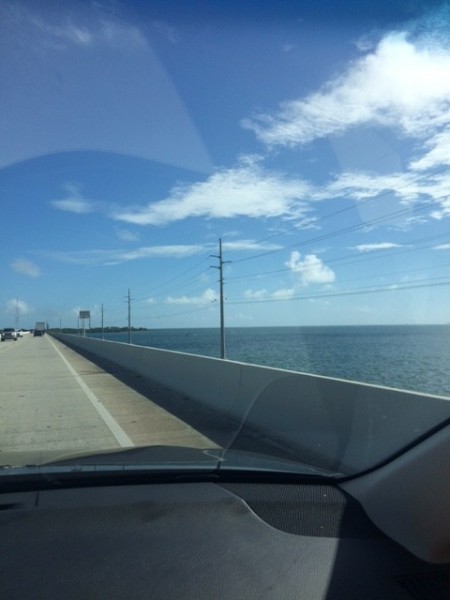 The toys
If you've read our other road trip stories you'd know that we have numbers – driver is #1, navigator #2, passenger in back #3 – although Mr. S sometimes pulls my rank and makes Clem the bull-terrier #2. Since I was #2 it was assumed that I was in TOY CONTROL. Even thought I seem to be able to make my way around a computer, somehow auto navigation systems baffle me. The auto concierge who dropped the car off to me, said "don't worry it's easy" (which in my head translates to: "make sure you program your phone's GPS and have Pandora ready to bluetooth"). He was right, this was one of the easier systems, especially because I accidentally pushed a button and got a live operator who proceeded to program it for me. It doesn't get much easier than that.
The navigation was easy to read and clear, my only issue with it is that when the tunes are playing, the system never shut off the music to tell us the directions. I don't know if it was my lack of understanding of how to make that happen, or an issue with this particular nav program. As a co-pilot, I had to watch the screen. If I were driving alone and had NO CLUE where I was going, I would have had to choose between directions and Straight No Chaser. Oh yes, it does have iTunes tagging, so those tunes came straight from my trusty phone, but it was also equipped with Sirius/XM and HD Radio.
I asked Mr. S what he thought
He drove it…he loved it. The BIG 411 – because of the comfort and ease of driving he said "I've got NO driver fatigue" (something that usually hits about 2 hours into a drive with him).

Details
For more about this car visit: Lexus NX or if you're near me, head to JM Lexus in Margate