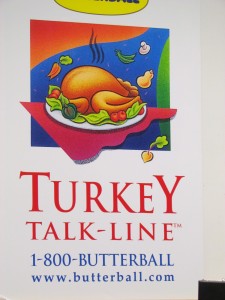 I'm baaaacck from Butterball U and YES, I made it through cooking my turkey. I'll bring you all of the details later this week, and keep you posted about how to make the perfect Thanksgiving turkey.
For now, here are some photos of my experience COOKING a Butterball. Can you guess the METHOD that I used? I'll give you a little hint…it was NOT the same one as last year.  I can also tell you that it was INCREDIBLY moist and delicious (although not as golden brown as I would have liked). I'm getting hungry just thinking about it.
Guesses anyone?
For ALL of the methods of turkey-making for your Thanksgiving go to Butterball.com or call the Turkey-Talk Line at 1-800-BUTTERBALL
This post was written as a result of my relationship as a paid Butterball blogger, but it's TURKEY and it's THANKSGIVING and I LOVE Butterball.