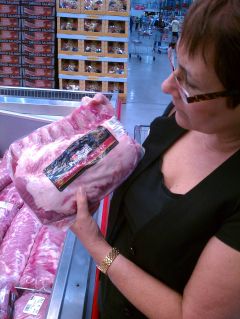 The season has OFFICIALLY begun (at least around the mansion). From now through mid-January we have both LOTS of parties to go to, as well as those that we're throwing. While I'll be talking more about Thanksgiving later on today or tomorrow, I was thinking about WHAT to make that would be elegant and EASY when everyone comes over.
I don't know about you, but when it comes to buying MEAT, I prefer going to the warehouse stores like Costco. Perhaps it's the fact that it's so much less expensive, or maybe it's just that the meat looks so good there. This week, I headed over with the intention of making a nice celebratory dinner for "B" since he FINALLY got a great job. He's been hired as the Social Media Marketing Project Manager of a social media company here in South Florida), so his career is off and running. I figured that we'll be having turkey on Thanksgiving, so I wanted something a bit different.
There it was…a BEAUTIFUL Rack of Pork. The thought of that standing on the table along with the side dishes turned my head. To be perfectly honest, I've never bought one before, so this is going to be somewhat of an experiment (Ben is planning on cooking alongside me, we'll see how THAT works out).
I picked it up and tossed it into my cart and saw the sign that said $2.50 OFF per package. If you're looking for someth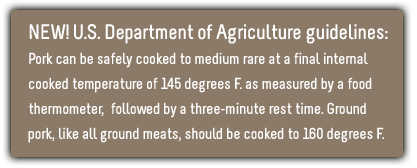 ing elegant to make for dinner, now is a great time to pick up a rack of pork, since it's on sale. Later in the week, I'll be showing you exactly how I cooked it, along with some great party ideas to make your OWN celebration elegant and easy.
Since I've never cooked one before, I'm heading over to Pork Be Inspired to look over recipes and ideas for preparing. It all looks VERY easy. In the past I've been afraid to cook a large pork dinner, because I'm never sure just how to do it without overcooking or under-cooking it (I'm just not a natural cook).
This is my goal…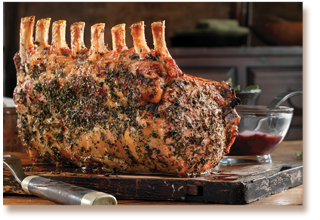 Stay tuned, as I ATTEMPT to create this fabulous meal alongside Ben this week, and HURRY in to Costco to get your $2.50 off on a Pork Roast. Follow the hashtag #CostcoPork on twitter and check out these blogs to see what OTHER Pork Bloggers are cooking (and watch as we take each other on in a cooking competition).