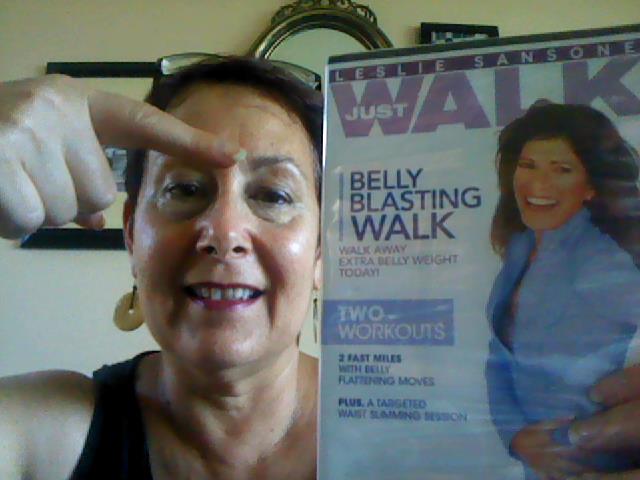 This week, I decided to share one of my FAVORITE fitness instructors on my Healthy Over 50 column that I write for Puritan's Pride….
LESLIE SANSONE
If like me, you're just not capable of doing those insane workouts, are just starting out, or are over 50 and just need to move, take a look at my article on Healthy Perspectives,  where I get the 411 RIGHT from the walk-at-home guru herself.
The weather outside this week in South Florida has been teetering in the 100's, yet I'm WALKING.
Heat exhaustion is not on my to-do list, and I tend to get a bit intimidated at the gym with all the 20-somethings lifting and grunting, so I do what any self-respecting almost sixty year old would do. I work out to DVD's in my living room…Leslie's DVDs. Truth be told, I've been working out with Ms. Sansone for MANY years, and even included her exercise program in my rehab therapy when I was finally allowed to walk a bit after my knee surgeries.
This past week, I once again began my program and have so far lost 6lbs. I'm supporting my healthy eating habits by working out with Leslie Sansone's NEWEST program the Just Walk: Belly Blasting Walk. I love that there's no learning curve with her work-outs because there's
No fancy footwork
No hard to follow routines
It starts off with a 2 FAST MILE cardio walk that has some great belly blasting moves. From there it's on the mat work, working out your core, including
abs
waist
back
glutes
Even if you've got 2 left feet (or 2 right ones), Leslie will help you take inches off your wast, belly and burn calories in the process.
I want to thank Leslie for taking the time to give me the details about starting a program, and sending a copy of this new DVD, so that I could try it out for myself.
For FULL details go to:
Leslie Sansone is going to give ONE of these programs to a lucky Champagne Living reader. Simply enter below…