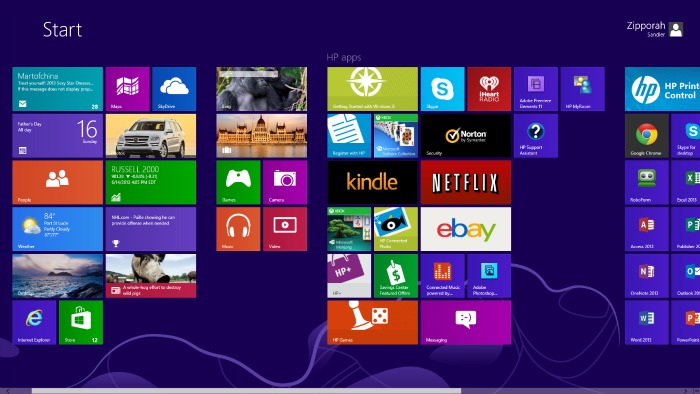 Since HP, sent Ben and I new HP Envy h8 computers, we've  been playing around with some of the features on it. This is BOTH OF OUR first time using the Windows 8 platform, and while I found it difficult to maneuver at first, I have grown to fall in love with it. It is PERFECT for someone who works well with visuals, and rather than have to go through the process of downloading a lot of programs, it features FUN applications that make family fun EASY.
 While our  HP Envy h8 computer does not have the Windows 8 touchscreen (we both choose a more powerful computer, because Ben is a gamer and edits video and I really need mine for work), computers like the HP ENVY 23-d150xt TouchSmart All-in-One Desktop PC are SO in demand and seem to be gaining in popularity all over the world due to its amazing touch screen and the added features that they have. Still, we LOVE being able to access all of the fun apps from our start screen, and have had a fun time exploring some family friendly ones, when all of the cousins got together recently.
Here are some are some of the Windows 8 based applications for kids and teens that they LOVED!
1. Memory Match
This memory game is meant for all age groups. It is a simple game where you match the animals. This fun game helps to to develop image recognition and motor skills in little ones, and allows the entire family to play along
2. Angry Birds
It's amazing at how quickly this game has become a classic that is loved by both kids and teens alike.  Both entertaining and educational, Angry Birds is absolutely addictive. NEVER PLAYED IT? It's a game where you work through levels to destroy the enemy. You'll find yourself sneaking away from other work, to play often.
3. Word Scramble
This game is geared to the teenage crowd. It is a race against time as you search for words to find as many words as you can. By choosing short words you score less points and longer words means more points (like the classic game of Scrabble). Its unique feature is that it can support many players in order to play against one another.
4. Dizzy bee
An interesting game where the players have to solve puzzles that are unique, thereby saving their fruit friends by freeing themselves from the obstacles.
>>But apps aren't just for kids….Windows 8 is LOADED with plenty of applications for adults as well.
5. Tweetro
Are you a twittaholic like me (if you are follow me at @zipporahs)? Tweetro is an excellent for using twitter within Windows 8. The layout is a bit different from the normal Twitter application. With the help of its screen, you are able to send a tweet and also browse photographs. You can easily add columns to follow hashtags, searches, and more. This twitter app also gives you the flexibility to browse photographs (which you can't do in standard twitter),  as well as its ability load a link in its own "card".
6. Kindle
While Microsoft doesn't have an eBook store, they don't want you to feel left out. The Kindle app interfaces seamlessly with Amazon.com and will take you into the store/browser where you can purchase books. I've used the Kindle app on other devices, but this one (on Windows 8) works particularly well. You can easily download books from your Kindle library. The highlights? It is much easier for you to annotate, highlight and also look up definitions. You can even change the reading settings from within the book.
Ben & I both received HP Envy h8 computers to use and review to facilitate a series of posts, including this one. All opinions are strictly our own.