You've seen them in movies from the seventies, observed college students buying them for dorm rooms, and noticed today's designers fixing them about family rooms and bedrooms.  Bean bag chairs have been around for some time, and like other tenacious and fashionable staples, are making a comeback in a big way.
Subtle and largely unnoticed, how did bean bag chairs come to be and find way into both retro and modern fashion?
The Sea Urchin
Today's beds are fitted with 'memory foam,' material that hugs the body and conforms to individual sleepers.  However, the concept did not begin with beds.  Roger Dean designed the first Sea Urchin Chair while attending the Royal College of Art in 1965.  It was considered the first mass-produced chair that accommodated the individual.
The Sacco
The sixties introduced free love and flower power, it also introduced a concept by Italian designers called the Sacco (or Socco).  Designers sought to produce a chair that was stylish, comfortable, practical, and right for the times.  Originally shaped like a pear, the leather bags were filled with pellets and then replaced with shredded foam.
Extremely comfortable and conforming to the curves of the sitter in real time, the design became hugely popular in Italy and eventually found its way overseas.  Whether founded in truth or part of serendipitous lore, it is said that the style was an accident, a byproduct of leftover Styrofoam pieces being thrown aside at the assembly plant.
Largely featured in department stores in the seventies, the Sacco was distinct for being filled with pure Styrofoam pellets, featuring high-quality leather, and hosting a headrest.  Popular with both hippies and those coveting low-to-floor rest and relaxation, the furniture implement that could accommodate a number of lounging positions was a long-time sensation.
Resting Rationale
The bean bag chair was such a hit because the design stayed true to the intentions of the original Italian designers.  It was comfortable, unique, and considered low maintenance, befitting the whims of the flowerchild generation.  Moreover, the durable and chic leather exterior made it practical for a number of interior designs and became popular with college students, twenty-somethings, and designers alike.  Actually, therapists also began using the chairs to help children with sensory-integration troubles.  Also, medical doctors suggested the style to those recovering from back surgery.
In the Nineties
The bean bag chair flourished due to accommodation, style, and its ability to fulfill the wishes of a variety of designs.  In the nineties, more manufacturers adopted the style, creating larger chairs, couches, and furniture implements using the original formula.  Producers also made them childproof, since it was previously a worry that small children could be smothered while sitting in the chairs or choke on the pellets.  In 1995, the Consumer Product Safety Commission recalled 12 million chairs and required they be fixed with childproof zippers.
Modern Design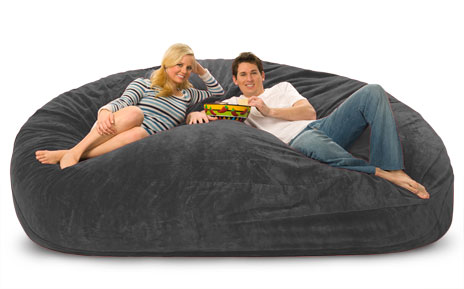 Today's bean bags, found at Fombag.com, are made of washable outer coverings and don't tear as easily as predecessors.  Alternatively, today's manufacturers use urethane fillers rather than Styrofoam pellets, which provides more support without sacrificing malleability.
Once limited in offered color and design, today's chairs come in a parade of colors and shapes.  Additionally, since a number of implements and designs from the seventies are returning, such as shag carpets and wood paneling, bean bags are back in business too, filling bedrooms, dens, and family rooms with a timeless sense of style.
Complementary Additions
If you're reluctant to buy a throwback like a bean bag chair, consider making it a part of a larger sentiment, purchasing a number of retro implementations.
Brass, once used for a number of items, fascinates today's designers who use the metal in limited amounts.  Opt for a brass doorknob, faucet, or doorframe.  Rustic and worn is preferred rather than shiny and new.
As mentioned, wood paneling is making a comeback too, but with a twist.  Today's designers are fixing rooms with sparse amounts arranged horizontally rather than vertically.  Also, the shades of wood are much brighter than those featured in the seventies.
Wall-to-wall shag carpeting is not likely making a return, yet you'll find today's designers using individual carpets to add depth and character to a space.  The shag material is still popular due to comfortability, and when used wisely, successfully supplements an otherwise modern-looking living space.
Everything old becomes new again, such is the case with the bean bag chair, proven to be a tenacious and recurring fashion implement through the decades.
Larry C. Halliday is a home furnishings buyer. He loves writing about home decor and design. His articles are posted on many homeowner and home improvement websites.