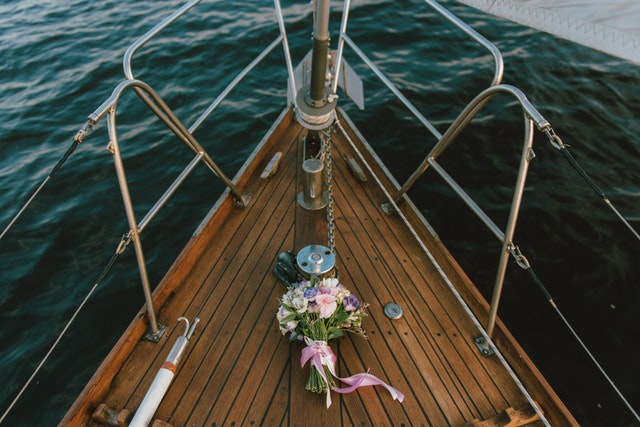 If there's one thing that stands out about boat weddings, it's the fact that it embodies ultimate indulgence. It doesn't matter where the location is, there are certain factors that can impact your wedding and these include catering, budget, and decor. If you want to set the most perfect tone for the biggest event of your life, a luxury boat can help achieve that purpose.
Searching for the best boat or yacht that will fit your budget can be daunting. What's equally unnerving is the fact that you have to think about how your guests can be accommodated comfortably and if your boat of choice carries a favorable ambiance that fits your preferences. To help you tackle this task, here are some of the important things you need to know before planning a boat wedding.
Why go for a boat wedding?
One of the major advantages of a boat wedding is that it's a more economical option compared to other wedding venues. You can benefit from other inclusions that you might not be able to enjoy at a land-based wedding.
Aside from that, if you opt for a boat wedding, you can save time since the wedding ceremony and reception are held in one place. And if you ever decide to go all out in inviting guests, luxury boats can provide the added flexibility of accommodating all of them, as long as it stays within the passenger capacity limit of the vessel. You can also hold your wedding ceremony on an island, beachfront, or cove. Regardless of the venue, the professional yacht crew can provide excellent service. You can even request that they include gourmet cuisine such as cocktail canapes, or a full sit-down menu.
Flexibility of boat weddings
You can choose from a plethora of options when you decide to go for a boat wedding. Most of the time, a full wedding service on a boat wedding will include the actual wedding ceremony, reception, groom and bride parties, and the post or pre-wedding cruises. If you want to tone down your wedding, you can choose to hold only your reception on the boat. In most cases, luxury boats also offer amazing opportunities for those who want to renew their vows, hold an engagement party, or go on a honeymoon.
Perfect venue for a champagne party
If you think about the perfect wedding celebration on a boat or yacht, pictures of newly-wed couples popping a bottle of champagne come to mind. Yes, saying cheers while wishing the newly-weds a happy and prosperous marriage is way better with a bottle of champagne. The bubbly and joyous atmosphere is best staged on a large boat or yacht with all your loved ones around. This can be done in other venues, but there's something inviting about the sea, sunset, and vast horizons that make it an ideal place to share a glass of champagne and enjoy a bubbly, happy gathering.
Limitations and considerations
The most common restriction when it comes to boat weddings is the number of people on your guest list. You see, every boat has a maximum passenger weight limit. This means that you can only bring a limited number of guests on board. To make sure that you don't go beyond the limit, consult your boat charter broker or boat provider for a vessel that can go well with your actual guest number.
Also, take note that more often than not, boat weddings are considered as destination weddings. This means you need to take into account the additional expenses for travel like port transfers, airfare, and visa fees.
If your boat wedding will be taking you to a different country, make sure to ponder on the timing of your wedding ceremony and reception. While sunset wedding photos are spectacular, there are some countries that impose limitations on the times when wedding ceremonies can be conducted. In some countries, religious and cultural restrictions are imposed on wedding ceremonies, too. Make sure to know all the rules in your country of choice and have a working plan on how you will work within the limits.
Lastly, you need to review your wedding attire to make sure that it will be appropriate to wear in the climate. You need to check with your boat provider if they're imposing boat protocols on the types of apparels permitted on board.
Now, if you don't want to travel to a different country but you want to hold your wedding on a boat or yacht, you can also do so. The beauty of this option is that you can avoid visa fees and other travel costs but you still get a boat experience. You can have the shoreline, lake, or ocean and its vast horizon as your wedding backdrop and your guests can still get the same cruise ship wedding vibe as they party onboard.
Make your wedding a blast
Holding your wedding on a luxury boat is one of the best ways to upgrade the event. Though there might be restrictions and considerations to observe, nothing beats the venue itself, which brings the event to a whole new level.
If you're now all geared up and ready to plan for your big day, you can check out reliable event organizers such as Landmark Event for a waterfront venue and exclusive use of their restored vintage ferry.