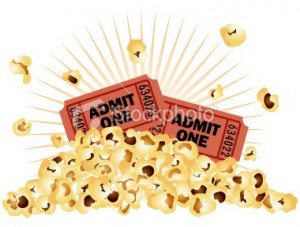 You really want to see that blockbuster movie that's coming out next week, but paying $20+ for two tickets just isn't in the budget? Movie studios often offer free screenings to their flicks just to get the buzz out. They're thinking is that if you see "Drive" and love it….you'll talk about it. Then all of those people that you told how wonderful the movie was will want to go see it too.
There are a whole slew of ways to get these tickets. Of course, you could sit by the radio with phone in hand, waiting for your favorite DJ to play that song (but, you'll have to be the 43rd caller & you know how that goes). I have a MUCH easier way to get those precious tickets….
Check out film metro and see if they have something in YOUR neighborhood. It's very easy to do. Just sign up and do a search based either on the flick that you want to see, or on the area where you live. It will be much easier to find screenings in big cities, so those in the 'burbs may not find any at their neighborhood theaters.
For more FREE tickets near you:
Be prepared to attend the screenings on weekday evenings. I have found that at least 80% of them are on Tuesdays or Thursdays (at 7:00 pm showings).
Now you get to go see those movies at the same time the movie reviews critics do….BEFORE they're released
I'll be bringing back more HOW-TO posts from the past with great Champagne Living ways soon.