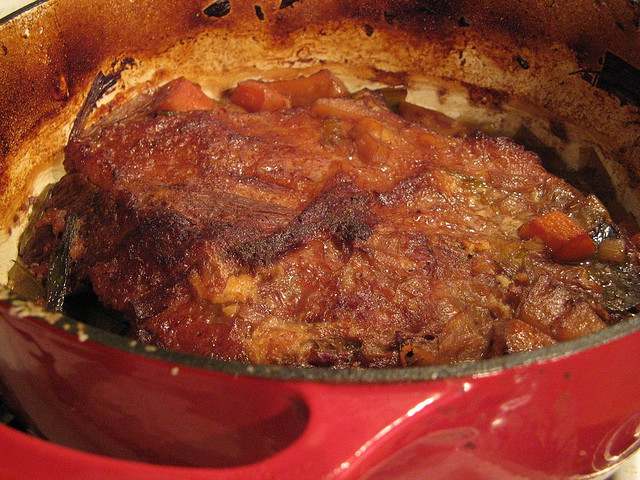 In our home no matter WHAT the holiday I remember my mom making a brisket. Chanukah, Passover, the High Holidays, even on Thanksgiving along with the turkey she served brisket. It's odd that we never seemed to have it ANY other time…only on a holiday. While I tend to be a bit more traditional on Thanksgiving, come Chanukah I'll be making my mom's brisket as well. It's a tradition that I hope Ben & Steph will continue when they have a family of their own.
SheSpeaks has teamed up with Macy's and their Recipe Share Contest! They've asked me to share a favorite holiday recipe so I'm passing along my mother's (and now MY) holiday brisket. It's easy to make (although takes a while to cook).
Holiday Oven Brisket
Ingredients
5-6 lb. brisket of beef
1 pkg. of dry onion soup mix
1/4 c. molasses
1/2 c. ketchup
1 tsp. worcestershire sauce
1 c. water
pinch of dry mustard
drop of Tabasco sauce
1 lb. carrots
3 lg. potatoes
Preparation
Preheat oven to 325°
Cut carrots and potatoes into large chunks
Place vegetables around the brisket in a dutch oven
Mix the remainder of the ingredients together and pour over the brisket.
Bake at 325° for about 2 1/2 to 3 hours
Check often and add more water if necessary
When tender remove from oven
Slice brisket and return to the pan
Refrigerated and reheat for an hour before serving.
I'll be submitting my recipe to the Macy's Recipe Share contest and SO CAN YOU. Share your favorite holiday recipe for a chance to win $1000 and have it featured on Food Republic. Hurry, because the Macy's Recipe Share Contest is running until November 30th, 2011
How to Enter:
1. Head to www.facebook.com/macys
2. Click the Recipe Share tab
3. Submit your recipe
4. Share the contest via Facebook and Twitter
Don't forget that you can submit and vote on recipes starting November 1st. You'll have until November 30th when the contest ends to show off your best holiday recipes so get cooking!
There's going to be a FUN twitter party as well. Come join in ~
When: 11/9 @ 8PM ET
TweetGrid Dashboard: http://bit.ly/tn7IQR
Follow: #RecipeShare
Good luck & I can't wait to see and TRY your recipes!
photos by Maggie Hoffman
I received a Macy's gift card for my participation in this SheSpeaks campaign. The recipe is my mom's and all opinions are my own.