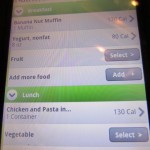 Over the past couple of weeks, my weight loss had come to a severe HALT – I even (gasp) gained a couple of pounds. I knew that my actions were not what they should have been, but it had become a struggle for me. How did this happen? Why did this happen?
Yesterday I had one of those AHA moments. It wasn't about what I was DOING, but rather what I wasn't doing. Yes, I obviously wasn't sticking as closely with the program (I'd eat Nutrisystem for breakfast and lunch, and then dinner & beyond had become a free-for-all). One look at the food that I have left (a freezer full of dinners and not a single breakfast left) blatantly shows how I've been eating.
WHY? Well, I had STOPPED recording everything that I ate and drank into my Nutrisystem log.  So, I had NO IDEA just how much damage I was really doing.  The discipline of actually writing down (or in my case inputting into my phone) every morsel – whether it be Nutrisystem or a piece of leftover Halloween candy (guilty as charged) lends a LOT more perspective to what I'm doing. In addition, I had fallen back into the bad habit of not having 8 glasses of water, and substituting my diet soda (a big NO-NO for me) for liquids. Inputting all of this into my mobile app has also opened my eyes. While I knew that I was drinking soda, I hadn't realized how much my water intake had fallen off.
So – I've put on my big girl pants, dusted off my Nutrisystem mobile app, fired up the microwave, and begun again. I'm only one pound heavier, so I don't have TOO much damage control to do. Thankfully, Nutrisystem with all of their support systems and easy to prepare foods (so that I don't have to GRAB something NOT on the program because I'm too hungry), makes getting back on the wagon EASY, PAINLESS, and most of all non-judgemental (love that the counselors are there to help via computer, e-mail or phone). Now to get back to exercising….
Don't forget that  Nutrisystem is having their BIGGEST SALE OF THE YEAR. For less than $3 a meal you can join me and lose weight PLUS get the support that you need to not only LOSE the weight but keep it off.