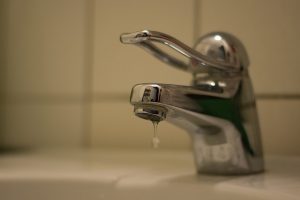 You're nestled in bed and trying to fall asleep but all you can hear is the drip drip drip of a faucet somewhere. So you swing your feet over to the floor and traipse into the bathroom to see if you turned the faucet off all the way when you finished brushing your teeth. And well, it looks as if you did, but you give it another hard twist anyway and the dripping stops for a moment but then starts again. So you shut the door, climb back into bed, and plan to deal with it in the morning.
If you're the handy type or live with someone who is and knows how to fix a leaky faucet, then you're golden. If not, you'll have to call a plumber. But either way, don't put it off because even a small leak can waste gallons of water a day. Leave that leak for a year and you'll have wasted enough water to fill a swimming pool and added a lot of money to your water bill.
Even worse than a small leak, of course, is a big one. The kind that happens when a washing machine hose breaks in the middle of the rinse cycle, the water heater gives way, or the roof starts leaking during a storm.
Whether it's a slow drip over time or a sudden indoor flood, water can do more damage than you might realize. It's not enough to mop things up and walk away.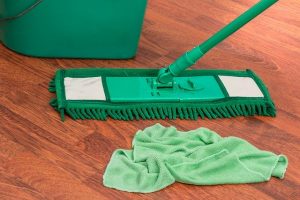 Here's what you should know:
Water You Can Remove Safely Or Not
Based upon where they come from, there are three different kinds of water:
Clean water.

This is the water from rain, condensation, a water heater, leaky pipes, and similar. There's no harm in cleaning it up yourself.

Gray water.

This is the slightly dirty water from dishwashers, washing machines, clean toilets, and so on. It may have some contaminants in it, but you can clean it up yourself if you wear rubber gloves to protect yourself.
Black water. This is water from sewage or serious flooding from a nearby river or other body of water. It can contain waste, bacteria, and other dangerous contaminants and can cause severe health problems. You need to call in the pros for this.
The First Things To Do
If the source of the water is inside the house, shut down the water supply to the appliance or, if necessary, to your entire house. Before you're faced with an emergency you should find the location of the shut-off valves on your water heater, toilets, sinks, washing machine, and also your refrigerator if you've got an automatic ice maker or water dispenser.
If the flooding is extensive, you should also shut down the electricity, and absolutely never approach a pool of water if there's an electrical cord in or near it.
Next, Assess The Damage
If the problem stemmed from a water heater, a pipe, or an appliance and the leak or overflow is confined, you probably just need to call a plumber or repair service.
If the water damage is extensive, though, or happened as a result of rain or snow and affected your roof, attic or basement, you should consider calling in professional help.
Inspect for mold. Mold can start to grow in as little as 24 hours. Some mold and mildew are toxic to humans, and all mold is damaging to the materials it infests. For small areas, cut out the material, bag it, and throw it away immediately. If the issue is serious, leave the area, close the doors to it, and shut down any airflow to avoid spore contamination. A professional should treat the visible mold as well as inspect for hidden mold inside walls and under floors.
Dry out affected area. It's critical to get rid of all moisture before it causes more damage. Use fans to circulate air, and if the area is large, rent a large-capacity dehumidifier to do the job.
Toss damaged materials. Water will permanently damage most porous materials, and mildew will damage them further. You may have to remove and discard carpet, insulation and items made or covered with fabric. Unsealed cement, drywall, and wood are also porous, so they may need to be replaced as well.
For significant damage, check your homeowners insurance to see if you can make a claim. Companies that do water damage remediation will generally be able to bill your insurer directly.