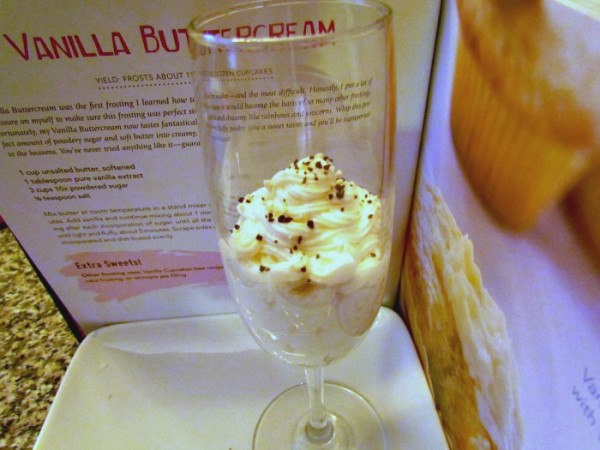 I'm too old to be doing shots with the girls…
That was, I THOUGHT I was until my friend Aly suggested that the shots that I do are made of pure, sweet frosting. I'm one of those who when walking by a cupcake, will casually stick my fingers into the icing for a lick and give the "it wasn't me" look.  So, when she suggested that I simply enjoy the part of the cake/cupcake that I like the best, I thought she was a GENIUS.
I received The Dollop Book of Frosting by Heather "Cupcakes" Saffer to review, and those who know me are probably SHOCKED, since the thing that I make best are – RESERVATIONS.  I try to keep that lie alive, so I don't have to spend too much time in the kitchen, but the truth is that I LOVE TO BAKE (mostly because I LOVE TO EAT).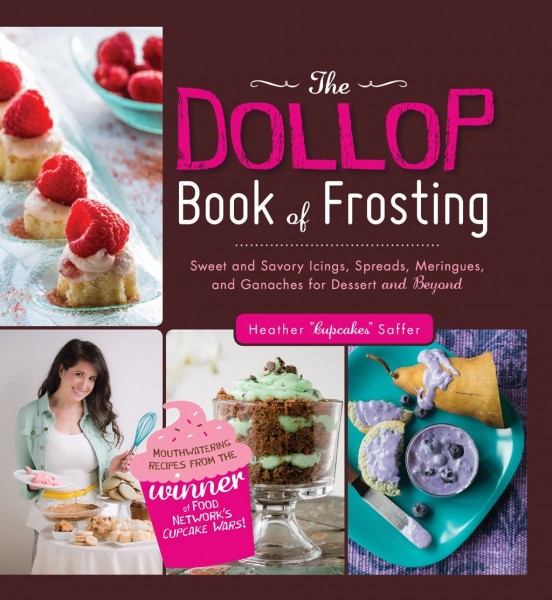 With Aly's suggestion in mind, I ditched the entire idea of baking cupcakes, and went STRAIGHT for the jugular, and decided to whip up some of Heather's Vanilla Buttercream frosting and serve them in my favorite champagne flutes (with some crushed Oreo cookies for garnish).
I can certainly make a frosting and with only FOUR ingredients (butter, vanilla extract, powdered sugar and salt), and the outcome was as SIMPLE as it is delicious. By serving them as shots, I don't have to serve a platter of cupcakes with my tell-tale fingerprints in the middle of each creation, and my guests can enjoy THEIR favorite part of the cupcake…
THE FROSTING!
The Dollop Book of Frosting is filled with wonderful recipes from the winner of the Food Network's Cupcake Wars, so like me YOU can be the flavorful HERO.
My NEXT foray into frosting shots will be
Her Margarita Meringue Frosting!! The line to try them is forming to the right, with tequila and Cointreau in the mix, who needs cake? With 45 frosting recipes, you're SURE to find one that becomes YOUR signature.
Details
The Dollop Book of Frosting: Sweet and Savory Icings, Spreads, Meringues, and Ganaches for Dessert and Beyond
by Heather Saffer is available at Amazon.com and other book retailers.
I received a copy of this cookbook to facilitate this post. All opinions are strictly my own.