After almost a year of lockdown, many people are still struggling to create fun and interesting dates for their partners. Although Netflix and Postmates is always a great staple date idea, it is widely overused and quite honestly boring. There are only so many times that you can binge the same TV show. 
If you're like most people, quarantine, and COVID-19 have put you, your partner, or even your relationship in a funk. To combat this, set aside a weekly date night and make the most out of your days at home! Here are some ways to stay creative while at home:

Romantic Candlelit Dinner
Nothing is better than to surprise your loved one with a romantic candlelit dinner, especially after a long day of work. You don't have to be a chef; you can make something as simple as spaghetti and meatballs, or something as complex as homemade gnocchi. You can adorn the table with candles and flowers, wear a nice outfit, and just enjoy a home-cooked meal together. 
If you want to earn extra brownie-points, prepare a dessert and have it ready to serve when you are both done with your meal. In addition to this, make sure you get the dishes done BEFORE you have dinner, and don't make your partner do them. To make the whole process easier, consider using high-quality cookware such as these frying pans. It will make doing the dishes a whole lot easier and allow you to spend the evening with your partner instead of slaving over a gross pan. 
Paint Night
You don't have to be Bob Ross to have a fun time being creative with your partner. Grab a glass of your favorite wine, YouTube a tutorial (or do portraits of each other!), and start painting. Choose something detailed like a Bob Ross tutorial, or choose to do something abstract like using cups of paint to create fun patterns. Your result might be something gorgeous to hang up in your home, or it could be something that hides away in a closet. Either way, it will be a great memory for you and your partner to look back on. 
Have a Breakfast Brunch
One of the biggest (or worst, depending on who you ask) blessings of being in lockdown is at-home workdays. Most work schedules have now become incredibly flexible, and maybe if you and your partner's schedules line up, you could make a breakfast brunch to dine on in the morning. Or if you both have to start work relatively early, you can always have breakfast-in-bed. Even if you only have fifteen minutes to squeeze in a quick meal, doing something like a surprise breakfast in bed is a great way to start your day, not to mention that your partner is bound to appreciate it! 
Host a Game Night
Having a game night is a great way to have fun with your partner and is a great way to see their competitive side. You could always bring out a deck of cards and play classic games such as poker or gin rummy, or you could play board games if you have access to any. If you want to get friends involved, there are lots of fun games that can be played over a video call. Don't be afraid to get creative and have fun!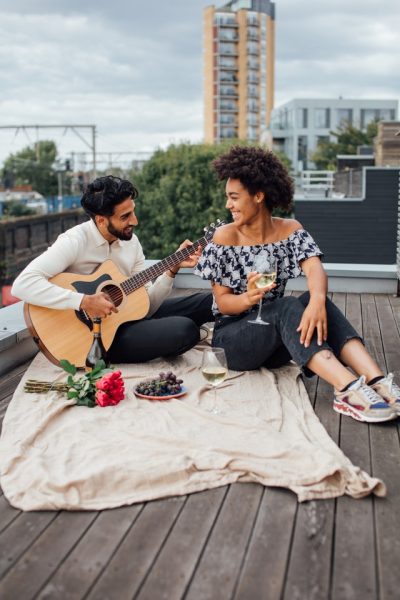 Have a Picnic
Picnics are a great way to enjoy food and relax with your partner. If you can't safely have a picnic outdoors, find some way to make one inside! Set up blankets in your living room, open the curtains, and set out a spread of different foods like charcuterie boards, baked goods, and fruit. Tailor everything to fit your partner's tastes and even bring out a picnic basket for that classic picnic feel. 
Do an At-Home Escape Room
Escape rooms are always a great date idea and are something that can be recreated at home with just a little work. The internet is full of escape room ideas, from do-it-yourself ones, printables, or even puzzle boxes that are a surprise to you both! Find one that interests you and your partner, set a time limit, and have fun! This could be an event that takes up your entire date night, or it could just be a quick hour event before you make dinner. Either way, making an at-home escape room is bound to be an exciting date for both you and your partner!