Words can't quite describe the image of a well-dressed power couple. Perhaps one of them is strikingly beautiful-perhaps they both are-but when the two alike have great style, it's a sight to behold. Like Kimye, Brangelina, Spederline, and Bennifer, you two can make just as powerful a fashion statement when you and your beau team-up. So, here are five occasions to dress coordinatively with your beau like a pro.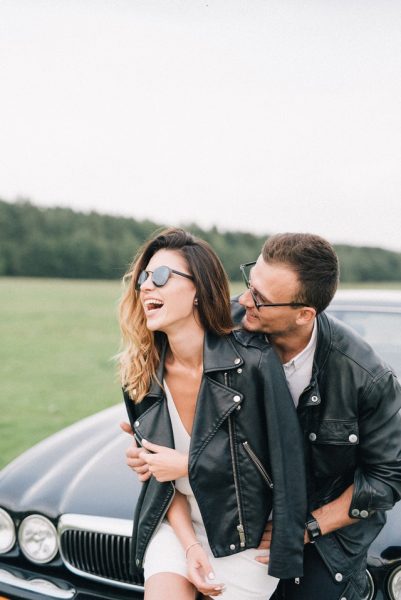 For when you're lounging at home…
…because #pandemiclife. Comfy-cozy can still be chic and does not need to mean schleppy-sloppy, neither for you nor your guy. Remember that all neutrals blend well with one another (maybe he's in navy head-to-toe sweats and a T while you're rocking a cute-comfy beige lounge set, but together, you still look knockout, slippers and all.) After all, you never know who will show up at your door-even if only the mailman! For you, women's brands everywhere now offer an endless array of loungewear collections; but for him, check out these men's designer sweatsuits. 
Stylist's tip: the trick to staying chic while casual is maintaining good grooming. Style your hair, put on a tinted moisturizer after cleansing your face, and don't forget to floss and brush your teeth! 
For brunch with the parents…
Elegant, classic, conservative. Maintain these elements together, and you'll certainly impress the in-laws. This occasion welcomes whimsical prints and colors, so when both of you are choosing a print, remember to match colors (not prints), break it up with solids, textured fabric counts as a print, and consider striped a neutral. 
For the office cocktail hour…
Kept small and intimate, the occasional coworkers' outing is now permissible, a necessary reprieve to maintain sanity in the workplace. With your date, this wear contract can work beautifully. If, for instance, you're in a sexy black turtleneck alongside him in a crisp white button-down, together you'll both make for an absolute vision, be it in a swank new bar over cocktails, or in the local dive over beers. 
Stylist's tip: mix textures, not colors. Leather, cotton, suede, chiffon. Play around with the multitudinous options that varied textures create-have fun with it! 
For the bougiest of date nights…
After the ongoing stretches of time spent indoors and isolated, the occasional glimpse of reclaiming an evening of glamour will work wonders for your routine, your self-esteem, and certainly, your relationship. In dimmer light, the subtlety of certain hardware can shine, as bright as two starry-eyed lovers seated across from each other over a romantic dinner. As a couple, here are a few ways you can make a lovely statement with your outfits:
Choose muted colors, with a pop of accessories. For instance, you may opt for a little black dress for you and a black suit for him, with a subtle sheen of silver jewelry between both of you. Perhaps you'll let a pair of earrings, a bracelet, or a cocktail ring shine, while he sports a savvy watch, cufflinks, or tie clip. 

Let the shoes shine. If the move up top is more subtle blacks, greys, or navy blues, let a bright color or shiny metallic catch eyes down below. 

Let her (you) have the spotlight. Going together doesn't mean matching, and sometimes the best way to make that bold statement is to mute down everything else. So, let the gentlemen be gentlemen, and have him in a chic but subtler suit or blazer, while you rock that knockout gown that'll turn heads. 
A little bit goes a long way when styling side-by-side outfits as a couple. With a bit of effort and planning, you can create the most stunning entrance together as a couple.